Evolution Travel Scam – The Truth Revealed!
Travel around the world and make lots of money, I believe that's a dream that you and I share, right?
But when a company offers you this opportunity to travel and earn, the question that probably pops in your mind is, "Is this a Scam?".
Well, in this Evolution Travel Review, I am going to discuss about:
The reasons why people may think Evolution Travel is a scam; and
Whether or not you can actually earn money from this opportunity.
Before we dive deep into the details, let us understand what this company is all about.
How I Fired M​​y Boss and Still Earn a Full-Time Income. Here's How You Can Too!
What is Evolution Travel?
Evolution Travel is founded by David McCovy, a veteran of the network marketing industry.
Before David McCovy founded Evolution Travel, he was the top performer of "Paycation", another Multi-Level Marketing company in the travel industry.
And prior to Paycation, he was one of the top performers of yet another MLM company called 5LINX.
Evolution Travel partnered with Archer Travel Service, Inc, an independent Travel company established in 1952.
Much like Evolution Travel, Archer Travel Service provides a home based business opportunity for aspiring travel agents.
Both companies have similarities in terms of the way the business is run, and each has its own expertise to bring to the table.
That's why there's a good synergy between the two companies.
The main competitors of Evolution Travel, in my opinion, are World Ventures and InteleTravel, both companies are quite popular in Travel network marketing industry.
How I Fired M​​y Boss and Still Earn a Full-Time Income. Here's How You Can Too!
The Real Truth No Evolution Travel Agents want You to Know…
You see, when people think about booking a flight or a hotel room, the first thing that they would do is to head over to good old Google to search for the best deals from sites like Expedia.com, Traveloka.com, Bookings.com.
Gone were the days where people will rely on a travel agency.
Nowadays, people would rather perform such "complicated tasks" at the comfort of their home.
How tough can it be to become a Travel Agent?
So, when you become an Evolution Travel Agent, the first thing that you are probably taught to do, would be to write down a list of people whom you think may be interested in this opportunity (This process is commonly known as the "Warm Market Memory Jogger" in the network marketing industry).
Then, you start contacting the people in the list and talk to them about the opportunity.
Who would want to purchase a travel package out of the blue?
If you are lucky, you can grab the person at the right time, but if that person do not have the intention to travel any time soon, what's next?
What most Evolution Travel agents would do is to try and recruit that person to become an Evolution Travel agent.
Here's the complicated part…
In the books of the Federal Trade Commission (FTC), Multi-Level Marketing companies that focus on recruitment rather than promoting its products could be considered as a pyramid scheme.
On top of that, you'd be surprised that relationships get destroyed (I've seen this too many time), friends and family members start avoiding you, and you suddenly join the NFL (No Friends Left) club.
Plus, you must know that the majority of people who join Evolution Travel don't earn any money.
Not because Evolution Travel is a scam or a poor opportunity, but because of the reasons which I will share with you in just a moment.
An Online Business Opportunity that does not revolve around recruiting. Interested?
Do you need to be an Evolution Travel Agent to enjoy Low Fares?
Alright, here's the catch…
If you join Evolution Travel as an agent, which cost $30 upfront (retail price of $299), you'll get these perks:
Free Cruise – Once you've completed an online training through Princess or Carnival Cruises
Earn Points Toward Rewards and Travel
Earn Cash and Merchandise
Familiarization Trips – where agents get to experience the trip that they are selling
Travel Agent Discounts – agents can get discounts for their hotels, theme parks, car rentals, etc.
You must note that to be an active agent with Evolution Travel, the monthly recurring administrative fee is $69.95.
I'll leave it up to you to decide if it is worth being a travel agent.
In my opinion, it is worth the money IF you are serious about turning this opportunity into your full-time business.
However, as a person who always travel, I wouldn't want to be a travel agent, but I will be interested to know if I can get better deals with Evolution Travel.
In this sense, let's take a look at what this company can offer (Evolution Travel uses a travel search engine called faregrabbr.com):
Flights
In the above scenario, I've used the same flight (Singapore Airlines 5752) as a comparison between the 2 search engines (Evolution Travel and Expedia).
Evolution Travel is slightly cheaper than Expedia by USD10.55.
Hotels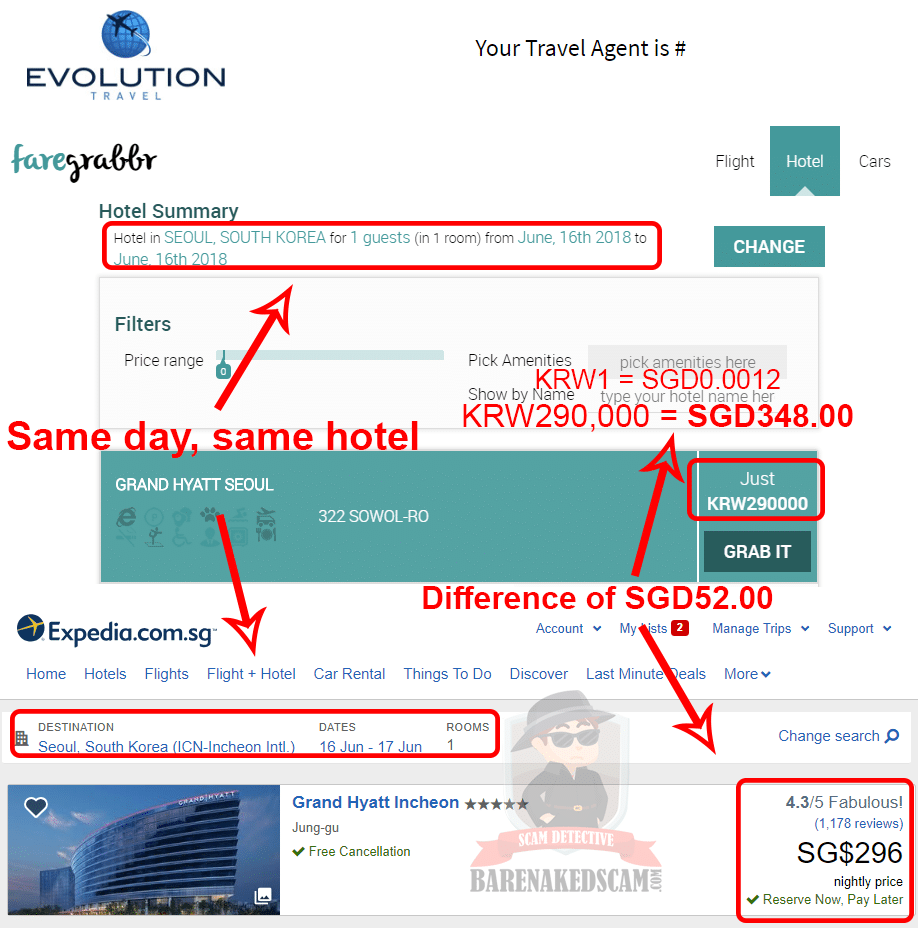 In terms of the hotel booking, Expedia seems to be cheaper than Evolution Travel by SGD52.00.
Basically, there's not much difference in terms of the price for Evolution Travel and Expedia.
As a consumer, I would prefer Expedia because it is a trusted brand.
However, if an Evolution Travel Agent were to approach me, and give comfort that she will book and plan everything for me, including my itinerary, I might switch to Evolution Travel.
Unfortunately, that was not the case…
My Personal Experience with an Evolution Travel Agent
[NOTE: My experience may differ from yours]
I've recently met with an Evolution Travel Agent (online) because I have the intention to book a flight ticket.
As you know the price of the same flight (as you've seen above) is slightly cheaper than that of Expedia, so I've decided to contact one of the agents in Evolution Travel.
During our conversation, before we even talked about the flight details, the travel agent started talking about the business opportunity. Which, I wasn't really into.
And when I started to back out from that conversation, the last words that the travel agent said to me was "If you don't join Evolution, there's no point buying the flight ticket from me".
The next thing, I went to Expedia to buy my flight tickets even though it is a little more expensive.
I guess I was just unfortunate to meet with a rude travel agent.
I am sure that there are Evolution Travel Agents who sincerely want to help people with their travel plans.
Turn Your Passion into a Full-Time Online Business. Click to learn how!
Evolution Travel Agents are not really a "Travel Agent"!
Personally, I love to travel, but I hate to be responsible for someone else's travel plans.
I used to work part-time in a travel agency when I was still schooling, and I know very well that when a travel plan got screwed up, the responsibility lies with the travel agent.
Although Evolution Travel does sound like a good opportunity, most "Travel Agents" don't work like a real travel agent.
Most of them focus more on recruiting new "Travel Agents", then to provide a service to the general public.
It only makes sense, because it is much easier to manage the expectation of a Travel Agent (an insider), than to handle the expectation of a customer (from the general public), and there's a lot more incentive to recruit, than to provide a service.
When recruitment is the main focus of an MLM company, the authorities might not be that happy about it.
Competitors like World Ventures are already facing legal proceedings from the FTC for operating a pyramid scheme.
While I am not saying that World Ventures or Evolution Travel is a scam, but a group of "Travel Agents" who sold the business opportunity incorrectly could cause a company to falter.
As they say, one rotten apple spoils the barrel, and this applies to the companies in the MLM industry.
Is Evolution Travel a Pyramid Scheme?
Before we go any further, let us understand what is the Federal Trade Commission (FTC) stand on pyramid schemes.
Source: www.ftc.gov
Not only Travel Ventures International (TVI) Express, World Ventures was also caught as a pyramid scheme in Norway.
You see, this is the proper way to recruit someone:
Promote the service of Evolution Travel, which is the travel booking portal;
If the customer is satisfied with the service, you can then introduce the business opportunity.
Not the other way around.
This will fend off the authorities probing the company as a pyramid scheme.
Unfortunately, because of the way the compensation is structured, "Travel Agents" will be more inclined to recruit, than to provide a service.
In my opinion, the authorities may see Evolution Travel as a pyramid scheme.
What do you think about my opinion? Please feel free to share your opinion in the comment section below.
I got sick and tired of company politics, so fired my boss and never looked back. Here's how I did it!
The Evolution Travel Compensation Plan
This is how you get paid for promoting the Evolution Travel service to the general public:
And, this is what you will earn if you promote the business opportunity:
Obviously, promoting the business opportunity is definitely more lucrative.
However, you must note that in order to earn a substantial amount of money from this opportunity, and to finally quit your job, you'll need to achieve the rank of 1 Star Platinum.
To achieve that, you'll need to maintain at least 300 Travel Agents in your team.
I don't know about you, but maintaining 300 recurring members for me, is extremely difficult. I am sure a few Travel agents can achieve that, but I can guarantee that the majority can't.
To sustain a business like this, you need to have a constant flow of new recruits.
And, sad to say, the turnover rate of recruits is extremely high.
The majority joins the business, finds it hard to achieve success, and they quit. It is the most natural thing to do for any individuals because it only make sense to cut their losses (monthly recurring payment) when they are not in too deep.
It is only a small percentage of Travel Agents who will grind and hustle so that they can live a better life.
Why the Majority of the Travel Agents Fail?
Monthly recurring bills from Evolution Travel keeps coming, and if you don't start earning money from this opportunity, you'll start sinking money into it.
Many Travel Agents feel pressurized by the monthly recurring payments, and they couldn't help but cut their losses.
But, that's not the main reason they quit.
Many Travel Agents are hard working people, but sometimes they fear many things.
The fear of destroying relationships with their friends and family because of the opportunity, the worry of what others might think about them, the fear of failure, and so many other reasons.
But, the most important reason for failure is, not finding the PASSION in what they are selling.
If someone is so enthusiastic about Evolution Travel, and she truly believes that what she is doing is making a difference in people's life, there's really no reason for that somebody to quit.
That's why the majority are not suitable to be in this business opportunity.
How I Fired M​​y Boss and Still Earn a Full-Time Income. Here's How You Can Too!
My Sincere Advice to You
If you join Evolution Travel just so you can enjoy the discounts on your travel packages, then you are probably making the wrong decision.
Yes, you do qualify for discounts, but don't forget that you need to pay the monthly membership fee of $69.95.
Unless you travel frequently, and your total savings from travel packages outweigh the membership fee, otherwise, there's really no point for you to stay as a member.
People who join Evolution Travel should be those who seek to turn the opportunity into a full-time business.
Not everyone is cut out to be successful in this business, in fact, the majority will fail.
If you think you have what it takes to become successful with Evolution Travel, great!
I wish you all the best in your endeavor.
However, if you think that this is not the opportunity you are looking for, and you wish to find one that is suitable for you, then I'd recommend that you check out this program.
This is the program that taught me everything about making money online, and it is also the reason for me to fire my boss and earn a full-time income online. You can read my story here.
Thank you so much for reading this review!
I hope I have provided you with the information you need to make an informed decision.
If you think that this review has helped, please share this with people who might really need this information.
And, if you'd like to discuss more about Evolution Travel or you'd like to share your personal experience with the company, please, feel free to leave a comment in the comment section below.
Your pal,
Jack