Amazing Selling Machine Review – Is It Worth Your Money?
If you are planning to start a business using this eCommerce training course, but you aren't sure if this is worth your hefty investment, then you coming here is the right decision.
I am not promoting nor affiliated with this program so you can expect a brutally honest Amazing Selling Machine review.
Review Summary
Name: Amazing Selling Machine X
Owner: Jason Katzenback and Matt Clark
Price: $4,997 or (6 x $997)
​
Amazing Selling Machine Course Product Rating:
Chances might be that you come to know Amazing Selling Machine via promotional emails sent to you by an affiliate. It could also be that you have seen compelling ads on social media and YouTube.
Or maybe you are just eager to start selling on Amazon and you wanted to be sure if this is indeed the right FBA course to get started with.
Regardless, I can guarantee that by taking the time to read this review, you will learn everything you need to know about the Amazing Selling Machine. You will also be able to determine if this is indeed what you are looking for or should you consider other options.
Let's get started.
What is the Amazing Selling Machine?
In a nutshell, the Amazing Selling Machine (ASM) is a training course that teaches you how to create and have a successful eCommerce business on Amazon. The course focus on the Amazon FBA business model.
Jason Katzenback (left) and Matt Clark (right) created ASM.
Meanwhile, the training modules within this course are taught by two instructors, Mike McClary, and Rich Henderson.
The Amazing Selling Machine has been regularly updated over the years since it was launched in 2012. The program began to gain most of its popularity with the 2015 version called ASM5.
Newer versions of the course follow. The ASM9 was released last April of 2018 and the latest version of Amazing Selling Machine was released to the public on October of the same year.
It is now called the Amazing Selling Machine X (ASMX).
One noteworthy improvement of the ASMX is that it features 40% brand new contents over the ASM9.
Click Here: ​How To Create A 6-Figure FBA Business As A Complete Beginner
Inside the Amazing Selling Machine X (ASMX)
There are 5 key components of the Amazing Selling Machine X that was supposed to be designed to help you build a successful Amazon FBA business.
The ASMX has over 120 lessons divided into different modules and 5 key components.
Each module will walk you through everything you need to know about getting your FBA business up and running from scratch.
I will discuss each of them in this section.
#1 The 8-Module Online Web Class
The first component of the ASMX is the 8-Module Online Web Class. As the name suggests, this program contains eight modules plus a separate welcome module to start with.
The 8-Module Online Web Class includes some of the most current strategies, marketing tactics, and insights for building your FBA business as quickly as possible.
It is said to be responsible for teaching people from all around the world (most of them with little to NO prior business experience) how to build a successful Amazon FBA business.
The 8 + 1 modules in this program are:
The Welcome Module
This will give you a brief walk-through around the ASM membership platform and explain to you the basics of starting an Amazon FBA business.
It includes:
The ASM Membership Dashboard
The ASM Community
How To Earn Your Progress Badges
ASM Mentor Program
Success Principles
The 7-figure Foundation Principles
Different Ways To Structure Your Physical Product Business
Which Amazon Marketplace To Start With
Seller Central Overview And Requirements
Setting Up Payoneer Or World First
Seller Central Account Critical Guidelines
Seller Central Documentation, Setup Walkthrough and Review/Suspension Scenarios
Module 1 – Building Your Product Opportunity List
This module covers lessons that will teach you why you need to build your brand, how to choose your products to sell, how to guarantee your profits and more.
The topics include:
Dominate Your Competition By Building A Real Brand
The 7 Elements Of A Red Hot Profitable Product Opportunity
Which Categories To Choose For Maximum Result And Those To Avoid For Your Products
What Products To Avoid For Your First Profitable Product
The Perfect Product Selection System
What The ASM Criteria Are And Why They Are So Important To Your Success
What Tools Should You Use To Achieve The Fastest And Most Profitable Results
Proving Product Viability With Competing Products
Speeding Up The Product Selection Process
Stretching The ASM Criteria
Alternative Search Method
Patent Search
Module 2 – Suppliers, Samples, and Profit Numbers
The module 2 will teach you how to source for suppliers from China, get sample products to test, calculate the profitability of the products and more.
Understanding Amazon's Fees
Product Tuning
Simple Product Sourcing
Creating A Professional Online Presence
Finding And Contacting Suppliers With Our Proven Templates
Calculating The True Cost Of A Product
Figuring Final Profit Numbers For Your Focused Opportunity List
Getting Samples For Your Top Opportunity
Module 3 – Ordering Your Inventory and Creating Your Brand
By the time you are on the 3rd module, your product samples should be on their way. This course teaches you how to build your brand and sell your incoming products as your own.
ASMX's module 3 will also teach you how to choose your product suppliers, how to prepare your inventory, how to create your brand name and more.
The topics in this module include:
The Samples Have Arrived! Now What?
Choosing The Best Supplier And Getting The Highest Profit Margin
Getting Ready For Your First Inventory Order
The ASM Brand Name Creation Process
Creating Your Powerful Brand Logo
Purchasing Your UPC
Quick Start Product Listing
Designing Your Product Packaging
The Power Of Package Inserts
How Much Inventory Should You Order?
Shipping By Air Or By Sea
What Happens After You Order Your Inventory
Module 4 – Building Your Brand Assets
This module covers the topics of creating your brand assets. This includes your brand website, Facebook and other social media fan pages, setting up your email autoresponder, creating your YouTube channel and others.
How To Get Your Assets Ready Before Launching Your First Product To Ensure The Success Of Your Launch
Build Your Brand With Social Media
Next Level Brand Assets
Creating Your Autoresponder Account
Designing And Implementing Your First Lead Capture Form
Module 5 – The Perfect Product Page
In this module, you will learn how to create perfect product pages to increase product sales and conversion rates. 
Because the fact is, no matter how great your product/s, it won't sell if you can't present it accurately in front of your target audience.
The topics included on this module are:
How To Craft The Perfect Amazon Listing To Crush Your Competitors
Strategic Keyword Research For Top Amazon Rankings
How To Craft The Best Title To Gain Traffic And Conversion
Bullet Points That Sell
How To Create A Compelling Product Description That Steal Sales From Your Competitors
Product Images That Attract And Convert
Product Pricing For Profit
Creating Your Complete Listing
How To Craft The Perfect Customer Emails For Engagement And Reviews
Taking Advantage Of Downtime
Module 6 – The Perfect Product Launch
This module covers topics such as preparing your first FBA shipment, getting initial product reviews, using Amazon giveaways, ranking your products in Amazon search engine and more.
This module covers:
Preparing your first FBA shipment
First FBA shipment walkthrough
How to get your Final Product Images
Your first product reviews
Launch, Blitz, and Rank
Module 7 – Advanced Marketing and Traffic Tools
The module 7 covers topics such as your performance checklist, optimizing your Amazon Ad listing, content marketing strategy and etc.
Building And Utilizing Your Performance Checklist
Amazon Sponsored Products Ads
How To Use Social Media To Drive Brand Awareness And Customer Engagement
Utilizing Amazon Digital Coupons To Sell More Products
How To Get The Most Out Of Amazon Lightning Deals
Using Amazon Promotions To Drive Sales And Traffic
How To Turn Your Customers Into Raving Fans
Understanding Two Of The Most Critical Metrics For Your Business: Traffic And Conversions
How To Use All Of The Cool New Tools And Features Of Amazon's Brand Registry
Module 8 – Taking Your Business to the Next Level
The final module of the first key component will cover the topics teaching you how to regulate your inventory. In here, you will also learn when and how to launch your next product, how to scale your FBA business and take it to the next level, etc.
Running Out Of Inventory And Reordering
Launching Your Next Product
Scaling Your Business To Success
How To Decide If It's The Right Time To Launch Your Business In Other Markets
How To Build The Freedom That You Want By Building A Team That Works For You
Growing Your Business For Cash Flow Or To Cash Out
Related: My #1 Recommended FBA Training Course For Beginners
#2 The ASM Mentor Program
The second component of this FBA training course is The ASM Mentor Program. This is an exclusive mentor program where a group of elite Amazon sellers will help and guide you build your own FBA business.
All you need to do is post your question and these mentors from various countries across the globe will give you advise any time of the day.
#3 The Amazing Alliance
The Amazing Alliance is ASMX's exclusive community. When you become a member of ASMX, you will get Platinum Access to the Amazing Alliance community.
This is where you will be surrounded by sellers coming from all over the world so you won't be alone in starting your business.
You will also get priority access to sign up for our live events, including Amazing Selling Machine flagship events for eCommerce business owners, SellerCon.
#4 The Private Resource Vault
The fourth component of the ASMX FBA training course program is access to Private Resource Vault (PRV).
These resources include downloadable  PDF's related to each video lesson of the course and keep it as a reference as you try to implement the things you learned.
Besides the PDFs, you'll also find other relevant tools, lists, contacts and other exclusive resources that you can't find anywhere outside of this program.
ASMX estimates that the value of the PRV alone is no less than $10,000.
#5 The Automation Tool Suite
The latest feature that comes with ASMX is the Automation Tool Suite. This gives you access to a variety of tools for automating, growing and scaling your FBA business. 
This includes:
Brand New ASM Business Dashboard
12 months Free Access to ManageByStats
6 months of access to the Brand Launchpad and Continual Sales system
90 days of free access to Helium10 keyword search tools
These tools will allow you to validate how much your competition is selling each day.
It will also allow you to determine how to make your product better than your competition, identify exactly which keywords to target when creating your product listing and more!
As of 2019, these are what's currently inside the ASMX FBA training course. Some of this may change by the time you've read this Amazing Selling Machine review.
To stay updated with the current courses, here's the direct link to the Amazing Selling Machine Website.
How Much Does ASMX Cost?
At the time I am writing this, the ASMX will cost you a one-time upfront fee of $4,997.
However, you also have an option to pay $997 over 6 months.
The total cost of the course will then be $5,982 if you choose to pay in installments.
Click Here: My #1 Recommended FBA Training Course That Doesn't Cost Thousands Of Dollars!
What Do I Like about the Amazing Selling Machine X
Frankly speaking, there are many things I like about ASMX. I will discuss each of them below.
#1 Fantastic Money-Back Guarantees
One great feature about this FBA training program is that you have a chance to get a full 30-day refund.
30 days is more than enough time to go through the first couple of modules within the ASMX, select a product and try to source it from a supplier. If you don't feel like you can make it work, then just request your money back.
Perhaps one of the best feature about ASMX is that it offers a 6 month Buy-Back Promise.
What is this?
It means that you can try and implement the teachings of the course for a full 6 months. If you are not pleased with your results, you can request your money back. 
ASMX will buy your Amazon FBA business from you for the cost of the course plus up to $5,000 worth of your inventory.
#2 High-Quality FBA Training Course
There are plenty of people who have testified to the quality and effectiveness of the courses that come with the Amazing Selling Machine.
Many of them claims to have earned 6 figures a month!
I am confident that if you will go through the courses and "TAKE THE RIGHT ACTION," there is a good chance that you too can earn a substantial amount of income.
#3 Courses are Well-Structured and Not Overwhelming
The courses within each modules are broken up into easy to digest chunks of information, so you have ample time to absorb everything that you learn. 
Most of the videos included in the modules are only few minutes long which gives you time to reflect and review anything that you want.
#4 Updated Contents and Courses
Just like the other popular FBA training courses, Amazing Selling Machine keeps upgrading their content and adding more tools and resources to help people succeed with Amazon.
Take a look at this…
ASM5 was launched in 2015 and ASM8 in Oct 2017. The ASM9 came out last April 2018, and now we already have an ASMX! The people behind the Amazing Selling Machine is frequently upgrading their system and courses.
The great news is, once you become a member of ASM once, you will be a lifetime member, and you can benefit from all the upcoming newer versions of the program.
#5 Superb Community Support
There are 2 great community supports for the ASM members, the Forum and Facebook Group. These communities are pretty active and filled with highly motivated entrepreneurs.
As an ASMX member, you will be given access to the exclusive community and mentor-ship programs where you can ask help and learn from people who actually succeed with their own FBA businesses and have the right knowledge, skills and experience to share with you.
My Concerns about the Amazing Selling Machine X
On the flip side, these are my concerns regarding this Amazon FBA training course.
#1 Hefty Price Tag
Okay, it's time to address the elephant in the room (page). $4,997 is a little too expensive for an FBA training course.
With such a high price tag, it's hard to justify this cost…
Especially when there are plenty of cheaper alternative FBA training courses out there that provides similar impressive eCommerce training programs to ASMX.
Besides the fact that spending $4,997 for a "comprehensive" FBA training program is a hard pill to swallow for most people, the reason behind this is not doing it any favor.
Please refer to the image below.
As you can see, the main reason for ASMX's hefty price tag is merely because its owner enjoys a 400-500% profit margin.
It's like rubbing salt to your wound. Here's the rest of Matt Clark's Interview with Ideamensch.
Fortunately, there are equally good FBA training courses that you can consider. Take a look at this program for example.
#2 Popularity Due to Affiliate Commissions?
Be careful with some of the Amazing Selling Machine reviews out there, especially the ones that are full of hypes that hints easy and quick success using this program.
It is highly likely that those are ASMX affiliates and all they care is to get you signed in so they can get their share of the pie.
ASMX has a dedicated marketing managers who send out emails advertising the program to potential affiliates. Why?
Affiliates who promote ASMX receive a generous $500+ per upfront sales they make. They can also make up to 6 x $150+ each installment purchases.
There are even rumors that some Amazing Selling Machine X affiliates are offered up to 50% commission on each individual sales!
Why is this a bad thing?
With such high profits and profit margins promised to would-be ASMX affiliates, it is no wonder that its name and reputation skyrocketed to the top.
Those 5/5 stars Amazing Selling Machine reviews (except to the genuine ones) played a huge part to this.
However, most of this "fake" and "unethical" affiliates responsible for those reviews have zero experience with ASMX at all. They see this course as no more than a lucrative affiliate program to promote.
#3 A True Exceptional FBA Course Or Just Well Marketed?
If you go to the this training program's official website, you will notice that ASMX is offered for a limited time only. The reason? Only the people behind ASMX know.
However, if you think about it, how are high-profit margins generated?
Exactly! By convincing customers that the product is very high value that it is in limited supply.
I am not saying that this is what the management of ASMX is doing. It's nothing but a simple food for thought. But feel free to share your thoughts in the comment section below.
Click Here: My #1 Recommended FBA Training Course For Beginners
Is the Amazing Selling Machine For You?
The Amazing Selling Machine is not for everyone. Although I can say that this course can provide a lot of helpful information to FBA business owners who desires success in the industry…
What matters most is the person's level of dedication and his/her willingness to take action.
One more thing and perhaps this is the more significant issue. $4997 is a lot of money. I personally know a lot of excellent business opportunities that do not cost as much.
The questions that I feel only you can answer is…
Are you willing to invest $3 short of $5,000 for an FBA training course? 
Base on the information I have provided you, do you think this price is reasonable?
You can share your thoughts and opinions in the comment section below.
An Affordable Alternative to ASMX
If the price of Amazing Selling Machine is a bit too much for you to handle, there are certainly a bunch of other excellent Amazon FBA training course on the market today that will not cost you an arm.
Jim Cockrum's Proven Amazon Course (PAC) is ideal for beginners who want to start an Amazon FBA business from scratch. PAC is suitable not only for entrepreneurs in the US but also for the ones who live outside of the states.
Similar to ASMX, the PAC also provides valuable information about the proven and effective ways to generate a stable income by selling on Amazon.
It also provides the same courses such as learning how to find profitable products, creating your brand, how to source your products from China and other countries, scaling your business and more.
Here's a direct link for my in-depth Proven Amazon Course review.
Related: Proven Amazon Course vs. Amazing Selling Machine – Which is the Winner?
My 2 Cents
Creating a successful Amazon FBA business can definitely help you get to the financial independence that you dream of. However…
It won't be easy.
But if you have the dedication and the passion for it, you can make it work. The challenge is to identify the right direction to go and how to get there.
Finding the best FBA training program to get started with is a huge step forward. 
That's what the Amazing Selling Machine X offers you. If you think that this is the program that will take you closer to your goal, then please give it a shot.
And for those of you who might be wondering, the Amazing Selling Machine is definitely NOT a scam.
FACT:
It is true that it could cost you a serious amount of money, but if you make it work, your initial investment could very well be a drop in an overflowing bucket.
Moreover, the 6-month buyback and the 30-day money back guarantee does provide additional security regarding this risk.
Nevertheless, it is also true that the alternative I provided above could provide the same value at a fraction of the cost.
Turn your Passion into Profits
But what if at this moment you realized that the Amazing Selling Machine nor selling on Amazon is not the opportunity that you are looking for? What then?
Did you know that you can also make a lot of money just by promoting Amazon products without actually selling them?
After all, what impacts your success most is not only the tools and the training programs but also, the passion that you have for what you are doing. And thanks to the Internet, there are plenty of ways to make money by doing what you love.
For instance, this Affiliate Marketing Program will teach you how you could earn as much as what you can earn from an Amazon FBA business without selling anything.
The best part is, you can get started for free!
But if selling physical products sounds like the winning ticket for you, you can't go wrong investing in legit FBA training programs like the Amazing Selling Machine X.
Click Here: My #1 Recommended FBA Training Course For Beginners
Final Words
Thank you for taking the time to read this Amazing Selling Machine review.
If you have further questions about this program or regarding the FBA business model in general, feel free to utilize the comment section below.
If you find this article helpful, kindly share it to the people you know who might be needing this kind of information.
Until next time and I wish you the best in the future.
Your pal,
Jack
FREE COACHING PROGRAM
TURN YOUR PASSION INTO A SIX FIGURE ONLINE BUSINESS
Finally! A Proven Step-by-step Method To Earn A Six Figure Income Online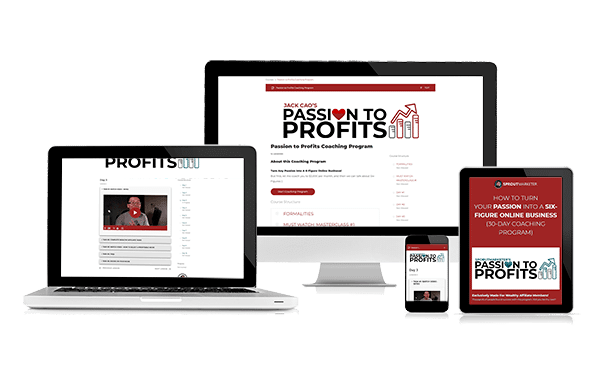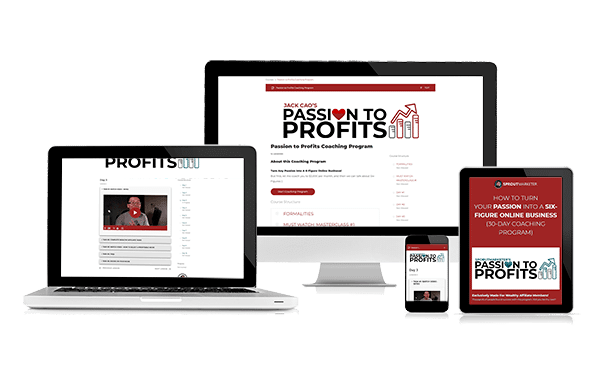 Claim Your Free 10 Day Passion to Profits Course…