Free Cash Formula Scam – Avoid this at all cost!!!
Name:  Free Cash Formula or Free Cash Code
Website:  www.freecashformula.com/gointl/
Price: $49 + Many upsells
Owner(s): Andy Jacobs
Income Opportunity rating: 1 / 5 Stars
#1 Recommended Online Business Training with Proof: Click Here
Free Cash Formula – What you need to know
---
If you have landed on this page, I presume there are a few things you want to know:
Is Andy Jacobs's Free Cash Formula a scam?
Is Free Cash Formula really free?
Can you really make money with Free Cash Formula?
Is it true that making money online is easier than ever (a few minutes a day?)
Well, you are in the right place because I am going answer all the above questions plus I'm going to expose what exactly is in the Free Cash Formula System.
You see, my sole purpose for setting up this website is to provide you with sufficient information so you can decide whether or not you wish join a program. I'm here to save you time and money, so I put forth myself to pay for the membership fees to give you an insider overview. I really do hope you enjoy reading my review.
Back to Free Cash Formula, Andy Jacobs will give you a million dollar system that can generate massive amount of money daily for you on auto pilot and he shares with you that anyone, regardless of gender or age can use the system to make money with just a few clicks and a few minutes a day. Well, the first thing that came to my mind when I heard what Andy Jacobs said was, "Really?".
Discover the world of Affiliate Marketing and learn how you can build a successful online business. Click here!
Is Free Cash Formula a scam?
---
Say, hypothetically that the Free Cash Formula can really make you tonnes of money with little to no work, does this mean that no one in this world who knows about Free Cash Formula will ever need to work again? Do you even think that it is possible? I'm not trying to be negative here but I just want you to consider the practicality in this realistic world. There is a saying that if an opportunity sounds too good to be true, it probably is.
So, if you ask me if Free Cash Formula is a scam, I would say YES, Due to several factors which I will disclose below.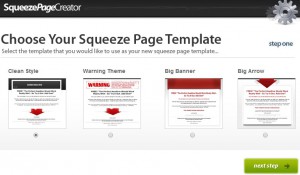 Similar to a brick and mortar business , setting up an online business (regardless of what product you sell) requires a lot of time and effort and you need to know how to capture people's interest to want to buy something that you offer (You basically need targeted traffic)(traffic =more people visiting your website).
Free Cash Formula system is nothing more than a software that generates basic landing pages for you, it do not automatically bring visitors to your landing pages. You have to know how to do it yourself.
Although there are some training videos that teaches you how to generate traffic, the information provided within the members area are insufficient for you to be successful online.
Is Free Cash Formula really FREE?
---
Well, if you have visited the Free Cash Formula Landing page, you will realise that you have to pay $49 for the program. So why did Andy Jacobs say Free Cash Formula is free? God knows.
Let me teach you a trick to just close off the browser and you will see a pop-up asking you to either remain on the page or leave the page. Just click on "Stay on this page" and repeat the steps till you see a $9 offer. Yup, this is the amount you should be paying to try the Free Cash Formula.
But wait, there is a catch to the $9 upfront payment. Be prepared to be bombarded with upsells after upsells even within the member's area. Worst of all, you will be forced to sit through long sales videos without any action button until the offer is delivered to you. – Brace yourself.
Right after you paid for the initial membership – Profit Multiplier Tweak
---
Introducing Profit Multiplier Tweak which is an upgrade to the original Free Cash Formula system. This upgrade will supposedly catapult your profits by 10 times. It will grant you access to some training that teaches you how to build an email list, it also give you access to Andy Jacobs's most profitable copy and paste campaigns.
Keep this secret between us, you do not need to pay $197 for this upgrade, hack, you do not even need this upgrade because the basic membership includes this so called "Profit Multiplier Tweak".
Now, let's dive right into the member's area to check out more upsells and what Free Cash Formula have to offer.
Within the member's area – Are you ready?
---
You will be advised to follow the steps to get started.
Step 1 – Free Live Training
In this Live Training, Andy Jacobs is suppose to share with you his most profitable strategy with real examples and case studies. Andy Jacobs  will also introduce you to a highest paid consultant online (Mr X) who will share his secrets on how to make money online without a product or a website.
One big problem is that the Live Training is a flop, firstly because when the spotlight is passed on to Mr X, the video stops. Secondly, I do believe the video is not recorded Live because there is an overlap of video timeline which made me believe that the video was edited and thirdly, the link (see picture below) brings you to another program called Auto Options Bot which not for you to register for the live training.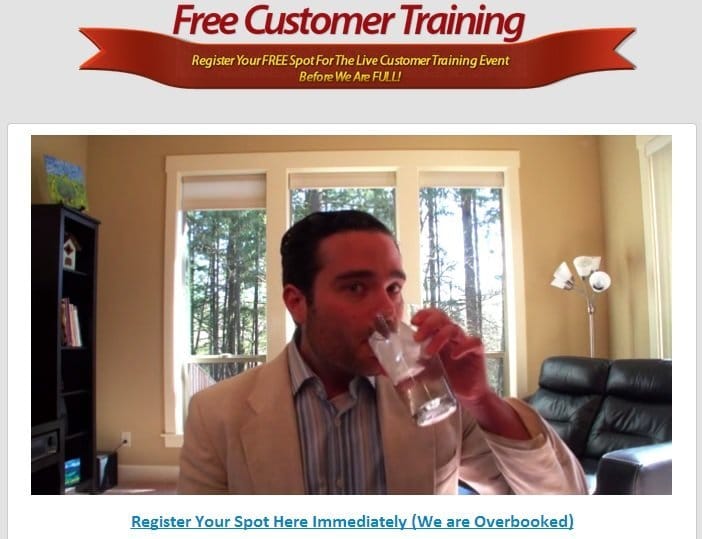 Be an Online Entrepreneur NOW! Turn your passion into profits. Click here!
Step 2 – Claim your Free website
To be honest, nothing in Free Cash Formula is free. This step basically brings you to another program called Cloud Pro Hosting where you have to pay $89.70 for a web hosting package. I have not personally used Cloud Hosting Pro so I can't actually comment on the program. However, I can only say that the web hosting service is expensive and inflexible (you can't amend much on the design of the website).
Step 3 – Build Your Email List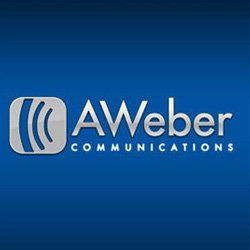 Free Cash Formula system itself do not have the facility for you to capture emails to build a list. You have to engage another service provider called Aweber. Where you have to pay $1 for the first month and there after $19 every month.
Don't get me wrong, I am not saying that Aweber is not a good product, in fact, it is one of the best auto-responder service provider you can find online. I am just not excited about using other services when I have already paid for a membership in Free Cash Formula.
Step 4 – Get Fast Free Traffic
I'll say it again, nothing is free on Free Cash Formula. Andy Jacobs is basically selling you away to all these other programs where you do not even know if you need it.
This step brings you to a program called Miracle Software Vault where you will be able to keep up with the latest money making online trends and software that automates your online business for you (i.e. driving traffic automatically for you).
Miracle Software Vault cost $1 for the trial period of 3 days, and a $67 every month to remain as a member. Honestly speaking, how would I know if I need this program when I practically have no knowledge on how to make money online?
This is the part where I felt frustrated for beginners who have tried Free Cash Formula. You do not get much information or education in Free Cash Formula and all you know is that you have to keep paying for something in order to automate your business.
The Free Cash Formula System
Basically, you will get a software that will generate landing pages. You will have 4 designs to choose from and that's basically it. The premise of the entire Free Cash Formula is to create a simple landing page, link it to Aweber to capture emails, then copy and paste a campaign to your landing page and expect people to visit your landing page.
To me this setup has a critical error because none of the steps above involve driving traffic to your landing page. Who in this world will ever notice your landing page when no activity is done? Your landing page will not rank on search engines, it does not appear on social media platform like facebook or twitter, you do not have a big email list to begin with.
I am just highlighting the flaws within the system and I believe the Free Cash Formula system will not bring you any added value in terms of knowledge and money in your pocket.
My Sincere Advice to You
Do not jump into the hype and purchase Free Cash Formula because you will not get any added value in return. Instead of spending hundreds of dollars buying into a business opportunity that do not work, why not spend the money investing in your own education.
Making Money online is a lifelong process and there are so many things to learn and so many trial and errors you need to face before you can be successful. I would recommend you to invest in yourself by being a part of my #1 recommended online business course. You will be amazed by what you will learn in there.
Thank you so much for reading my review and I hope you can find your success soon. As always, I invite you to share your thoughts on Free Cash Formula by leaving a comment below. If you find my review useful, please help to share it with your friends and family by clicking on the social media buttons below. Sharing is caring!
Your pal,
Jack