Digital Experts Academy Scam Review – Is it Worth Thousands of Dollars?
So, you are here because your Six Figure Mentor (SFM) consultant interests you in this upgrade to the Digital Experts Academy and you want to know if it's really worth the money, right?
I mean it's not hundreds of dollars we are talking about, its thousands!
$2,500 to be exact for the first level of upgrade to the Digital Experts Academy Silver Membership.
There's also the Gold Membership (Second Level Upgrade), the Platinum Membership (Third Level Upgrade), and the Black Membership (Highest Level Upgrade), and each comes with a higher price tag than the other.
If you follow through and buy everything your SFM consultant recommends, you'll end up paying up to $20k or more.
What is it about this program that is so prestigious? Do they even provide a guarantee for your success (I'm sure you'd love to know).
Fact is, there's no guarantee, ever!
In this Make Money Online industry, your success is determined by you.
No one else can guarantee that for you.
So, why the high price tag?
Glad you found this Digital Experts Academy Review because I am going to share with you everything you need to know about this program in order for you to make your decision.
If you haven't read my Six Figure Mentors Review yet, you do so to get a full understand of what this program is all about.
How I Fired M​​y Boss and Still Earn a Full-Time Income. Here's How You Can Too!
Digital Experts Academy Silver Review – $2,500
In the Six Figure Mentors, you are taught to do affiliate marketing, which means promoting other people's products online and earn a cut of the profit as commission when there's a successful sale.
But, if Affiliate Marketing is not what you intend to do, maybe the Digital Experts Academy Silver membership may interest you.
The Silver membership has added a completely new program that teaches people how to set up an e-commerce business.
The program name is called Importxperts. You can check out their website here.
The DEA Silver Membership was previously a mindset training program, and hence the course description "Transition to full-time self-employment".
Just recently, Stuart Ross has partnered with several experts in the e-commerce industry, namely Anna Davidson Thawe and Lewis Wade, to bring to you Importxperts.
You can find more information about Anna Thawe on her personal website where she runs her own online training program, and you'll probably come across "The Ultimate Facebook Marketing Masterclass" and "The Ultimate Facebook Ad Masterclass" if you were shopping around for e-commerce Facebook marketing training.
I am sure you will learn a great deal of information with the DEA Silver Membership, but I am not sure if its worth $2,500.
I mean, students who've come across Anna Thawe and Lewis Wade don't pay such high price for the information.
Anna Thawe's Ultimate Facebook Ad Masterclass only cost £97.00, and her award winning workshop called "Import2FBA – The Ultimate Amazon Masterclass" cost £618.94, which is much less as compared to the DEA Silver Membership.
Generally, here's what you'll learn:
They'll introduce you to the go to place in China to source for products to be placed in the Amazon's FBA. This is a common place in China where entrepreneurs, like you and me, go to buy products in bulk and sell it online. They kept it a secret until you've been to their training or workshop, but it's really no secret at all.
That place is Yiwu, China.
You'll also learn that the most popular categories on Amazon right now are Kitchen, Toys & Games, Sports and Pets.
You can head over to Yiwu China to buy products for testing, because when you buy products directly from a factory, the minimum quantity per product is quite a lot, but when you buy products from Yiwu, the minimum quantity is much lesser. This is a big plus, because you can now test the market reaction on various products without spending much money on inventory.
And, when you find the winning product, you can scale your business exponentially.
Every Importxperts member has a chance to participate in the 30 day challenge to win a fully funded trip to Yiwu China.
In this 30 day challenge, you'll be taught the necessary skills to launch your own Amazon FBA business, and the winner will be the one who sells the most products online.
To be honest, Digital Experts Academy and Importxperts are not the only e-commerce training program out there, but it is one of the most expensive.
How I Fired M​​y Boss and Still Earn a Full-Time Income. Here's How You Can Too!
Digital Experts Academy Gold Review – $8,000
This is what gets me fired up…
Could you compare these 2 screenshots below:
[one_half_first]
[/one_half_first][one_half_last]
[/one_half_last]
On the left, I've grabbed a snapshot of the "Courses and Certifications" offered by Digital Experts Academy (your can see from their website), and on the right, I've got a snapshot of my membership area with the Digital Marketer HQ learning Platform.
Basically, they are identical, and there's no doubt that DEA is using the content, courses, and certification from DigitalMarketer.com. I'm not sure DEA will change the "Courses and Certifications" area (on their website) since it is now exposed, but if they do, you now know what's in this program.
The reason I know which is genuine is because I am a true fan of Ryan Deiss, the co-founder of Digital Marketer.
I was awarded my Digital Marketing certificates from DigitalMarketer.com, but I definitely did not pay $8,000 for them. Here's one of my certificate.
Yes, the individual certifications from DigitalMarketer cost $995 each, but if you've followed Ryan Deiss and Digital Marketer closely , you'll always get great deals (Hint: The entire series of courses and certifications cost less than $1,000 altogether).
Honestly, I don't see the reason to pay Digital Experts Academy $8,000 for knowledge that is provided by other experts.
What you are actually paying for is the 1-2-1 Coaching and the exclusive DEA Gold annual event.
Whether or not it is worth that money, I leave it to you to decide.
One thing I'll like to highlight is that the Digital Marketer Courses and Certifications are not meant for people who are looking to earn income online, but the courses are designed by advanced online marketers, digital agencies and people who works in the digital marketing industry.
Which is probably the reason why you don't see Digital Marketer in the "Make Money Online" space.
And, even in the Make Money Online space, people don't spend $8,000 for advanced internet marketing training.
A good example is Wealthy Affiliate where they teach beginner to advanced internet marketing strategies (in a structured step-by-step manner) for much less than a $100 per month (with no upsells).
If DEA Gold doesn't cost much, I wouldn't have much to comment about it because there are really some good training and guidance… But, the cost is astronomical.
How I Fired M​​y Boss and Still Earn a Full-Time Income. Here's How You Can Too!
Digital Experts Academy Platinum Review
$11,000 for a site branding course?
Unless you are a business owner who have a lot of spare cash to grow your business, this is definitely not a course that I'd recommend you.
Sure, you can learn a great deal about branding through this intensive and dynamic 3-Day live DEA PLATINUM Workshop, and you'll get actual work done when you work with the professionals assigned to you, but it's all about the effectiveness.
If you are a DEA Platinum Member, and you have success with this program, I'd like to invite you to share your story here by leaving a comment at the end of this review.
One thing for sure, this is not a course for people who are just starting out. This is for people who already have some success online, and would want to learn how to scale their business.
So, the choice is really yours when deciding if you want to sign up for this course, because I do see value if you have a brick and mortar or a digital product store.
But, the problem is, if you've found Digital Experts Academy before you've found Six Figure Mentors, you'll be directed to purchase the Six Figure Mentors membership before progressing to the DEA memberships.
The fact is, many SFM members are people who are looking for a way to make money online, and they don't have much or any online business background.
It would probably take a long time to find some success. A lot of SFM members don't even find success at all (I'll discuss a little more below).
Expensive doesn't mean top quality! Here's a program that teaches top quality internet marketing knowledge for a small fee. Click to find out!
Digital Experts Academy Black Review
Again, this is not for you if you are a beginner.
So, don't think about it even when your SFM consultant asked you to join (I hope they don't), otherwise it would seem that they are just out for your money.
This level of membership is by invitation only.
Not every SFM or DEA members will be invited to join this program.
This program is where you can have the opportunity to work or partner with SFM and DEA.
You can work with SFM and DEA to create a training program with them, or get trained to be a SFM or DEA consultant, where you'll share profits with them.
And, you'll get access to the Annual Black Mastermind Retreat.
The Effectiveness of the program
I don't want to say more about the effectiveness of the program, but I want to share with you my research on some Six Figure Mentors' and Digital Experts Academy's affiliates who left their digital footprints online.
You see, this program teaches all about building a website, writing content, using paid ads and search engines to drive traffic, and especially in the SFM, they teach you how to promote the SFM as a business opportunity.
Honestly, I haven't seen one successful website while I was doing my research. If you don't agree with me, and if you really have a successful website as a result of SFM & DEA, please, I'll love to hear from you, and I'll update this review. Your positive experience gives this review more credibility.
#1 Student Review: markfordsblog.com
This website has been around since 8 June 2011, and it has a lot of content, but it is just not getting the traffic.
I use a competitor spy tool called SE Ranking, so this is not an information that is manipulated by me.
#2 Student Review: davemenzies.com
#3 Student Review: lifestylebymyowndesign.com
#4 Student Review: gerardandchrisonline.com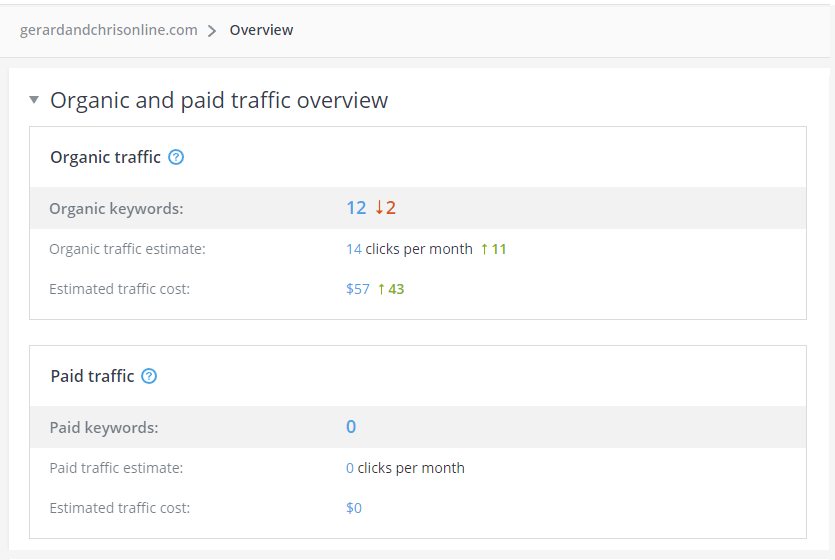 #5 Student Review: barbara-blevins.com
Benchmark for a Successful Website
I guess you are not sure what is the benchmark of a successful website, so I'll share my stats here:
If you are interested to know the program that taught me how to achieve this result, I recommend that you check out this program.
How I Fired M​​y Boss and Still Earn a Full-Time Income. Here's How You Can Too!
My Sincere Opinion
On top of the highly priced memberships, you'll have to set aside a monthly budget to buy traffic to your product promotions.
To be honest, learning how to get started with an Online Business, whether it is an Affiliate Marketing or an E-Commerce business, it shouldn't be that expensive, in my opinion.
It's true that you can learn a lot from these memberships, but is it really worth spending so much for them.
Plus, the Course and Certifications in the DEA Gold Membership are basically other people's product.
The money you spend on the courses, could have been used for advertising for your product promotions, and you could have already found the winning ad to scale.
The investment you make to Digital Experts Academy could set you back for a long time, and there's no guarantee that you'll succeed.
Now that I've shared with you everything you need to know, the rest is up to you.
Whatever decision you make, I wish you all the best!
However, if you think Digital Experts Academy is not your cup of tea, and you'll like to learn how to make money online without the need to spend a lot of money, then I recommend that you check out this program.
This is the program that is responsible for creating thousands of successful affiliate marketers (me included). My track record:
Thank you so much for reading this review!
If you find my review helpful, please help to share it on social media by click on the social media buttons below.
If you'd like to discuss more about Digital Experts Academy, please, feel free to leave a comment below.
Your pal,
Jack