12 Month Internet Millionaire Review – Scam or Legit?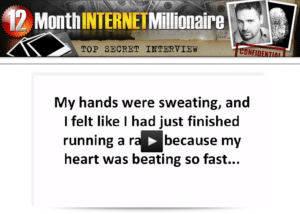 Name: 12 Month Internet Millionaire
Website: www.12monthinternetmillionaire.com
Price: $27 + Upsells
Owners: Russell Brunson
Bare Naked Scam Rating: 1 Thumb Up

#1 Recommended Online Business Training with Proof: Click Here
What is 12 Month Internet Millionaire all about?
---
12 Month Internet Millionaire is an interview featuring a convicted felon, Vincent James, who was a multi-millionaire.
The interview is 6 hours long, divided into 6 parts. Vincent James shares with Russell Brunson how he made his millions in a short period of time.
After hours of research and listening to the interview, I found the truth about Vincent James and how he made his millions, by ripping people off.  So why would we want to learn something from a person with a low quality character? Let's find out…
Discover the world of Internet Marketing and Learn how you can build Your Successful Online Business Now! Click Here.
Is 12 Month Internet Millionaire a scam?
---
When I first chance upon 12 Month Internet Millionaire, I thought it was a total scam.
However, after going through the 6 hour interview and done extensive research on the guy behind 12 month internet millionaire, I have mixed feelings on this.
On one hand Vincent James was a felon who cheated 450,000 people and on other hand the interview disclosed many powerful marketing techniques that can be applied to any online business.
A lot of online marketing ideas can be generated even though Vincent James talks about offline direct marketing the whole time. You need to stimulate your thinking on how to put those direct marketing strategies into usable techniques for your internet business and that's the challenging part.
But I have to warn you of the upsell right after you purchase the 6 hours audio interview.
Right after you pay for the 12 Month Internet Millionaire, you have the right to resell the audio with 100% commission but before you can have access to the audio interview, you will be directed to a video which will introduce you to another opportunity to sell the book "12 Month Internet Millionaire" written by Vincent James.
It is an overpriced book which can be bought at amazon.com at a lower price. So I would recommend that you skip this.
Is Vincent James a real person or a made up name?
---
Well, I have done an extensive research on this person "the so called Multi-Millionaire" and all I can say is he is a real felon.
The person behind the 12 Month Internet Millionaire is real, although the true story of how Vincent James was convicted was never disclosed fully in the 6 hours interview.
Vincent James aka Vincent J. PASSAFIUME pleaded guilty in March 2003 to charges of money laundering and fraud.  He agreed to forfeit up to USD 60 Million in personal and business assets obtained from the illegal business activities.
The illegal business he is in is exactly what he mentioned in the 6 hours interview. He is the owner of C.P. Direct, a company based in Scottsdale, Arizona which produces penis and breast enlargement pills that doesn't work.
It is true that Vincent James is a Multi-millionaire but 80% of his fortune came from illegal sources.  Here is the true story of how Vincent Passafiume made his millions and blew it all in one day.
I have searched high and low for evidence on Vincent Passafiume and I've finally found it. I am glad that I am able to share this with you and to provide you with an extensive review on the 12 Month Internet Millionaire.
Here is a Report from the Office of Attorney General Terry Goddard.
Can 12 Month Internet Millionaire help you?
---
Aside to Vincent Passafiume and his crimes, we as affiliate marketers should study how Vincent Passafiume successfully marketed a bogus product and made a fortune.
Don't get me wrong, I am not saying to study and copy every single thing Vincent Passafiume said to rip people off.
I always believe that in order to build a long lasting business, you have to provide great value and be upfront and  transparent. All I am saying is that we should learn the good things and leave the bad ones behind.
Think about it, what if Vincent Passafiume is a law abiding person and have marketed a legitimate product? Would his marketing method still work? Will he still be a Multi-millionaire? I would say yes and yes.
There is a reason why he is so successful in marketing which made him so much money within such a short period of time. So, I would say that there are definitely something you can take away from the 12 Month Internet Millionaire.
Please note that the 12 Month Internet Millionaire is not a course and it does not teach you exactly what you need to do to be a Millionaire in 12 Months.
It is an interview with a successful marketer who was convicted of fraud. While the business Vincent Passafiume is in is illegal, the marketing methods used by him is exemplary.
There are techniques you can definitely learn from 12 Month Internet Millionaire which you can use in your online business.
The 12 Month Internet Millionaire will also assist you in generating your own marketing ideas to implement to your online business. If you are an experienced Internet Marketer, I would say that this product definitely suits you.
Immense yourself to the world of Affiliate Marketing and Get Started on your success Now! Click here.
For whom is 12 Month Internet Millionaire for?
---
Any Internet Marketers would want to expand their horizon and bring their business to the next level should listen to this 6 hours interview. While I would recommend this product to advanced internet marketers, I would not recommend it to novice or beginners.
Advanced internet marketers can differentiate which strategies can or cannot be used.
Through listening to the 6 hour interview advanced marketers can generate new marketing ideas or techniques which can create a huge impact to their online business when implemented.
However, if you are a beginner, you will most probably be stuck as your knowledge is limited and the 6 hour interview do not give you a pin-pointed direction to move forward.
If you are a beginner who needs guidance on how to start an online business, I would suggest that you read my #1 recommended out of many products that I have reviewed. You can definitely spring from a beginner to an advanced online marketer within a short time with my recommendation.
As always, please feel free to leave a comment below and discuss 12 Month Internet Millionaire with me.
Your pal,
Jack