1 Cent FB Clicks – is it really a scam?
Name:  1 Cent FB Clicks
Website:  www.1centfbclicks.com
Price: $47 + Many upsells
Owners: Jani G
Bare Naked Scam rating: 1 Thumb Down
#1 Recommended Online Business Training with Proof: Click Here
What is 1 Cent FB Clicks?
---
As the name suggest, 1 Cent FB Clicks teaches you how to be an affiliate marketer and how to get cheap clicks from Facebook ads (Pay-Per-Click (PPC)). Imagine making a handsome commission from paying just 1 cent each time someone clicks through your facebook ad and buys a product you recommend, it would be sweet right? Well, it is! But the BIG question here is whether 1 Cent FB Clicks delivers what it promises?
As you might know, there are 1.2 billion people using Facebook everyday and it is quite obvious that there is a huge potential market in Facebook and many people are profiting from it. There are tonnes of Gurus trying to teach people how to profit from Facebook and many of them do not deliver what they promised.
I've spent hours going through the entire 1 Cent FB Clicks course and to my surprise, I actually found it useful. This course is easy to follow. However, I do not recommend beginners to start their affiliate marketing journey with 1 Cent FB Clicks (Pay-Per-Click Marketing) because you will never understand the mechanics of making money online.  I would always recommend beginners to learn how to make money through free traffic first (i.e. traffic from Google, Yahoo or Bing).
Discover the world of Affiliate Marketing and learn the mechanics of a successful online business. Click here!
Although I do approve of the contents of the training, I disapprove on some of the upsells within the members area. This is the main reason why I gave a one thumb down for this product. Now, let me walk you through the members area below to make sure you avoid the ones that do not benefit you.
The Welcome Page – Follow the steps and you are screwed
---

Step 1 – Claim your free HTC Blueprint
The first step 1 Cent FB Clicks recommends you to do is to sign up with another product call fast income pro, a trading software that supposedly make you lots of money through trading.
Well if you ask me, although I am stoke about making money online, I am more interested in making money through affiliate marketing rather than through online trading. Online Trading and Affiliate Marketing just do not correlate with each other and I wonder why Jani G would recommend you to Fast Income Pro.
Step 2 – Register for Training Webinar
This step recommends you to pay Brittany Lynch (an affiliate marketer) $997 to coach you on how to make $2k in 3 days. It is always nice to be able to look over the shoulder of a successful marketer and see how they generate their income.
However, paying such a high price for the "over the shoulder" opportunity do not guarantee your success and definitely do not justify the value. If I were you, I would skip this step.
Step 3 – Claim your FREE Mobile Commission Site
This step directs you to Cloud Pro Hosting, a web hosting company which supposedly build you a free website. While the website is free, the web hosting is not. Basically, you have to pay $89.70 for 6 months web hosting service.
Firstly, the method thought in 1 Cent FB Click do not require a website and secondly, you will not know what to do with the website if you have bought it. Seriously, I think all the steps set forth in the welcome page do not add any value to you.
Be an Online Entrepreneur Now! Turn your passion into profits. Click here!
Module 1 – The idea of 1 Cent FB Clicks
---
This is where it gets interesting, 1 Cent FB Clicks tells you that you have to keep the traffic within Facebook itself to get cheap clicks.
In other words, if someone were to click on your Facebook Ad, you should direct the person to your Facebook Fan page instead of to a 3rd party website (i.e. your own website or the landing page of the product you want to promote).
So how do you make money if you are not directing people to a sales page? Well, Ultimately the  goal is to get someone to buy something and the tricky part is you have to create an appealing Fan Page to entice people to want to know more on the product you are trying to promote.
In your Fan page (as taught in 1 Cent FB Clicks), you should not appear as someone who wants to sell something, but rather a person who want to share valuable information with other people.
This module also teaches you how to select a profitable product from Clickbank and JV Zoo to promote, and it also teaches you how to select a targeted list of people in Facebook who are likely to buy something if you are promoting it to them.
Module 2 – Make Money with Facebook Fan Pages
---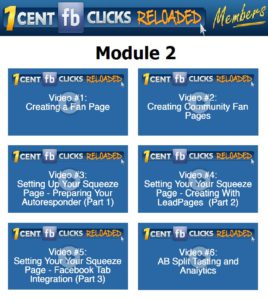 This module basically walks you through step by step on how to create a Fan Page in Facebook and shares with you what are the dos and don'ts within the Fan page. It also teaches you how to create a squeeze page or landing page within Facebook.
Be prepared to sign up to two products call "LeadPages" and "Aweber" as it is highly recommended if you want to get the full benefits from 1 Cent FB Clicks.
LeadPages is a system that allows you to create a landing page or squeeze page within minutes and it is a great tool to have, Aweber is a tool that sends an email automatically to someone who have provided their email in your landing page.
The combination of LeadPages, Aweber and Facebook together definitely make your marketing efforts a lot simpler, however, there is a price to pay for such convenience.
Module 3 – Your Target Market
---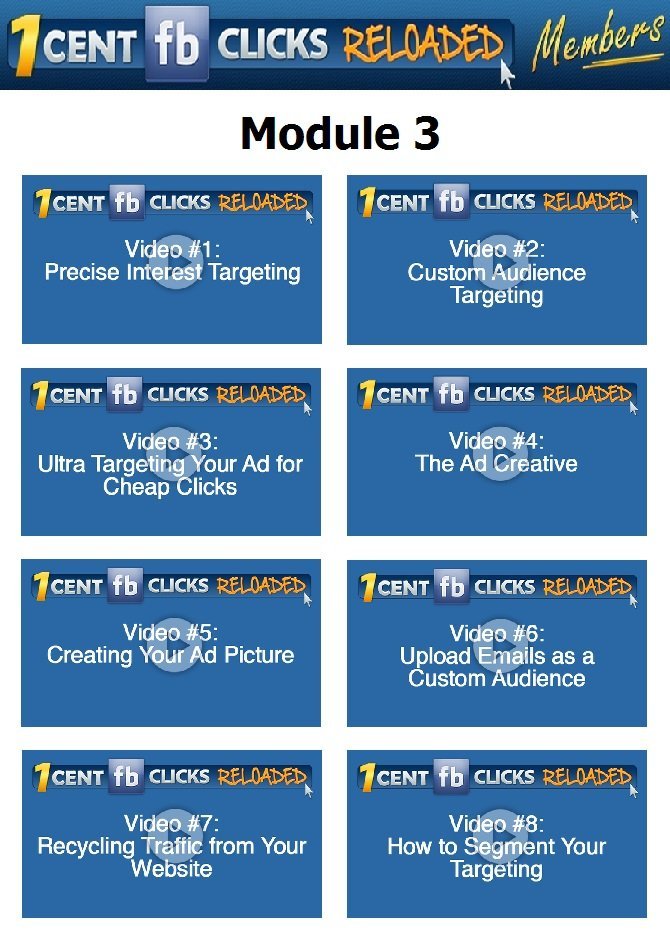 This Module drills down to the specifics. It shows you exactly how to target those people who are highly interested in the niche you are in and it also teaches you how to create profitable Facebook advertisements.
Rarely I would see a course that drills down to the specifics because it is just too much work and it is really difficult to explain. You need to have a vast knowledge on the topic in order to teach the specifics.
It is really great to see a Guru who knows his stuff. I would say that it is really beneficial for you to check out this part of the course even if you are not interested to follow the steps thought by 1 Cent FB Clicks because it really do give you a lot of insights in how to search for traffic in Facebook.
Learn how to turn your passion into profits! Build a successful online Business now. Click Here!
My Sincere Advice to you
---
Although there are some valuable information in 1 Cent FB clicks, you should beware of all the meaningless upsells within the members area and make sure you do not get caught into those programs.
Generally, I do like the courses in 1 Cent FB Clicks, however, I would not suggest any beginner to jump right into Pay-Per-Click marketing (PPC) because it is a slippery slope if you start your make money online journey on the wrong foot. On the other hand, if you have prior knowledge of Internet marketing, 1 Cent FB Clicks will definitely be helpful to you.
Let me preamp you that PPC requires a lot of trial and error to find a successful campaign, which means you probably need to make a certain amount of initial investment (some people invested a lot of money but do not see results). Statistics show that most people (especially beginners) who do not find success in their first ever campaign quits and never want to be involve in making money online ever. I hope this do not happen to you.
If you want to start your Make money Online journey on the RIGHT foot, I suggest you check out my #1 recommended Internet Marketing Course which basically teaches A to Z of Internet Marketing. With the knowledge you are about to gain from my recommendation, I am confident that you will be able to gain valuable knowledge and be successful online.
As always, I invite you to share your thoughts with me on 1 Cent FB Click. All you need to do is leave a comment below and I will be more than happy to discuss this with you. If you like my review, pplease feel free to share it with your friends and family by clicking on the social buttons below. Sharing is caring!
Your pal,
Jack