Zip Nada Zlich (ZNZ) – The Naked Truth of the Opportunity
Name: Zip Zlich Nada
Website: www.zipnadazilch.com
Price: $0
Owners: Jeffery Kocurek
Bare Naked Scam Rating: 1 Thumb Up

#1 Recommended Online Business Training with Proof: Click Here
 Unzipping the top of Zip Nada Zlich
---
ZNZ is a program that offers you a chance to earn money from home without any cost. All you need to do is sign up with two of ZNZ's platform (ZNZ One and ZNZ Big Cash), thereafter, you need to sign up with the free trial offers in ZNZ to be an active member.
To earn a commission from ZNZ, you need to refer people to ZNZ to do exactly the same thing as you did, create an account with ZNZ One and ZNZ Big Cash, sign up for free trial offers. Once your referral becomes an active member, you will earn a commission of $20 from ZNZ One and $40 from ZNZ Big Cash.  
Sixty dollars in total?
That's awesome right? Well, it is but not quite…
Why do such company like Zip Nada Zlich exist? – A mystery solved!
---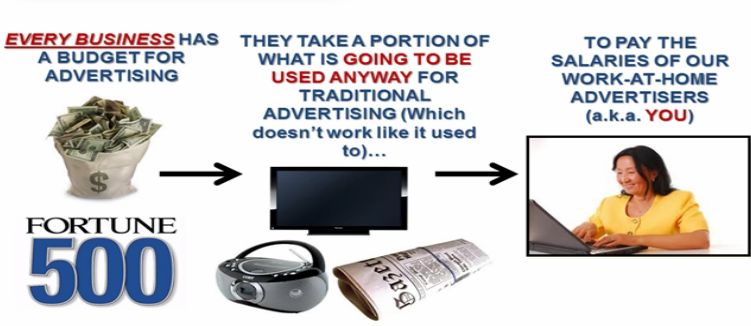 As you probably know, Zip Nada Zlich is working with a few fortune 500 companies. These fortune 500 companies have an advertising budget to promote their products and services.
In the past, these companies will pay to put their advertisement on TV commercials.
Nowadays with the advancement of technology and the introduction of digital video recorder (DVR) (i.e. products like TiVo), people no longer have to watch another advertisement while enjoying their favourite TV shows or movies.
They skip pass these advertisements to continue on with their TV shows. This makes Fortune 500 companies' advertising efforts redundant and hence, more and more companies turn to companies like Zip Nada Zlich to advertise their products and services.
ZNZ is one of the few freebies companies that have gain popularity over the past years.
Started out in May 2008, it have paid out  $8,915,721.52 in commissions till date (5 July 2014).
It is rare to see a company that provides people with a no cost opportunity, most of the time, opportunities come with a cost and most of them are scams, but ZNZ is not one of them.
Although ZNZ is a legitimate company and you can really make money with it. There are some flaws tag to it. As you know, every company are bound to have some flaws and I will discuss those with you below.
Discover the secrets of making money online! Click here.
Things I fancy and dislike of Zip Nada Zlich
---
Things I like
Membership of Zip Nada Zlich is free

Geting paid for referring people to sign up for free trials and offers

It is a legitimate business
Things I don't like
Most of the offers are not free (only a few have free trial)

Some of the offers brings you to another site (promoting other offers to you)

No residual income

Many low quality product offerings

Most offers not available out of US,UK and Canada

A lot of time spent on managing this business

Very little offers (at this moment, I can only see 15 offers)

There's no training, guidelines or system in place for the program
A little peek into the program
---
ZNZ One and ZNZ Big Cash
Basically, these two systems are exactly the same. I have thought long and hard as to why there are 2 systems that are exactly the same but I can't figure it out and make any sense from it. If you can think of a reason for that please share with me by leaving a comment below.
The only difference between these 2 systems is the different commission rate. Your referral who become an active member in ZNZ One makes you $20 and if he/she become an active member with ZNZ Big Cash, you make a commission of $40. What is the agenda behind this? It is a mystery.
The Biggest Pitfall – Being an active member is not FREE
To be an active member of Zip Nada Zlich, you have to accumulate a total of 1 to 3 credits in the program. In order to accumulate credits, you have to try out or buy into the offers. The offers will show you how many credits you will get when you sign up with the product offer.
Picture on the right is an example of the offer. If you take a deep look into all the product offerings in Zip Nada Zlich, you can see that only 1 or 2 of the offers have free trials and the credit adds up to lesser than 1. You probably have to buy into a few offers to gain the credits to become an active member.
You have to be really careful here because if you are not comfortable in buying any of product offerings, I would suggest that you leave ZNZ immediately.
The training platform? – None!
Basically, there are no training platform or system for any beginner to follow. There are no step by step courses which makes it really difficult for beginners to excel with this opportunity. I've seen a lot of complaints on that part on the internet and I can't iterate more that it is really important for beginners to have an easy to follow system that will eventually bring success to them.
You see, whenever I do a review on a program or product, my first concern will be addressed to the user-friendliness of the courses in the program. Whether the courses are easy to follow and whether the contents are valid and usable to build a successful online business. My second concern is whether a beginner will get lost in the program. However, with ZNZ, there's nothing!
Well, not exactly nothing, there are many active members who promote ZNZ and offer free course to beginners. A good example would be a program called "Cash 2 Flow " and "Internet Payday System " both of which created by a guy name Martin Wilson.
Where do I get my online business training from? Click here to check it out.
Cash2Flow and Internet Payday System – A Naked Truth of the program
---
Now let's take a look at what this "free" program have to offer. I would really like to go through the entire program with you, however, in order to keep this review as short as possible, I will only be going through those that I deem important in terms of the training on brining visitors to ZNZ.
Classified Advertising
This advices you to post free advertisements on Craigslist, BackPage, AdPost, EbayClassifieds to name a few. It also advices you to post advertisements on these places everyday to see the best result. Well I personally have not done this form of advertisement before so I can't really comment on it.
However, I did some research and found that although these ads do work, it takes a long time to see results and it also takes up a lot of your time and effort to post these ads daily. So you really have to weigh whether it is worth the time and effort to post free ads daily.
Pre-written Ads
This portion advices you on the dos and don'ts of the using ZNZ, for example, ZNZ prohibits you to promote it as a "Job" or even infer that it is a regular hourly wage JOB or a SALARIED position. Further to that, it provides you with pre-written emails and advertisements, all you have to do is to copy and paste them to the platform you wish to advertise with.
A fair warning that it is not as simple as ABC. Some of the pre-written ad works well and some don't. You really have to test it yourself to see if it works. Again, this takes a lot of time and patience because you won't be able to see the results instantly.
Google Plus and Twitter
These two social media avenue is one of the best ways to get traffic or visitors to your site. Together with Facebook and Pinterest. However, Cash2Flow and Internet Payday System do not teach you about Facebook and Pinterest, moreover, the training for Google Plus and Twitter are introductory and do not provide you with the reasons why you need these social media platforms.
Well, I don't blame them because all these are all free. Although there are some valuable information in Cash2Flow and Internet Payday System, I would say that it is not at all easy to follow for beginners.
A place for beginners to start building their online business empire! Click here.
A word of Caution
Although some materials in the Cash2Flow and Internet Payday System are free, they direct you to lots of other programs that provide either in-depth trainings or services that help you with driving traffic but let me tell you, these programs are not free. If you choose to join all the programs, you would probably be spending thousands of dollars.
Martin Wilson, the creator of Cash2Flow, is an affiliate marketer. He directs you to all these other paid programs so that he can make a commission whenever you purchase something. Some programs are useful while some are not, so be really careful!
Does the entire Zip Nada Zlich system really work? – My analysis and foresight
---
I'm writing this report because I think no one on the internet really cares whether the entire ZNZ system (the referral system and the advertisers i.e. Fortune 500 companies) really works. You will probably only care about making money from ZNZ. Yes, you can really make money from ZNZ, however, have you thought of whether ZNZ makes money for the BIG companies that provides you with free trial offers?
I bet you have not thought of it and so do many reviews I see online, hence my review is directed to this. However, you must note that whatever that I am about to share with you is  my personal opinion and analysis, and do not form any facts. You may want to just have a little thought on my analysis to see if it make sense. Here goes….

I understand that a few Fortune 500 companies are using ZNZ like equifax. One thing I like to ask, which I can't find anywhere online is why isn't equifax an offer in ZNZ any more? People online still use these big companies name as a basis to promote ZNZ.
I would just like to pass a thought to you on the probable reason why equifax is not using ZNZ anymore. Most probably, this is just an analysis, people who join ZNZ are only interested in signing up with the free trial to be an active member of ZNZ, they are not at all interested in using the services of Equifax or the products or services offered by the other companies. Most or probably all of the people who join ZNZ do not buy or use services from them.
You see these BIG companies pays ZNZ to promote their products, although some of the companies are really BIG and have tons of advertising budget, they still assess whether programs like ZNZ makes money for them. My guess is Equifax is not in the offers anymore because they do not make any money from ZNZ.
Which brings me to another point, the reason why lousy offers are now in ZNZ. I bet ZNZ makes money only from the companies that pays them to put their offers in ZNZ. So I guess many low quality products are trying to gain more sales through ZNZ by paying an advertising fee.
Which is why you see some of the offers, like the one below, brings you to other offer rather than the original one.
My Sincere Advice to You
---
Although Zip Nada Zlich is a legitimate company and you can make money with it, I would say that it is not worth your time and effort. Firstly because this program is not beginner proof, ZNZ do not provide any form of quality training and secondly, you will need to spend a lot of time each day posting ads and doing this and that, some people might not even get to see any result if he/she isn't lucky.
If you are eager to learn how to truly make money online, I would suggest that you read my #1 Recommended online business course because this is one of the best course I believe which is easy to follow and you can definitely make money with it if you stick close to the action plan.
As always, I invite you to share your thoughts with me on Zip Nada Zlich. I will be more than willing to discuss it with you. If you like my review and would like to share it with your friends and family, feel free to click on the social media buttons below. Sharing is caring!
Your Pal,
Jack