Vasayo Review: Scam or Legit? – 7 Crucial Facts to Know
Since you wind up in this article, I'm pretty sure that you've heard about Vasayo. And due to some formidable reasons, you are curious about this MLM company, its product, and how you can potentially earn income.
Is vasayo a scam? Is it a legit company? This Vasayo review will answer all those questions for you.
Like any other MLM company, Vasayo has been linked to a pyramid scheme in disguise, hence many people are searching for the term "Vasayo scam". So how can you differentiate between a legit MLM and a pyramid scheme?
So basically, MLM companies are a group of individuals that sells the product directly to the public through word of mouth and direct sales. 
Meanwhile, the pyramid scheme often operates as an MLM but there is no tangible product involved. Earning money comes solely through recruiting new members of their operations.
Watch the video below on how to spot pyramid schemes.
Vasayo was founded by Dallin and Karree Larsenin in late 2016, but before Vasayo, Dallin and Karree Larsen were founders of another MLM company called Monavie, which was sold to Jeunesse in 2015.
In just a short span of a year, after Monavie was sold, Vasayo was founded. How did the founders do it so quickly?
I'm pretty sure you're eager to know the how, so I will explain to you the answer right now.
In this article, I am going to show you 7 crucial facts that you need to know about Vasayo.
Let's get straight into it…
1. Vasayo purchased products from Valimenta Labs and branded them as their own.
The Dallin and Karree Larsenin immediately founded Vasayo right after selling Monavie.
The secret is that they might have rebranded products from a "low-key" manufacturer and sold them as their own.
Sounds fishy right?
Well, that is what most MLM companies are doing. Oops! I've just released an MLM trade secret…
While writing this review, I've found something really interesting you might want to know, which also proves my point above.
As you can see from the product page of Vasayo, its products are formulated by Dr. Emek Blair, Ph.D., who is the founder of Valimenta Labs.
Just as I have predicted above, Valimenta Labs is the "Low Key" product manufacturer I am talking about above.
Take a look at Valimenta's website which says "We make custom supplement formulas using our new CELLg8® organic liposome manufacturing technology. We provide B2B private label manufacturing for custom liposomal products, vitamin supplements, herbal extracts, and energy/nutrition drinks."

So, "B2B private label", I've proved my point that Vasayo buys and rebrands Valimenta products as their own.
At the time of this review, 29 April 2022, this is the information I've discovered.
Before you jump to any conclusion, please note that I am not here to bash Vasayo or Valimenta Labs.
I am only sharing the knowledge that I know about founding an MLM company.
As far as the legitimacy of Vasayo as a company, I think it is in the green zone. It is rather common practice for an MLM company to brand a private label product as its own.
So, the answer to the question, is Vasyo a scam, is NO.
2. Vasayo review: Liposomal products have a huge potential for improving nutrient absorption
Liposomal, the basis of all Vasayo products, is an agent (a protective layer around the nutrients) that help delivers the nutrients, leaving the nutrients intact for full absorption in our bodies.
An article published in the journal, Trends in Food Science & Technology, stated that there has been increased advancement toward the use of liposomes in food science and nutraceuticals.
The article also mentioned further research in preparation approaches and the safe formula of liposomes could offer promising innovations in nutrient absorption.
A scientific review published in the National Library of Medicine reported that liposomal formulations have been under different phases of clinical investigations.
So, are Vasayo products safe? Despite their clinical benefits, there will still be a need for more trials that would prove the efficacy of liposomal formulation in a diversified patient population.
The video below explains very clearly what Liposomal is all about.
And yes, Vasayo is not the only company that distributes Liposomal products. Other companies such as Encapsula and Creative Biostructure distribute Liposomal
There are many Liposomal distributors on the market, and most do not have an MLM structure.
3. Vasayo offers 5 products related to your different health aspects
Vasayo is currently offering 5 products that cater to different purposes such as:
MicroLife Neuro – Supplement for the Brain
MicroLife Sleep – Aids with a Sleep disorder
MicroLife Energy – Energy booster
MicroLife Core Essentials – General Health Optimiser
MicroLife Renew – Overall Health Enhancer, supports cartilage and joint function, improves immunity system, and rejuvenates our body
For the complete list of products from Vasayo, click here.
The full spectrum of the products covers four aspects of your health
Daily Wellness
Active Lifestyle
Weight management
Age-Defying
I'm sure you'll become healthier consuming them, but there's a premium to pay for good health.
But, if you decide to join Vasayo as a Brand Partner (to participate in the compensation plan), you'll be able to purchase the product packages below:
You need to pay $29.95 to be a Brand Partner. As a new brand partner, you will be given a starter kit that includes company and product information, a website, and other materials. You will need to pay $29 for their annual renewal fee.
Check their latest form here.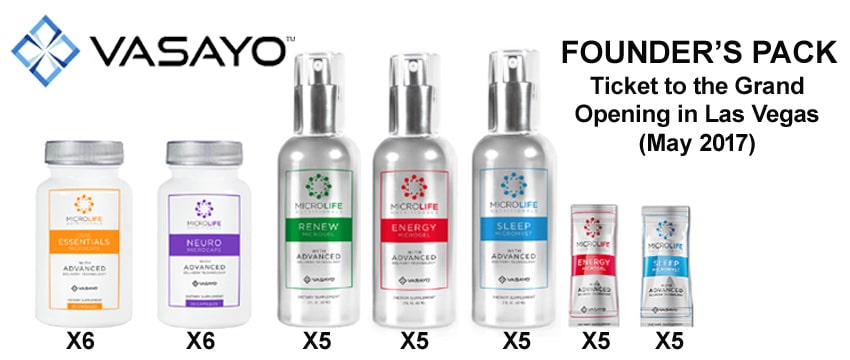 Package
Inclusive Products & its Commissionable Volume
Founder's Club Pack
Price: $1,495
Commissionable volume (CV): 960
2% of Commissionable Volume (CV) x (1% of Global CV + 1% of Regional CV)
MicroLife Product: Core Essentials (6), Neuro (6), Renew (6), Energy (5), Sleep (5)
Bonus Samples: Energy Sample Packs (5), Sleep Sample Packs (5)
Founders' Club commemorative pin
Sponsor Bonus: Product Introduction Bonus (PIB): ** $144 (15% of CV)
Value Package
Price: $889.00
Commissionable volume (CV): 600
MicroLife Product: Core Essentials (4), Neuro (4), Renew (4), Energy (3), Sleep (3)
Bonus Samples: Energy Sample Packs (3), Sleep Sample Packs (3)
Sponsor Bonus: Product Introduction Bonus (PIB): * $90(15% of CV)
Premium Package
Price: $599.00
Commissionable volume (CV): 400
MicroLife Product: Core Essentials (3), Neuro (3), Renew (2), Energy (2), Sleep (2)
Bonus Samples: Energy Sample Packs (2), Sleep Sample Packs (2)
Sponsor Bonus: Product Introduction Bonus (PIB):* $60 (15% of CV)
Brand Partner Intro Package
Price: $329.00
Commissionable volume (CV): 240
MicroLife Product: Core Essentials (1), Neuro (1), Renew (2), Energy (1), Sleep (1)
Bonus Samples: Energy Sample Packs (2), Sleep Sample Packs (2)
Sponsor Bonus: Product Introduction Bonus (PIB):* $36 (15% of CV)
Customer Intro Package
Price: $239.00
Commissionable volume (CV): 160
MicroLife Product: Core Essentials (1), Neuro (1), Renew (1), Energy (1), Sleep (1)
Sponsor Bonus: Product Introduction Bonus (PIB): * $24 (15% of CV)
For a complete guide on their latest packages, check out this link.
4. You can enjoy great bonuses and rewards by becoming a product partner
If you think you have great potential as a product distributor then you should try joining the Vasayo Rewards program.
Vasayo follows a powerful binary compensation plan. It is considered one of the high-paying MLM companies. The company practices real customer focus and fair payout for every distributor. V
Customer Sales Bonus
Enrolling Brand Partner will be paid 20% of their Customers' volume weekly
Enrolling Brand Partners will receive a $40 bonus if they have between 4 to 7 Active Customers or $80 if they have 8 or more Active Customers (paid on a 4-week cycle)
Product Introduction Bonus
Paid to the Sponsor of new Brand Partners. 
80 PV Active Brand Partners will earn 20% PIB on purchases from newly sponsored Brand Partners for their first commissionable order.
The remaining volume will roll to the team upline.
No compression is applied for this bonus
Team Commission Bonus
Paid to Brand Partners at Qualified Brand Partner or above
Paid in cycles of 240 CV/480 CV and at a rate of $25 per cycle
Up to 1,100 cycles/$27,500 per week (see Cycles in the Terms & Definitions)
Additional Earning Opportunities
Once your brand partner enrolled with Vasayo, you will be entitled to 15-30% of each product package
Leadership Bonus Pool
Product Introduction Bonus (PIB)
Rank Advancement Bonus
2.5% Exec. Check Match– 7 Generations Deep
For a complete guide on their rewards plan, click this link.
 5. Try their product first before selling them
Before you join Vasayo as a Brand Partner, the first thing you have to do is to try the Vasayo products for a period of time.
The worst thing you can do is to promote something that you didn't believe in, and that's rather unethical. What's more, you are promoting the products to your friends and family.
If the products work for you, you'll have good grounds to pitch the products to your prospects.
But, even if the products work for you, it doesn't mean that you will achieve success with the business opportunity.
As Vasayo is a new MLM company, they do not have any income disclosure as yet, but since Dallin and Karree Larsen have a track record with Monavie, I believe we can use the income disclosure of Monavie to gauge the success rate of the business opportunity.
You can choose to believe that the track record of Monavie and Vasayo will be different, but the statistics of Monavie are in line with almost every other MLM company existing today.
6. Vasayo scam? Many distributors do not earn a decent income from Vasayo
Almost 97% of the distributors (from the rank of Distributor to Bronze Executive), do not earn a decent income from the business opportunity.
Many Brand Partners who are actively recruiting people to Vasayo can sugarcoat the business opportunity, but the fact is that being successful with Vasayo is a long and hard journey and most people will give it up halfway.
Fortunately, I am going to show you how you can be successful with Vasayo.
The first thing you need to have is the "right mindset". 
Success in any business is not all sunshine and rainbows and being Vasayo's brand partner is no different.
If you want to find success in this venture, you have to endure a lot of challenges and strive to get enough sales. 
Remember the first step is always the hardest. So don't be afraid to put in the effort now and receive the rewards later.
Second, you need to join the "right team". Make sure to choose team members that are willing to devote enough time to help and groom each other.
Beware of people that are only after the profit. That's why it is important to try their product first before selling them. You can give a better testimony thus, you can recruit more quality brand partners.
Lastly, have a constant flow of new prospects/customers. If you are in a remote area with very few inhabitants, then maybe it's time to change your game plan.
Plus, many people are skeptical about MLM so, it's another challenge for you.
Try online marketing. Use the great power of the Internet to increase your sales and recruitment. 
My suggestion is to join a team that has many Brand Partners who were successful with online marketing.
Learn the Basics of Online Marketing here.
7. The Pros and Cons for joining Vasayo
Pros
Their leader has great experience in managing MLM
Liposomal products offer a promising solution for nutrient absorption in our bodies.
Several studies have been published to back-up claims on liposomal products but there is a need for more clinical investigations.
The company offers many bonuses and rewards for successful Brand Partners.
They offer one of the best products in the MLM industry.
Cons
Just like any other MLM, you have to climb up the ranks to earn a decent amount of money.
Vasayo products are not yet approved by the FDA. More clinical trials need to be conducted.
The commission from direct retail sales is only 20%.
Final Takeaway
Before you decide to join Vasayo as a Brand Partner, I would highly suggest that you try the products for at least a month to determine if the products work for you.
If you don't believe in the products that you are selling, who would, right? After all, more clinical investigations on Liposomal products need to be conducted before FDA approved them.
If you've determined that the products work for you, and you really want to join the Vasayo family, you must have the following in order to succeed:
It is not easy to be successful in the Vasayo business and which is why more than 95% of the Brand Partners fail.
Now, if the Vasayo business is not for you, but you really want to find a home-based business that is suitable for you, then I would suggest that you check this program out where you'll learn how to make money from home marketing products online that people want to buy.
Finally, I would love to hear from you if you are/were a Brand Partner of Vasayo.
Please feel free to share your product experience as well as the business opportunity by leaving a comment below.
Thank you so much for reading this Vasayo review!