Is Vasayo a Scam? – The Hidden Secret No One Wants You to Know!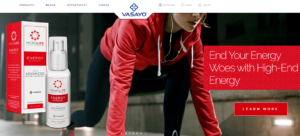 Name: VasayoWebsite:  www.vasayo.comFounder: Dallin and Karree Larsen
Income Opportunity rating: 2.5 / 5 Stars
#1 Recommended Online Business Training with Proof: Click Here
When one Multilevel Marketing (MLM) company shuts down, another will rise. And you must be wondering, what happens to the founders of the former company? How did they find/research another "Breakthrough" product and build another MLM company so quickly?
Vasayo was founded by Dallin and Karree Larsen in late 2016, but before Vasayo, Dallin and Karree Larsen were founders of another MLM company called Monavie, which was sold to Jeunesse in 2015.
In just a short span of a year, after Monavie was sold, Vasayo was founded. How did the founders do it so quickly?
Well, the secret is to find a "Low Key" product manufacturer who produces private label products to be sold to corporations for their own branding.
This means that the same produced product could have been branded by different companies.
Well, I am not saying that Vasayo's products could have been distributed to somewhere else with another brand name; I have no proof of that.
But, I am saying that most MLM companies are founded by buying private labeled products, and which is why you see so many MLM brands surfacing the market everyday. Oops! I've just released an MLM trade secret…
While writing this review, I've found something really interesting you might want to know, which also prove my point above.
As you can see from the product page of Vasayo, its products are formulated by Dr. Emek Blair, PhD, who is the founder of Valimenta Labs.
You can check out Dr. Emek Blair's Linkedin profile here.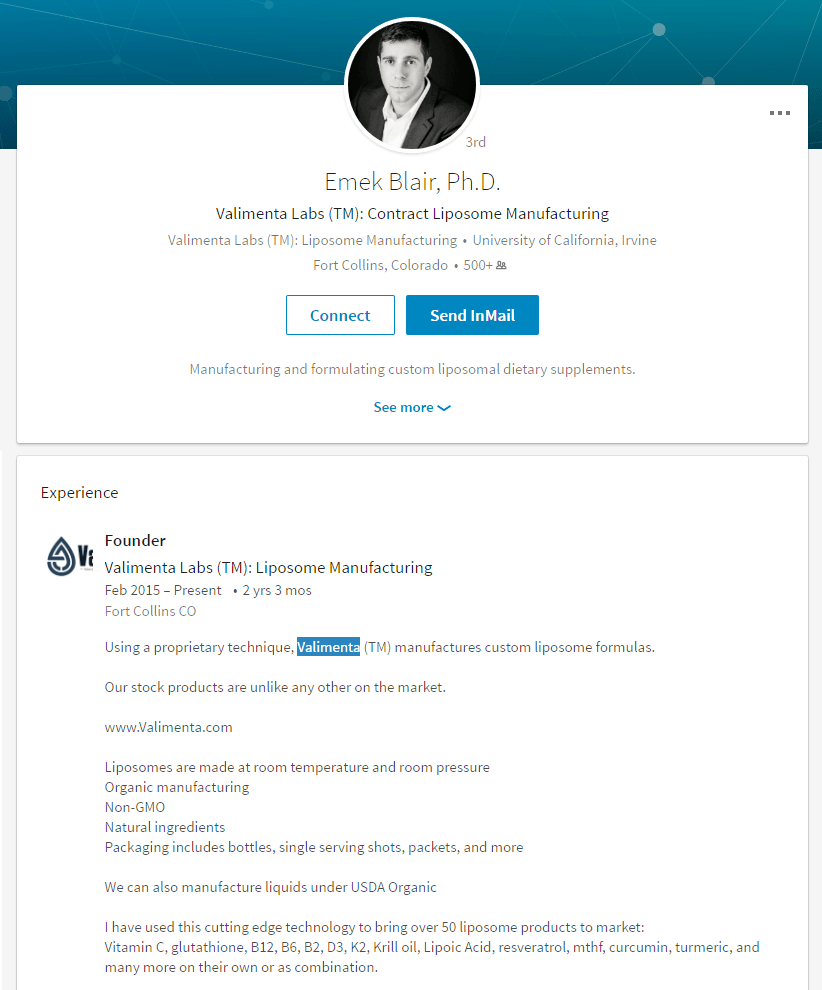 Just as I have predicted above, Valimenta Labs is the "Low Key" product manufacturer I am talking about above.
Take a look at Valimenta's website which says "We make custom formulas along with private labeling. We provide manufacturing for custom liposomal products, vitamin supplements, herbal extracts and Energy/Nutrition drinks."
And, in the "Services" page of Valimenta's website, you can see this:
So, I've proof my point that Vasayo have purchased products from Valimenta Labs and branded it as their own.
At the time of this review, 28 April 2017, this is the information I've discovered.
Who knows what will happen later on. Maybe Valimenta Labs will be acquired by Vasayo, and Dr. Emek Blair will produce products for Vasayo exclusively? Who knows? But this makes perfect business sense.
Before you jump to any conclusion, please note that I am not here to bash Vasayo nor Valimenta Labs.
I am only sharing the knowledge that I know about founding an MLM company.
As far as the legitimacy of Vasayo, I think it is in the green zone. It is rather a common practice for an MLM company to brand a private label product as its own.
So, the answer to the question, is Vasyo a scam, is NO.
This program has led me and thousands of people make a Life Changing income online. Find out how you can too!
How Can Vasayo Help You?
Most health supplements on the market are said to be ineffective as its nutrients are susceptible to decay, which lowers its bio-availability for body absorption (Nutrient absorption is not at optimal levels in simple term).
Liposomal, the basis of all Vasayo products, is an agent (a protective layer around the nutrients) which help delivers the nutrients, leaving the nutrients intact for full absorption for our bodies.
The video below explains very clearly what Liposomal is all about.
And yes, Vasayo is not the only company which distributes Liposomal products (as you can see from the video above).
There are many Liposomal distributors on the market, and most does not have an MLM structure.
Vasayo is currently offering 5 products which cater to different purposes such as:
MicroLife Neuro – Supplement for the Brain
MicroLife Sleep – Aids with Sleep disorder
MicroLife Energy – Energy booster
MicroLife Core Essentials – General Health Optimiser
MicroLife Renew – Overall Health Enhancer, supports cartilage and joint function, improve immunity system, and rejuvenates our body
The full spectrum of the products covers all aspects of your health, and I'm sure you'll become healthier consuming them, but there's a premium to pay for good health.
To purchase a full spectrum of the products (one bottle each), and assuming you consume the products according to the prescription, you'll have to pay $263.75 every month.
But, if you decide to join Vasayo as a Brand Partner (to participate in the compensation plan), you'll be able to purchase the product packages below:
All product packages come with a $49.95 enrollment fee.
Ambassador Pack – $1,399 – CV1,000
MicroLife Product: Core Essentials (4), Neuro (4), Renew (8), Energy (8), Sleep (8)
6 Energy Sample Packs
6 Sleep Sample Packs
1 FREE ticket to convention
Executive Pack – $949 – CV650
MicroLife Product: Core Essentials (3), Neuro (3), Renew (5), Energy (5), Sleep (5)
4 Energy Sample Packs
4 Sleep Sample Packs
Premium Pack – $699 – CV480
MicroLife Product: Core Essentials (2), Neuro (2), Renew (3), Energy (3), Sleep (3)
2 Energy Sample Packs
2 Sleep Sample Packs
Foundation Pack – $329 – CV240
MicroLife Product: Core Essentials (1), Neuro (1), Renew (2), Energy (1), Sleep (1)
2 Energy Sample Packs
2 Sleep Sample Packs
Intro Pack – $239 – CV160
MicroLife Product: Core Essentials (1), Neuro (1), Renew (1), Energy (1), Sleep (1)
Is the Vasayo's Business Opportunity Right for You?
Before you join Vasayo as a Brand Partner, the first thing you have to do is to try the Vasayo products for a period of time.
The worst thing you can do, is to promote something that you didn't believe in, and that's rather unethical, what's more, you are promoting the products to your friends and family.
If the products work for you, you'll have good grounds to pitch the products to your prospects.
But, even if the products work for you, it doesn't mean that you will achieve success with the business opportunity.
As Vasayo is a new MLM company, they do not have any income disclosure as yet, but since Dallin and Karree Larsen have a track record with Monavie, I believe we can use the income disclosure of Monavie to gauge the success rate of the business opportunity.
You can choose to believe that  the track record of Monavie and Vasayo will be different, but the statistic of Monavie is in line with almost every other MLM companies existing today.
Almost 97% of the distributors (from the rank of Distributor to Bronze Executive), do not earn a decent income from the business opportunity.
Many Brand Partners who are actively recruiting people to Vasayo can sugarcoat the business opportunity, but the fact is that being successful with Vasayo is a long and hard journey and most people will give it up half way.
This program has led me and thousands of people make a Life Changing income online. Find out how you can too!
How to be successful with Vasayo?
If you really want to be a successful Brand Partner, you have to have the following:
1. The Right Mindset
Being a Brand Partner means that you are a sales representative of Vasayo.
If you are not comfortable being in a sales position, then this business opportunity is not for you.
Be prepared to be face a lot of rejection on a daily basis.
Successful Brand Partners are the ones who will strive forward when facing adversity.
Focus on learning when facing adversity instead of letting the negativity of others affect you is the key to success.
An Online Business that requires No Selling. Check it out!
2. Joining the Right Team
Believe it or not, the Vasayo team that you are joining plays a big role in your success.
The worst decision you can make is to join a team that does not put your interest ahead of theirs.
I've seen too many of such situation where team members or sponsors only focuses on recruiting new members and neglects coaching and grooming existing members.
Because the turnover rate of Brand Partners is extremely high, it only makes sense for most teams to focus on new recruitment.
So, if you want to be a part of the Vasayo family, you have to exercise due diligence on your prospective team.
3. Have a Constant Flow of New Prospects
In any kind of business, if you have a constant flow of new prospects/customers, you are almost guaranteed a success.
If you follow the traditional way of marketing (the word of mouth, house party, etc), it may take you ages to find success because the sales conversion rate is low (depending on how good you are at selling).
To top it off, MLM companies have a bad name on the market. You can ask anyone on the street, and they will most likely tell you that they do not trust products sold by MLM companies.
So, to achieve a constant flow of new prospects is almost impossible with traditional marketing.
Many Brand Partners have ventured to the online space to find new prospects.
Online Marketing is one of the best avenues to find a constant flow of prospects because you'll never need to meet your prospects or pitch a sale to them, that is if you know how.
It is an extremely good strategy, but if you do not know the basics of Online Marketing, you will fail miserably as well.
My suggestion is to join a team that has many Brand Partners who were successful with online marketing.
Learn the Basics of Online Marketing here.
My Sincere Advice to You
Before you decide to join Vasayo as a Brand Partner, I would highly suggest that you try the products for at least a month to determine if the products work for you.
If you don't believe in the products that you are selling, who would, right?
If you've determined that the products work for you, and you really want to join the Vasayo family, you must have the following in order to succeed:
Right Mindset
A team who coaches and supports you
A constant flow of new prospects
It is not easy to be successful in the Vasayo business and which is why more than 95% of the Brand Partners fail.
Now, if the Vasayo business is not for you, but you really want to find a home based business that is suitable for you, then I would suggest that you check this program out.
This program is the reason for thousands of online success stories, and I hope you will be a part of the success.
Finally, I would love to hear from you if you are/were a Brand Partner of Vasayo.
Please feel free to share your product experience as well as the business opportunity by leaving a comment below.
I would be most grateful if you share this review on your social media channels by clicking on the social media buttons.
Thank you so much for reading this review!
Your pal,
Jack