Is USI Tech a Scam? – I'm taking the risk, so you don't have to…
Name: USI Tech
Website:  usitech-int.com
Founders: Horst Jicha and Ralf Gold
Bare Naked Scam rating: SCAM
#1 Recommended Online Business Training with Proof: Click Here
Update 11 August 2018: Things have turned south!
Firstly, I want to apologies to people who've joined this program through this page.
I went into this with an open mind, and I personally invested some money into this program.
Due to the recent probe by the FTC, the USI Tech has re-branded its business yet again, and has caused people who've invested in the past to lose all the money that they've promised to return.
A good example would be my personal experience. I didn't see any of the past investment in my account. It was completely wiped out!
I've contacted the support and they said that they are migrating data to the new platform, and that'es why I couldn't see my package info.
So, I waited for several weeks, if I am not wrong, more than a month to finally see this under the "completed" tab:
However, I don't seem to have received any returns. So, I've contacted the support once again, but to no avail…
It's 11 August 2018, and it has been 58 days (almost 2 months), but there's no response.
I really hope that you will stay away from this. If you have personally lost money with the old USI Tech, I recommend that you file a complaint with the FTC.
Is USI Tech a Scam?
---
So, you've heard for several years now that Bitcoin is the future currency, and you should invest in it.
But you don't know where to start or how to do it.
USI Tech is said to be the gateway to invest in Bitcoin and you can double or triple your Bitcoin investment within 140 days.
Could it be true or is it just a scam? In this review, I am going to share with you everything that you need to know in order to make an informed decision.
Just a summary, there has been a lot of claims about this company being a scam or a ponzi scheme, yet there are also many people who claimed to have benefited from this company.
I've done an extensive research and here's what I've found:
There are several issues that led people to believe this is a scam, but there is no concrete proof backing up those claim;

Now, I have concrete proof, my personal experience above.

Not one person

has lost any money investing in this company, yet.

I've personally lost money to this!
So, instead of passing judgement without any proof, I've decided to act on this opportunity. Here's what I've invested:

0.0305 BTC converts to $306.86 on 1 December 2017 (Price per Bitcoin on 1 December was $10,061.01).
I will update this review again with my results. – Updated with my final decision. USI TECH IS A SCAM!
Update 1: Date of Investment + 3 Business Days (6 December 2017)
So, 3 working days have passed, and here's the results.
This means that I've earned 0.00079 BTC in 3 days which is equivalent to $9.77 (0.00079 x $12,370.53) based on the price of Bitcoin $12,370.53 (6 Dec 2017).
Which means that it is a 3.18% return on investment ($9.77 / $306.86 x 100).
I'll keep updating this till I've cashed out from the USI Tech.
Keep a look out for my update on 11 December 2017. If you like me to notify you on my updates, you can [thrive_2step id='6443′]subscribe to this post[/thrive_2step].
Update 2: Date of Investment + 6 Business Days (11 December 2017)

As promised, here's the update on 11 December 2017.
The price of a Bitcoin is $16,449.00 as of today.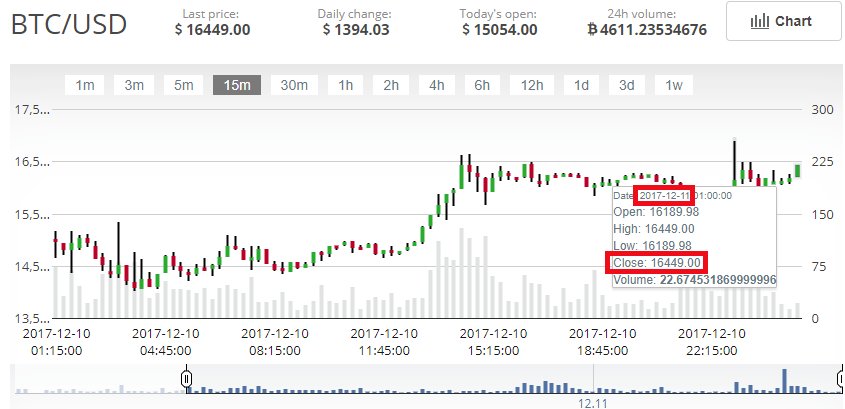 I've earned 0.00155 BTC in the past 6 working days which is equivalent to $25.50 (0.00155 x $16,449.00).
This means that it is a 8.31% return on investment ($25.50 / $306.86 x 100).
Not bad for a start. Nowhere in the capital markets can earn you 8.31% return of investment in a short span of 6 days.
But, lets keep monitoring…
I'll update you again on 18 December 2017 (Monday).
Update 3: Date of Investment + 11 Business Days (18 December 2017)
Another 5 working days have passed, and what's the results?
The price of a Bitcoin on 18 December 2017 is $20,611.23.
Since my first investment into Bitcoin on 1 December 2017 (Price of Bitcoin on 1 December 2017 was $10,061.01), the return on investment as of today (18 December 2017) is 104.86%. That's just the price of Bitcoin alone.
I have not factored the amount of Bitcoin I've earned from USI Tech.
It is still not too late to invest in Bitcoin in my opinion, and if you want to do so, I've prepared this [thrive_2step id='6443′]simple step by step guide[/thrive_2step] for you.
Now, back to USI Tech.
I've earned a total of 0.0028 Bitcoin throughout this 11 working days.
The value of the earnings from USI Tech is equivalent to $57.71, which is a return of investment of 18.81% ($57.71/306.86 (Initial Investment) x 100).
If the price of the Bitcoin continues to climb, and the amount of Bitcoin earnings from USI Tech increases steadily, we can expect that my overall investment with USI Tech to double or triple by the end of 140 days.
Let's pray that I will be able to cash out my earnings like I've planned (my plan is discussed below).
Here's a [thrive_2step id='6443′]simple guide[/thrive_2step] for you to join USI Tech and invest in Bitcoin.
Watch out for my next update on New Year's Day (1 January 2018). Happy Holidays!
Update 4: Date of Investment + 21 Business Days (1 January 2018)
Merry Christmas and a Happy New Year! As promised, I'll publish an update though its on new years day.
A lot has happened over the holiday season and the price movement of the Bitcoin was like riding on a roller coaster.
The price of Bitcoin on 1 January 2018 is $15,235.25.
Now to the performance of USI Tech…
Since my last update, I've made an additional 0.00245 bitcoin which equates to $37.33.
For the past 21 business days, I've earned a total of 0.00525 bitcoin which equates to $79.99.
Considering the fact that my initial investment was only $306.86, it is a 26% return on investment ($79.99 / $306.86 x 100%) to date. Not bad at all!
USI TECH SCAM – Update 5: Account has been wiped out!
I am sure many of you have already experienced this.
Your account is completely ZERO!
As panic as you are, I have contacted the support and it seems that they are migrating to a new version 2.0.
So, they have not completely migrated all the data, but it seems that those of us who have not cashed out yet will still be able to receive a payout when it matures.
I've extracted the most important information you need to know about the migration:
One thing that strikes me is that instead of the 140% it promises previously, they reduced it to a 100% return. Honestly, it is still fine, as long as I get my profit plus my initial capital.
So, if your account is zero now, don't panic, I am not sure when the migration will be complete, but I hope it will be soon.
Once the migration is completed, USI Tech will give a formal announcement.
Till then, I'll just wait, and I'll update this review when I see the updated data in my account.
Gullible me who've tried to defend this company. I am truly sorry for this.
What is Bitcoin?
Before you start investing into Bitcoin, it is important that you understand what you are getting into:
What is USI Tech?
If you wish to grow your Bitcoin reserves in your Cryptocurrency wallet, or you are just starting out to invest in cryptocurrencies, then USI Tech may be the investment opportunity for you.
Although the USI Tech operates under a Multi-Level Marketing (MLM) structure, it is free to join (Don't join this scam).
And, even if you don't purchase any Bitcoin investment packages from them, you can still earn a 10% commission by referring others to this program.
This company intends to grow your Bitcoin investment at approximately 1% compounding interest for 140 days if you invest with them. In other words, every $100 dollars you invest with them, you could easily double or triple the amount invested.
Now, you must be thinking, is it all true? Can you really make that kind of money? It sounds scammy, right? I had that feeling too.
But, as far as I know, USI Tech has been keeping their promises up till now, and has been paying their investors on time.
Though there are some issues that are not transparent at the moment, we can't judge this opportunity without concrete evidence.
We'll talk more about the concerns that I have about this company below.
USI Tech used to focus on their automated Forex Trading system to generate the interest payments to its investors (they did have trading logs to show real trading activities), but on 1 November 2017, they have discontinued this avenue and have shifted their focus to Bitcoin.
So, the real question now is, how can USI Tech generate the 1% daily compounding interest to you without the Forex Trading System.
Can USI Tech generate the Interest Payments now?
How does USI Tech actually work and how is it possible that they are generating that level of return on investment?
Here's what USI Tech do to generate that return on investment for you:
Outcoin Mining – This is basically to mine other types of cryptocurrencies (other than Bitcoin), and converting them to Bitcoin for a profit.
Partnership Mining – It is said that USI Tech has spent over $700 Million to invest in Bitcoin Mining Equipment and they have stored those equipments in 3rd party cryptocurrency miners (which cannot be named) to operate.
Arbitrage Trading – In terms of Forex, this is a risk free trading strategy which requires quick and snap action to take advantage of price discrepancies between 3 currencies. In terms of cryptocurrency, I don't know how that works.
Large Movement Trading and others…
The good thing about USI Tech is that they are committed to transparency, but it remains to be seen.
They promised to provide its investors proof of activities on the profit generation of the Bitcoins in time to come.
At this moment, we can only rely on the words of the founders and hope that this function can be released by early 2018.
So far I haven't seen anyone losing money from USI Tech, so, if you are like me, who don't want to wait and see if this is real or it is actually a scam, you can [thrive_2step id='6443′] join me in USI Tech [/thrive_2step], and I will guide you step-by-step to invest in USI Tech.
Yes, there are several steps you need to take to invest in this opportunity, and it may be confusing if you are totally new to this.
I've pulled my hair for a several days just to get this started, and I thought that by creating this guide, you can complete this investment within a hour or so.
My Concerns about USI Tech
Here are some of the concerns I have regarding USI Tech:
Uncharted Waters – USI Tech was known for its success rate in trading Forex, but now the attention is shifted to Bitcoin solely, I am not sure if they can still hold their end of the bargain.
Proof of Trading – As I have mentioned above, this remains to be seen, and I hope that we, as investors, will be able to see the trading activities soon.
Is there risk when investing with USI Tech – In my opinion, when it comes to investing, there is always a risk. The biggest risk you may take is your initial capital. If USI Tech turns out to be a scam, you will lose 100% of your initial capital.
USI Tech claims on purchasing Bitcoin Mining equipment – Some people commented that USI Tech took advantage of their visit to the Genesis Mining Farm to shoot a video that claimed that those equipments belongs to them. Although the equipment does look like it belong to Genesis Mining, but there is no concrete proof about those claims.
My Strategy on this…
Instead of waiting for time to tell if USI Tech is legit or a scam, I've decided to invest in this program to show you some proof.
I've purchased 5 packages from USI Tech and I will update this review again after 140 days to show you if USI Tech can really earn you that return.
Firstly, I would like to advise you that you should only invest money that you can part with, not with money that you need for survival.
And, do not borrow money just to invest because you risk losing your capital and you will be stuck with debts if everything goes south.
My strategy for this is to invest in 5 BTC packages which cost $306.86 (at the time of my purchase), and if my Bitcoin investment grows, I will use the profit to reinvest in the packages, and withdraw my initial capital when it permits.
What do you think of my strategy? Does it sound logical to you?
If it is, and you wish to join USI Tech, you can create a free account here and start investing.
However, if you don't intend to invest money in this, but you still want to earn, you can sign up for free and earn a 10% commission for referring people to this company.
From there, once you have some capital from the commissions you've made, you can then invest in those BTC packages.
My Honest Opinion
There is no concrete proof to determine if USI Tech is a scam or if it is a legitimate business. Now, I have concrete proof that this is a scam. Read my update above.
As far as I know, there isn't anyone who has loss money with this business opportunity yet. I've lost money as well as many others!
So, if you wish to invest in USI Tech, I would advise that you only invest the money that you can part with.
Do not invest money that will threaten your survival, and do not ever borrow money for this opportunity.
In case this is a flop, you don't have to worry about your living expenses or to pay off any debts. – I'm glad that I've included these sentences here.
It is also possible to earn from USI Tech without investing any money. You can join USI Tech for free as an affiliate, and you will be compensated with a 10% commission on your referral's investments.
For me, I have already invested in 5 Packages, and I will update this again after 140 days.
If you'll like to receive an email about my update, you can click here.
Thanks for reading this review! I hope I have provided you with all the information you need in this unbiased review.
If you find this review helpful, please, help to share it with your friends and family by clicking on the social media buttons.
If you wish to discuss more about USI Tech, feel free to leave a comment below.
Your pal,
Jack