Userlytics Tester Review – How Much Can You Earn?
So, you've come across Userlytics and you are wondering if you can earn some extra cash from this program.
The weird thing about this program is although it seems like a legitimate way to earn money, but many people still called it a scam…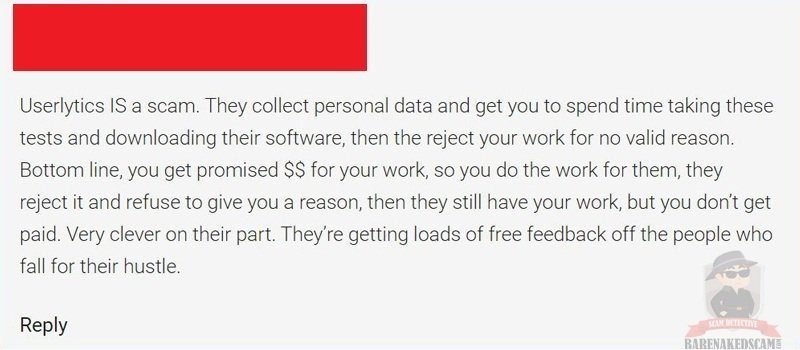 Today we are going to discuss the reasons why people think Userlytics is a scam, and whether or not you should depend on it to supplement your household income.
How to Quit Your Job and Earn a Passive Income Online. Click here to Find Out!
What is Userlytics?
Userlytics is a user testing platform that provides its clients with actual customer experiences and allows ordinary people to earn money by testing products, software, apps, and websites.
It is much like another similar "Get Paid To" site called UserTesting.
Is Userlytics a Scam
Well, Userlytics isn't a scam per se.
It has business connections with legitimate companies and brands, and has been around since 2008 when it was founded by Alejandro Rivas-Micoud.
Scam platforms and sites that offer a similar opportunity to Userlytics usually only last months before they shut down and come back with a new name.
Good examples are the GPT sites known as CloutPay, BrainBux, and Viral Market. 
The good news is Userlytics stood the test of time.
But while Userlytics is a legitimate site, there are some issues which have been the reasons why some people think negatively about this site.
Before I discuss why some people think Userlytics is a scam and a waste of time, let's find out what this site offers.
How to Quit Your Job and Earn a Passive Income Online. Click here to Find Out!
How Does Userlytics Work?
Third-party companies and businesses pay Userlytics to test their products, e.g., software, apps, websites, and UI.
They also pay Userlytics to get honest feedback on their advertising videos and commercial.
Meanwhile, Userlytics will pay freelancers known as Testers like you to complete these tasks above and to voice out your thoughts, emotions, criticisms, and suggestions.
For each Userlytics job and online task that you complete, you will get paid.
Make A Full-Time Income At Home Even As A Complete Beginner Starting Today! Here's How
How Much Can You Earn At Userlytics?
There is no definitive answer to this question.
As per the Userlytics website, you can get paid $5 to $20 for the successful completion of Userlytics jobs and online tasks.
Userlytics also claim that you can even earn as much as $90 for a single task, but I haven't known someone who got such a prized task.
Usually, the Userlytics task will pay you $5 to $10 per completion, and each of these regular tasks usually takes 15 to 30 minutes to complete.
Do you think these rates are fair? Do you anyone who has been scammed by Userlytics?
Share your thoughts in the Comment Sections below.
Getting Paid With Userlytics
While I was writing this Userlytics review, Userlytics only pays via PayPal every two weeks.
Userlytics does not have a minimum cashout requirement.
Becoming A Userlytics Tester
It is free to join Userlytics as a Tester. 
Just go to the Userlytics website, www.userlytics.com, and complete a signup form. It requires your name, birthday, demographics, and your email address. 
Just follow the instructions, confirm your registration through email, and you will find yourself on your own Userlytics account dashboard.
Requirements To Join Userlytics
I repeat, there is no cost to become a Userlytics Tester as I am writing this Userlytics review.
However, you need to be at least 16 years of age and must meet some software and hardware requirements to qualify for Userlytics jobs and tasks. Below are the technical specifications.
For Desktop Testers:
Mac with OSX 10.13 or higher
PC with Windows 7 or higher
Standard browser program installed on your device (such as Chrome, Firefox, Safari)
Microphone and Webcam
Install Userlytics Recorder App ion your desktop device
For Userlytics Mobile Testers:
Android 5.0 (Lollipop) or higher
iPhone with iOS 11 or higher
Standard browser program installed on your device (such as Chrome, Safari)
Microphone and phone front-camera.
Install the Userlytics APP (for iOS or Android) on your mobile device
Now I know these requirements might be an issue to some of you. Nevertheless, do you think your potential income as a Userlytics Tester is worth the hassle?
Tired Of Your 9-5 Job But You Cannot Seem To Find The Right Online Business For You? Check This Out!
Should You Join Userlytics?
Much like your earning potential as a Tester, there is no definite answer to this question.
It depends on what you are looking for at the moment.
If you are looking for a way to make a little money on the side by completing online tasks, then, by all means, give Userlytics a try.
But much like your potential earnings with legitimate GPT sites such as PrizeRebel, you cannot expect a full-time income as a Userlytics Tester.
Userlytics Tester Best Alternative
If what you seek is an opportunity that will allow you to make a full-time income while staying at home…
Then there is a beginner-friendly online business I would like to share with you.
But before you decide on that, you might want to check out the Userlytics pros and cons in the next section of this Userlytics Tester review.
Userlytics Pros And Cons
PROS
Free to join
A legitimate company with an excellent track record
Available worldwide
No professional skills required
Pays via PayPal
CONS
Technical requirements can be a hassle
Tasks highly depend on your demographics
You might not get many Userlytics jobs and assignments
Not a steady source of income
My Humble Advice
Userlytics is a legitimate way to make money online. 
But if you are planning to spend a reasonable amount of time on this site hoping to make a living, then you might get disappointed.
Your income with Userlytics highly depends on the number of tasks you are qualified to participate in and complete.
Unfortunately, Userlytics gives no guarantee that they can provide you enough task to make a decent income every day.
Not to mention that your income potential is meager similar to that of GPT sites.
Take me, for example, 24 hours after I create my Userlytics account, I still don't have any task to complete. 
That's a day without earning a single dime. What if Userlytics is my primary source of income? How will I get by? 
Apparently, I am not the only one who shares the same sentiment.
These are the reasons why some people think Userlytics is a scam.
For me, if you're willing to spend a lot of time online to earn a few bucks as a Userlytics Tester…
Why not start your own business based on your passion and interests?
I know of an outstanding online business program that has changed the lives of ordinary people, many of them are complete beginners in Internet marketing.
Unlike Userlytics where you can only expect a few bucks for your time…
How would you like to earn a six-figure income without:
Leaving your home
Completing boring and repetitive tasks
Selling any products
Recruiting people
Some people who joined this program were able to quit their tedious 9 -5 job and enjoy an early retirement. 
Isn't that something you want too?
If this is something that interests you, I recommend that you check this out.
Final Words
Thank you for taking the time to read this Userlytics Tester review.
I certainly hope that this has been useful for you to decide whether Userlytics is the online opportunity that you are looking for.
If you think this could help other people too, kindly share this with them so they also would be able to make use of this information.
On the other hand, if what you are looking for is a way to make money online with your hobbies and interest, then I have something for you.
At the end of this article is a signup form for a FREE online course that will teach how to turn your passion into profits.
Until here and I wish you all the success in your journey to financial independence. 
Before You Leave: Check Out My #1 Online Business Recommendation
As always, should you wish to discuss more of Userlytics, or you want to share your experiences with this platform, leave a comment below.
Best,
Jay