Unity Wealth a Scam or Legit CAPTCHA Encoding Job?
Unity Wealth is an online business opportunity that is getting a lot of popularity in Asian countries – especially in the Philippines.
Much like Paysbook, many Unity Wealth affiliates are doing this business using their smartphones and other mobile devices.
But what is Unity Wealth? 
Can you really make money with this online opportunity?
Is Unity Wealth a scam?
These are the questions we will be discussing in this brutally honest Unity Wealth review.
Review Summary
Name: Unity Wealth
Owner: Anthony Tiongco Mendoza
Price: ~$2.20 – $20 (PhP 110-1,000)
Recommended? No. Check this out instead.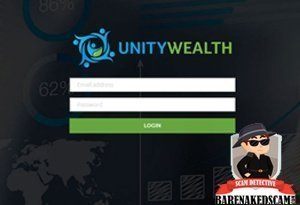 Income Opportunity Rating:
What is Unity Wealth?
There is no information about the company on its official website. However, at the bottom left corner of Unity Wealth's website, the company describes itself, and I quote:
"Unity wealth is an affiliate marketing that provides digital training to help people on how to earn money online and how to be an effective online entrepreneur such as eBooks and video tutorials."
About the Company and Founder
It is hard to extract any information about the company and its whereabouts.
So I decided to put my best detective skills to work, and after almost an hour, I found a blog where the owner of Unity Wealth is revealed.
As you can see in the image, it appears that Unity Wealth Marketing is registered in the Department of Trade and Industry in the Philippines by someone named Anthony Tiongco Mendoza.
The registration is valid from July 20, 2017, until July 20 of 2022. I tried to find out more about Anthony, but I cannot find any more reliable information about him.
Moreover, I found out that Unity Wealth has another company called Unity Wealth Premium.
And just like the other one, it has nothing on it other than a member login space and a FAQ section that DOESN'T WORK.
Unity Wealth Products
Unity Wealth has no products that you can sell.  You can earn commissions by selling the Unity Wealth affiliate membership itself. But more on this later.
Cost to Join Unity Wealth
Unity Wealth has two membership plans that you can choose from. The UWealth 100 and UWealth Premium.
UWealth 100 – PhP 110 (~$2.20)
UWealth Premium – Php 1000 (~$20)
After completing the signup and paying for your chosen membership plan, you can get started immediately – either typing CAPTCHAS or Recruiting people.
Your membership fee will also entitle you to these benefits:
How To Make Money with Unity Wealth?
Once you become a member of Unity Wealth, you will be allowed to perform a very low-paying data entry job of typing CAPTCHA.
However, the reason why many people are lured into joining the company is in its MLM compensation plan.
You can earn commissions from all your direct invites depending on your Unity Wealth membership plan. You will also earn commissions from the referrals of your direct referrals down the line.
How Much Can You Earn with Unity Wealth?
The amount you can earn with Unity Wealth first depends on your membership plan. Please refer to the image below.
I apologize for the quality of the image, but it's the best I can find anywhere on the Internet.
It appears that with UWealth 100, you can earn PhP 40 in direct referrals along with other commissions.
With UWealth Premium, you will earn Php 100 for direct referrals.
Good Things About Unity Wealth
I'm sorry, but as much as I want to be fair with Unity Wealth seeing many people are hoping this is a legitimate online business opportunity…
I honestly can't find anything good about this company. I will discuss my reasons below.
My Concerns About Unity Wealth
I have no good things to say about Unity Wealth because of these reasons.
Please feel free to voice out your opinions as well in the Comment Section below. I would also appreciate if you can provide your thoughts about the Unity Wealth scam rumors circulating on the Internet.
#1 Undisclosed Information
The first red flag about Unity Wealth for me is the lack of transparency. Unity Wealth did not put any effort to provide the necessary information to the public regarding the company, its operations, who are the people behind it and etc.
As a company that solicits monetary investments from the its members, I feel that they could have done a better job in this department.
#2 NOTHING To Do with Affiliate Marketing
Although the company clearly distinguish itself as an Affiliate Marketing company, there is nothing about Unity Wealth that has something to do with Affiliate Marketing.
Here's how a real Affiliate Marketing business works.
#3 Pay to Get a CAPTCHA Job?
One of Unity Wealth's promotion to get more members is that it promises anyone who joins the company a chance to get an online job. This online job is data entry of typing CAPTCHAs.
But why are you required to pay a membership fee to get a job? Shouldn't be the company paying you instead?
Besides, there are many companies out there that offer CAPTCHA encoding job for free. All you have to do is do a quick Google Search about CAPTCHA jobs, and you will get hundreds if not thousands of results.
#4 CAPTCHA Encoding Job Anomalies
Another reason that I am not a fan of Unity Wealth is that cybercriminals usually provide most CAPTCHA encoding jobs. Websites use CAPTCHA to prevent hackers or spammers from doing bot or script actions.
This means that it is highly likely (although I am not entirely sure) that your CAPTCHA encoding job in Unity Wealth is helping hackers and other malicious parties perform bot or script actions.
I feel that the company and the people behind Unity Wealth is taking advantage of the public's lack of knowledge about this matter and using it for their own benefit.
#5 No Real Products
I have reviewed many online business opportunities, and Unity Wealth is ripe with red flags. One of which is the company's lack of actual tangible product to sell.
Your primary income when you become a Unity Wealth affiliate is from the membership fees of other people that you and your team recruits.
This is how Pyramid Schemes works.
Sure the company might use the CAPTCHA job as an excuse to get around this argument. But if you take a closer look at how much you can earn in typing CAPTCHAs alone…
Even if you work 8 hours a day for 30 days (which is near impossible), your potential income will be no more than PhP600 or ~$12.
This means that if you want to earn big with Unity Wealth, you will have to put heavy emphasis on mass recruitment.
#6 Warnings from Authorities
In March of 2019, a recognized authority in the Philippines called SEC or Security in Exchange Commission released a statement about Unity Wealth.The statement warns and forbids anyone from joining and becoming a part of the company.


See the full SEC statement about Unity Wealth.
Is Unity Wealth a Scam?
I'm sorry, but for those of you hoping that Unity Wealth is a legit online business opportunity, I'm afraid you are mistaken.
Unity Wealth is what the FTC and other authorities define as a Pyramid Scheme.
As you can see above on the warning from SEC (in the Philippines), it appears that Unity Wealth is operating illegally.
Not only that, anyone who is affiliated with the company and promoting it as an online business could be imprisoned up to 21 years and fined with up to 5 Million Pesos (~$96,000).
Should You Join Unity Wealth?
Well, it is up to you. If you feel that this is still an online business opportunity that is worth the risk even after the things that I have shared in this Unity Wealth review, then you can go ahead.
But for your sake, you should stay away from this company.
I repeat, Unity Wealth is a pyramid scheme, and it won't be long until the authorities take a serious action into shutting it down.
Now if you are serious about learning how to earn a living online, then I would highly recommend that you check out this program.
It is the program that has taught me and thousands of individuals with no prior knowledge or experience to become successful online. Here's my success story and proof.
Thank you for taking the time to read this Unity Wealth review. I hope that I have provided you with the answer you are looking for.
If you think this article is useful, kindly share it to other people you know so they too would be made aware of the truth about Unity Wealth.
Meanwhile, if you want to share your own thoughts and opinion about Unity Wealth, kindly do so in the Comment Section below.
Until next time and I wish you the best in your future endeavors.
Your pal,
Jay