Is Survey Compare a Scam? – The Truth is Exposed!!!
At first I was impressed by the number of survey offers that are available to me, because many survey sites have limited offers.
But, I soon realized that it is not what I thought it is.
Survey Compare does not have its own survey offers, it is basically drawing all sorts of offers from all over the web.
I don't know how you feel about this, but I think that there are more negative effects than positive ones. We'll discuss more in this Survey Compare review.
Review Summary
Name: Survey Compare
Price: Free
​Recommended? No. Check this out instead.
Income Opportunity Rating:
Summary: Sign up for FREE, take surveys, and earn money. The concept is as simple as that. But unlike most survey sites, Survey Compare does not offer its own survey opportunities. It is basically a survey portal for other survey sites, and in this review, I will share with you why I don't recommend Survey Compare.
What is Survey Compare?
Something is not right when a survey company does not offer any surveys, and it claims to be absolutely free to join.
Some would wonder what's the catch? How does Survey Compare benefit from this set up?
As you know, Survey Compare draws survey opportunities from other survey companies like Toluna, MySurvey, Ipsos i-Say, etc.
And, here's what you need to know…
These survey sites have a referral program, and Survey Compare will be rewarded when you join these survey sites through its platform. 
Survey Compare has put together a neat platform that looks like this.
Honestly, you don't even need to log on to the Survey Compare platform to grab these offers, they will be delivered to you through the email you've provided.
It is convenient for you and for them as well, and the key is for you to sign up to as many survey sites as possible. This is one of the program's pitfall which I will be discussing in just a bit.
One commendable fact is that Survey Compare is honest and up front that you can't earn a good source of income from survey sites.
They also advise you to stay clear of any websites that makes exorbitant claims. 
But this is something puzzling, the purpose of Survey Compare is to help you weed out sites that make these exorbitant claims.
If Survey Compare has done its job, do they still need to inform you about this? Something to think about.
The Pitfalls of Survey Compare
#1 Different Survey Sites Has Different Cash Out Threshold
I am not sure if you know, but every survey site will have its own cash out threshold. Some threshold could be as high as $50, and some could be as low as $2.50.
But one thing that is consistent is the amount of time and effort to complete each survey, and honestly, you won't earn much from them.
Plus, on many survey platforms, even the ones that you are recommended to, may not have a lot of offers for you to complete.
So, it might even render that you can't complete enough offers to cash out.
Worst of all, cashing out on so many different sites seemed almost impossible.
The bottom line is, if you can't cash out at all, you'll just be wasting your time.
How I Fired M​​y Boss and Still Earn a Full-Time Income. Here's How You Can Too!
#2 Too Confusing – Offers Coming in from Everywhere
Imagine joining multiple survey sites, and receiving lots of survey offers from each and every one of them on a daily basis.
I don't know about you, but I'm pretty sure I won't be spending 8 hours a day completing surveys, and definitely would not have the time to sort them out.
With so many offers coming in, which surveys should you choose?
And, as I've mentioned in pitfall #1, if you don't put focus on just one to two survey sites, chances are you may not hit the payout threshold.
#3 Screened Out Vulnerability
Every user of a survey site will risk being screened out.
Even if you join through Survey Compare, you are not spared.
The Screened Out problem is one of the biggest reasons I don't recommend you doing any surveys at all.
What it simply means is that you will be thrown out of a survey in the middle of completing it.
And, the reason given is that "you are not the right person for the survey".
You see, many survey sites make you go through many hoops like completing a pre-qualification survey or completing a personal profile survey.
And, when a survey opportunity is offered, you are supposed to be qualified (the right person to complete the survey).
To be thrown out of a survey that you "qualified" is just not justified. This would mean that you've wasted your time and effort.
​This Program is responsible for Thousands of Online Success Stories. Here's How it Can Benefit You!​
#4 Not Enough Surveys to Go Around
Because Survey Compare recommends you to so many different survey sites, I thought it is important for me to highlight this common issue.
Honestly, I haven't seen one survey site where the users are happy about the flow of opportunities.
Completing surveys could be the simplest and easiest way to earn money online, but there is never enough supply of survey opportunities.
The reason is simply because many companies realized that there are cheaper ways to get real customer data, other than from surveys.
Surveys used to be the hot and popular way for companies to get customer insights, but it is not anymore.
#5 Is there Really a Need for Survey Compare?
Since Survey Compare does not offer its own survey opportunities, and finding legitimate survey companies aren't that difficult.
What is the point of this survey portal?
One can argue that they help to weed out scammy or spammy survey sites, but as you head over to their site, you will see this…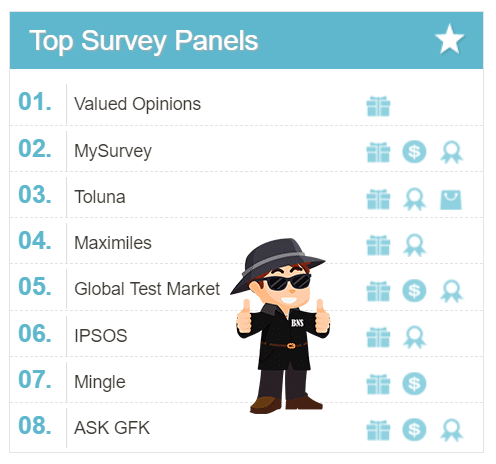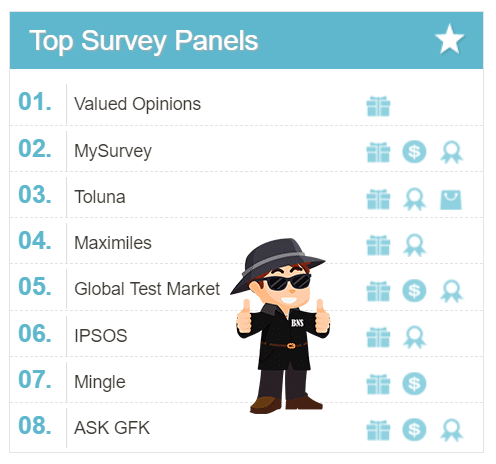 Just one or two from the list above and join them directly. You don't even need an account with Survey Compare to get started.
Survey Compare only made it easy for you to sign up to multiple survey sites at a go.
But as I've mentioned, there is no point in joining too many survey sites.
#6 Fake 4 and 5 Star Reviews
Many people claimed that the 4 to 5 star reviews seen on Trustpilot.com are fake.
Honestly, I can't agree more with those people, because most of those 4 Star to 5 Star reviews do not offer any valuable insights.
They only said something like "Great app, I would recommend it", "Good experience", "It seemed smooth", etc.
It is quite obvious that those positive reviews are self-generated or bought.
Leave a comment below and let me know what you think.
Should You Join Survey Compare?
I am pretty sure you know my answer, but I'll say it anyway.
Though Survey Compare is not a scam, and the "filtering services" it offers seemed to make sense.
I would advise against joining, because there is simply no reason for you to use the services.
And, you risk your personal data leakage (not that it will happen). So, unless Survey Compare starts offering survey opportunities themselves, I don't see any need for such a survey portal. Sorry for being blunt here.
Now, with that said, if you still intend to join Survey Compare…
How to Sign Up with Survey Compare?
As promised, Survey Compare is absolutely free to join.
Aside from that, it is easy to register, and it won't prompt you with many personal information.
All you need is to input your gender, date of birth, and your email address.
And, you'll be taken to the next step where you will choose the survey companies you wish to work for.
Survey Compare offers a ton of survey companies to choose from, because the more you choose, the better it is for them.
When you have chosen the survey companies to work with, Survey Compare will need a little more information.
Then, the last step would be to confirm your registration with each and every survey company you chose.
So for example, if you chose 5 survey companies during your registration, you'll receive emails from each of them containing a confirmation link.
When you open the confirmation links, you will be taken to the survey sites directly, and you can start completing surveys from there.
Well, at least the registration process is seamless.
​Stop Wasting Your Time on Unworthy Platforms! Learn How to Make a Passive Income Online.​
My Sincere Advice to You
Though Survey Compare is not a scam, I would not recommend that you put your time in it.
Your time is precious! If you really want to earn money through paid surveys…
I would recommend that you select one or two legit sites from Survey Compare, and sign up with them directly.
Honestly, you can't cash out anything at all if you focus on too many sites, because each of them have its own payout threshold.
And, you can hardly find enough survey opportunities to do in each Survey site.
That's probably the reasons why I don't recommend doing any surveys at all, because you can't earn a consistent amount of money.
If you are interested to learn how to earn a good income from the internet, like I do…
What I Recommend?
If you are looking for a moneymaking opportunity online that's worth your time, I would highly recommend that you check out this program.
It is the program that taught thousands of individuals, like you and me, to become successful online. Here's my story and proof that this program works.
Thank you so much for reading this Survey Compare review!
I hope that I've provided you with sufficient information to make an informed decision.If you found this review helpful, please share it! It might help someone who is looking for this information.
Have questions you'd like to ask or you'd like to share your personal experience with Survey Compare? Please, feel free to leave a comment below.Your pal,Jack