Is SeneGence a Scam? – Facts Distributors Wish They Knew Before Joining
Despite operating for over 20 years, it is surprising that you can't find many successful SeneGence distributors.
And while many believed that the company products are FDA approved, the truth is just the opposite. But, is SeneGence a scam? We'll cover that in this SeneGence review together with some pertinent things to help you decide if it is worth joining the business opportunity.
We know your time is valuable, so we've done a quick summary for you below…
What is SeneGence?
Founded by Joni Rogers-Kante in 1999, SeneGence (aka SeneGence International) is among the most established MLM companies today. The company is currently based in Foothill Ranch, Lake Forest, California.
For an MLM company to survive for over two decades, clearly SeneGence is doing something right.
According to Joni, the company's success was due to its superior products. She claimed to have travelled to "the other side of the world" (Yasur Volcano in Vanuatu) to collect unique ingredients with potent rejuvenating properties.
One would admire Joni's determination to create the "products that help rather than harm your skin." (The company tagline)
But while you may picture Joni's pursuit for the ultimate skin-care products as a fantastic adventure on foreign lands and volcanic mountains… We think it may be exaggerated.
Like most MLM companies, the products may be white-labelled. Meaning, products are sold in bulk without a brand, and most MLM companies just slap their brand on it and claimed it as their "uniquely researched" products.
We think Joni's trip was more like striking an exclusive deal in a boardroom. Our hunch is that Joni did strike a private agreement with a pharmaceutical company, or they have spent money buying over one. Well, this is how we picture it…
Nevertheless, the ingredients they found on that "exploratory trip" are said to be the reasons why the SeneGence products are the best.
Here's a list of what SeneGence and many of its distributors claim about their products.
Formulated with FDA-approved ingredients
Created with reoccurring natural ingredients
Made under a "Pharmaceutical Grade" rated manufacturing facility
Not tested on animals and contains no animal bi-products
Gluten and GMO-free
Do not contain any wax or lead
Is SeneGence FDA Approved?
Contrary to what most distributors claimed it to be, SeneGence products are not FDA approved. Under the law, cosmetic products and ingredients do not need FDA premarket approval. (Source)
What SeneGence really mean is, their products are "formulated with US FDA approved ingredients (image below)". There is a huge difference between that and "approved by FDA".
SeneGence Products
The company sells a wide range of skin care and cosmetics in different categories which includes:
| | |
| --- | --- |
| Lip | Lip products with the patented LipSense liquid color. Waterproof, does not kiss-off, smear off, rub off, and they "do not dry out your lips." |
| Eye | Color line with a unique combination of essential ingredients and a patented long-lasting color technology ShadowSense. |
| Body | Products to keep your skin beautiful and radiant looking. Made of a proprietary blend of SenePlex and botanicals. |
| Hair | Designed to enhance the volume, thickness, strength, and shine of your hair using SenePlex, SenePeptide, nourishing vitamins, and botanicals. |
| SeneGence For Men | Each product contains natural botanicals like green tea, aloe vera, and chamomile – specially formulated for men's skin. |
Now, all these product lines appear revolutionary and astonishing, but something about them caught my attention while taking a closer look at the labels.
While some distributors claimed that SeneGence products are FDA approved… Many of them actually contain chemicals and ingredients that are questionable.
Let's start with the company's most popular product, SeneGence LipSense.
While LipSense products don't contain lead which could be harmful to you, they contain denatured alcohol (Alcohol Deniat), which can dry and crack the skin.
Not only LipSense but other SeneGence product lines also contains ingredients that may have adverse effects such as:
Plus, only the company really knows what's in the proprietary blends, e.g., SenePlex, so you may want to do a fact check before using any of these products.
Do SeneGence Products Work?
Amidst the "impressive" claims of the company regarding its products, something doesn't add up.
Many of the SeneGence reviews we found were coming from unsatisfied customers.
We'd say, on average, 3 out of 5 were negative experiences, which is weird because the company claims that its products are the best.
On SiteJabber, the company only got 2.62 out of 5 stars from over 78 customer reviews.
To be fair, it could be that negative reviews are prevalent because contented customers usually don't bother to write a product review.
But it doesn't change the fact that many have suffered physical damage after using LipSense and other products.
For LipSense, complaints vary from drying of the skin to developing acne, blisters, peeling, and other skin problems.
Could this be the result of the ingredients on the products? Dryness and cracking of the skin, hmmm… We can think of an ingredient that could be responsible for this.
Also, we found many negative reviews about LipSense on Reddit and here are some of them.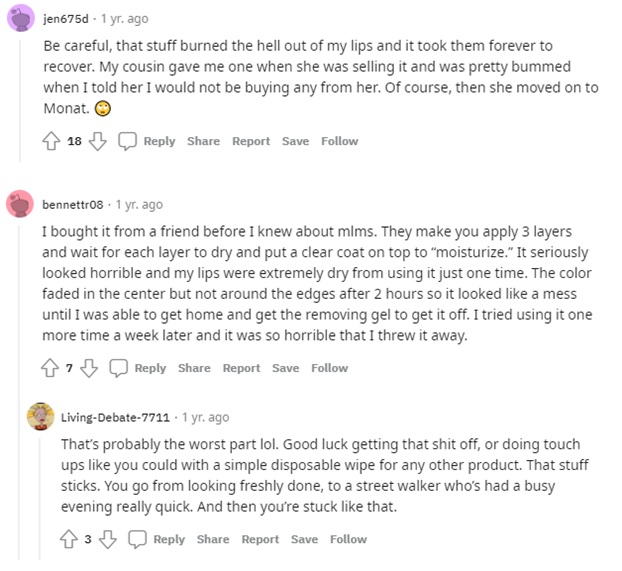 But the company seems to imply that denatured alcohol has nothing to do with the customer's bad experience.
A representative explains the three reasons why denatured alcohol is in it. Funny that keeping your skin from drying and cracking isn't one of those.
But SeneGence's claim of having superior products might not be the only thing it failed to uphold.
This article mentioned that ingredients such as propylene glycol and cosmetic alcohol in LipSense can have bad effects on your lips.
Anyway, as it turns out, even the company's money-back guarantee is a letdown.
Is it Possible to Get a Refund?
The company denies many unsatisfied customers a refund. Weird because SeneGence claims to have a "100% Satisfaction Guaranteed" policy.
One customer was denied because she's a distributor of the company. She was told that even if she is unsatisfied with the product, she is not eligible to return them.
Does this mean that distributors have to force themselves to use/sell the products that don't work?
And when buying products directly from a distributor, always ask for a receipt or proof of purchase. Because one customer said that the company didn't issue her refund because she couldn't produce any receipts.
Finally, in the case of allergic reactions, some customers are required to procure a medical certification to get a refund.
I get why companies hate to issue refunds. But wouldn't you agree that these reasons are absurd? In my opinion, it appears as if SeneGence isn't really sincere about their refund policy.
If you've had a similar experience, did you end up getting your refund? Share your thoughts in the comment section below.
SeneGence Lawsuits
In March 2002, Karie McDowell, a former distributor, filed a lawsuit against Senegence for copyright infringement. McDowell claimed that the company used her artwork in their marketing materials and supplies without any consent. The court favored McDowell and the company paid her more than $30 thousand worth of damages in 2004.
A class-action lawsuit is brewing against the company.
Someone from Reddit who claimed to have suffered physical injuries after using LipSense is looking for witnesses. But so far, the plan does not push through yet.
If it turns out that more people have the same terrible experience, it could cause a serious blow to the business of SeneGence.
A SeneGence controversy was covered in an article by Women's Weekly.
The article tells the story of Sarah and how she regretted joining the company. She stated that the company was not about selling products but instead it is about recruitment which is contrary to what SeneGence said. Sarah goes on to say that the distributors are the "real product" of this MLM company.
And even if there's no lawsuit to develop, these negative vibes could already impact you (as a distributor) if your prospects have done their research.
We don't know about you, but I will not promote (or buy) a product that will probably cause harm to anyone.
Drying and cracking of the skin, blistering, and a burning sensation on the lips, are the things that others experience as well.
As of now, there aren't any new lawsuits against SeneGence, but the only official lawsuits against the company have already been resolved.
How Much Does it Cost to Join as a Distributor?
While the company proudly advertised you'll only need $65 yearly to become an Independent Distributor, there are more sunk costs than you'll imagine.
We are pretty sure the sponsor or distributor you've met has given you some free samples, or maybe you've bought some products through them.
Do you know those free samples are costs to your sponsor, and if you join the business, you'll have to purchase those samples for distribution as well?
How about the petrol cost? Coffee money? So on and so forth. These are all hidden costs of the business.
Moreover, to be an effective salesperson, you've got to believe in the product, and that comes with you consuming the products for months.
So instead of just spending $65, you may end up paying hundreds or even thousands of dollars – not to mention the shipping and handling fees.
Well, to save costs for the business, SeneGence offers an optional bonus kit called Glamour Demo Kit. Glamour Demo Kit is worth $395 that contains $1000 worth of SeneGence products.
This kit can be a good option to start the SeneGence business.
Senegence Compensation Plan
According to their compensation plan, you can make money with SeneGence by (1) selling the company products (Personal Sales) and (2) by building a sales team (Recruitment Commissions).
But as simple as it may seem, earning a decent income is tough.
Personal Sales
You would think that selling hot products like LipSense could easily make you a decent income, right? It isn't the case here.
Because unlike other cosmetic MLM companies like Jeunesse, Avon, Beauty Counter, and Mary Kay (Joni's previous company), where you'll immediately enjoy product discounts upon joining, it's different in SeneGence.
Your discount depends on the PV points you accumulate per month. The PV is ½ of the suggested retail dollar price of the products you order.
And though many women indeed use SeneGence products, you will need to spend a lot of money first to get good profits.
Orders between $2 to $199.99 in a specific month entitle you to a 20% discount on your next purchase within the same month. And for you to earn 50% profit for every sale, you'll have to order at least $1,500 worth of products.
Your distributor discount will be as follows:
1 – 99.99 PV = 20% discount
100 – 299.99 PV = 30% discount
300 – 749.99 PV = 40% discount
750 PV and up = 50% discount
This is why I mentioned earlier that the optional product packages could save money since the products included in them are already discounted… Compared to purchasing each product individually at retail prices.
For example, the Fast Start Pack can earn you up to $3,500. But it will cost you $1,195, and there's a possibility that you won't be able to sell all the products.
Downline Commissions
On top of the upfront investments to enjoy the best discounts, you'll probably need to turn yourself into a recruiting machine if you wish to make a lot of money in this business.
SeneGence's Downline Commissions are paid out on a Unilevel structure 5 levels deep. You will earn a percentage of all the product orders made by your entire team.
In a Unilevel structure, your direct recruits will be positioned at the first level of your organization. Then the recruits of your recruit will be on the 2nd level, and so on.
To qualify for Downline Commissions in a specific month, you'll need to have at least 100PV in the same month. When this qualification is met, you'll earn:
10% from the first 100PV of your 1st level.
20% from the first 100PV of your 2nd level.
30% from the first 100PV of your 3rd level.
5% from the first 100PV of your 4th level (You'll need to have 200PV to earn this)
5% from the first 100PV of your 5th level (You'll need to have 300PV to earn this)
Your potential earnings are limited only to the first 100PV of each person in your team. You won't earn any commissions from their product orders 101PV and above.
Group Sales Volume (GSV) Bonus
This is where the number of recruits really matters. With this payment plan, you'll earn 2-10% from all the accumulated PV of your entire team after their first 100PV.
If 5 people in your team manage to accumulate 1,000PV each after their first 100PV, you can earn up to 10% of that. And 10% of 1,000 multiplied by 5 is an easy $500!
Imagine your potential income if you have 50,100 or more people on your team.
However, to qualify for this commission, you'll need to have at least 5 direct recruits in your first level, 5 people on each level (2-5), and 300 personal PV.
Feel free to check out this video for educational purposes and if there is some information you want to verify.
SeneGence rewards decent profit margins for every product you sell, but the higher income will still come from recruiting people.
Unfortunately, building and managing a sales team and convincing other people to buy your products is not easy.
What Challenges Will New Distributors Face? – If you decide to be one
Before everything else, the alarming statistics about MLMs that stand true today are:
99% of MLM participants lose money
95% quit within 10 years
These statistics are in line with the performance of the company, even though SeneGence does not have an official income statement.
By the way, these statistics are adapted from a survey done by the FTC.
The deeper reasons behind the statistics are as follows:
1. You'll Eventually Run Out of Prospects
In SeneGence, where recruitment is a must, you'll need to learn how to find constant leads and prospects to make this business work.
Many people who join an MLM business quit after only a few months, some didn't even earn back their initial investment, because they run out of people to sell their products or recruit to their team.
While it is true that you can turn to your warm market (friends, family, and coworkers) at first, what happens next? Are you going to spam on social media? Talk to strangers? Are you going traditional by handing out flyers?
That's why most MLM participants steer towards starting an online business instead once realizing the hard truth.
2. You Must Have The Right People On Your Team
Speaking of your warm market, remember that MLM is not for everybody.
While your warm market might be there to support you at first, based on my experience, they aren't likely the kind of people who will build a business with you.
Therefore, finding the right people who share the same beliefs and ideals as you is crucial when building your sales team.
You'd want the people who believe in the products and are not afraid to do whatever it takes to succeed.
Such individuals are hard to come by.
3. Lack of Proper Support and Training
Proper knowledge and skills are essential to succeed in SeneGence.
Unfortunately, there is no central training platform, but instead, most trainings are performed by an upline.
But what if your direct upline or sponsor is struggling with the business themselves? How can they teach you how to be successful when they are not?
Don't you think it is similar to the situation where the blind is leading the blind?
The percentage of successful individuals is already limited. Unless you are directly trained or coached by the top 1%, the chances of you succeeding is slim.
4. Distributors are Encouraged to Keep Inventory
SeneGence distributors aren't required to keep an inventory.
However, they are required to have at least 100PV ($200) to qualify for Downline Commissions and 300PV ($600) for GSV Bonus.
This means, they have got no choice but to buy products for personal use, if they couldn't make enough sales.
Furthermore, distributors who purchase in bulk enjoy better discounts.
As a result, some distributors got burned.
Without a precise method of how to sell them and no regular customers, they end up with tons of unsold goods in their basement and a heap of debt to be paid.
Is SeneGence a Pyramid Scheme or a Scam?
First, let's define a pyramid scheme.
A pyramid scheme is an illegal business operation that highly profits from recruitment rather than selling products or services.
This operation often promises huge payments for members that recruit more people. However, this business operation tends to be highly unsustainable as most members will have difficulty recruiting people and earning money while people at the top of the scheme enjoy the highest profit
Some pyramid schemes disguised themselves as legitimate MLM by offering products or services that have little to no value. However, the operation is still highly focused on the recruitment part.
So, SeneGence pyramid scheme?
Well, we believe that SeneGence is a legitimate MLM company.
It doesn't pay you directly whenever you recruit someone. You will only earn money every time there is a product sold.
Nevertheless, there is no denying that better income in SeneGence is for those who managed to build a vast network of distributors under them.
A discussion on Reddit states that SeneGence was a legitimate MLM, however, recruiting other distributors was still key to earning a substantial income.
But this is our opinion. Anything you can contribute to this matter will be very much appreciated in the comment section below.
Is SeneGence makeup a pyramid scheme?
SeneGence is NOT a pyramid scheme. The company does not pay you directly when you successfully made a new recruit.
Earning money mostly comes from selling their products.
However, you can only earn a substantial amount of income when you successfully build a network of your recruited distributors.
Is SeneGence an MLM company?
Yes. SeneGence is an MLM company that has been selling cosmetics and skin care products since 1999.
If somebody were to convince you otherwise, you now know the quality of that person.
Is LipSense still a thing?
LipSense is the best-selling SeneGence product due to its long-lasting ability. LipSense can last up to 18 hours after use.
The actress, Jennifer Aniston wears LipSense lipsticks.
Who started SeneGence?
SeneGence was founded by Joni Rogers-Kante in 1999. She brought the company one of the most successful in the field of cosmetics and skin care.
Today, SeneGence offers more than 300 products and is widely available in many countries.