Scentsy Review – Do You Smell Success or Failure?
Maybe you heard that you can make extra money with the Scentsy business opportunity, and you are interested to know if this is true, or you are here because you are deciding between a Scentsy product or the one from Walmart.
In this Scentsy Review, I will share with you everything you need to know to make an informed decision.
So, before we dive into the business opportunity, let us understand what Scentsy is all about…
My Story of How I Fired My Boss and Work Full-Time From Home
What is Scentsy?
Scentsy has built quite an authority in the scent industry.
Whenever you are researching about wax warmers or scent for homes, you'll probably come across the Scentsy brand name.
Scentsy has been around since 2004, and it is founded by Orville and Heidi Thompson.
Based around a Multi-Level Marketing (MLM) structure, Scentsy currently has over 1,000 employees and more than 100,000 distributors or consultants over the world.
Its products are sold exclusively through their distributors in the United States, the United Kingdom, Canada, Germany, France, Mexico, Spain, Ireland, Italy, Luxembourg, Poland, Australia and New Zealand.
Scentsy is known for their unique scent and the quality of their wax warmers.
They also have a range of Diffusers that instantly fills the air with the Scentsy essential oils:
Unfortunately, their products are not sold off the shelves, but through their registered distributors called "Consultants".
The best way to purchase products from Scentsy is by attending parties organized by a Scentsy Consultant.
The downside of purchasing a Scentsy product through a consultant is that you never know if the consultant is responsible, and if they will honor their promises. You'll learn more about those sleazy Scentsy consultants as you read along.
This party-like selling almost reminds me of another MLM company called "LuLaRoe" which operates similarly as Scentsy.
They both run into a lot of customer service issues due to the lack of care by the consultants.
Scentsy Products Review
The Scentsy warmers are definitely one of a kind.
There are probably over 174 wax warmer designs, 11 different diffusers, and 80+ fragrances at the point of this writing.
The Scentsy wax warmers definitely have an edge over the ones you can buy from Walmart.
Hey! I'm sold! The Scentsy products are great, can I make some money promoting the products?
Well, the products are great, but it doesn't mean that the business opportunity is suitable for you.
Some people join Scentsy as a consultant because of the convenience of purchasing the products, while some are in for the money.
If you want to earn real money from Scentsy, you have to read on…
Can you really make money with Scentsy?
If you are seeking to earn an extra income from Scentsy, this is what you need to know.
If your consultant tells you that it is really easy to earn a living with this company, she/he didn't tell you the full picture.
In fact, the real statistic of the company could make your consultant a liar.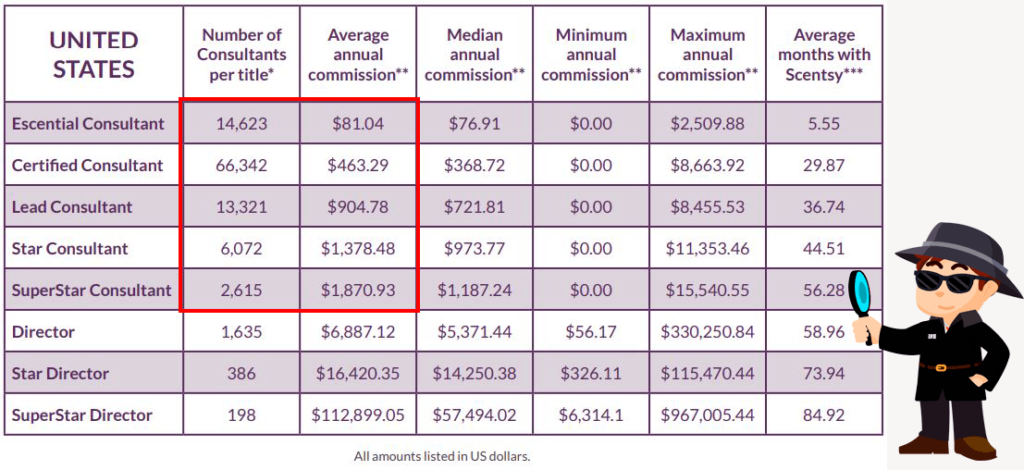 Now, I am not saying that you can't earn money from this opportunity. As you can see, you can still make some money, but it's just not substantial enough that people might give up altogether.
The income disclosure above has not factored the cost of operating a Scentsy business.
As you may know, the way you become successful with Scentsy is to set up parties after parties, and with that, you'll have to purchase inventory to get these parties going.
So, the cost of operating this business really depends on each consultant, and a higher cost of operating will definitely eat up the profits. Some consultants even made a loss.
There are many reasons for a consultant to fail, but I've noticed there are some common factors that will hold consultants back from achieving success.
Why more than 95% of Scentsy Consultants Fail?
Reason #1: Lack of Leads
When you join the business opportunity, you will be taught to list at least 200 people whom you think will be interested in Scentsy.
You'll probably set up a call with your list or invite them to a friendly party where you will show up as a Scentsy consultant.
As you know, in order for any business to work, you need a constant flow of new prospects.
So, parties after parties, once you have exhausted your list, how and where do you find new prospects?
Do you start cold calling? Canvassing?
Learn how to generate Quality Leads from this program
Reason #2: Lack of Leadership
If you read some of the poor reviews of Scentsy, you'll probably see a lot of complaints about consultants not doing their job properly.
This is due to lack of leadership and accountability.
If leaders don't groom their downlines to be a responsible consultant, and are only focused on "driving sales", the consultant's business will eventually crumble.
A lot of responsibility falls on a consultant because, on many occasions, the consultants will be the one who will complete an order and they are responsible for handling the after sales service.
A leader needs to educate their downlines on how to run their Scentsy business properly, but unfortunately, these operating procedures were not conveyed to the consultants effectively.
If you really want to be successful with Scentsy, make sure that you do your due diligence on the leaders that you will be following.
You need to assess the leaders and see if they have the patience and the passion to groom you to become a great consultant.
Do not follow the examples of the consultants in these complaints:
Reason #3: Lack of Support
Although a lot of responsibility falls on the consultants, the company itself needs to do what is necessary to help their consultants.
But, there has been a lot of complaints from the consultants and customers that they are not getting the support that they need.
For example, a customer has purchased a warmer and isn't satisfied with the product and requests for a refund, from many reviews that I've read, Scentsy customer service center request the customer to contact the consultant.
I honestly believe that the consultants should not be entirely held responsible for the after sales service. If a customer requests for a refund, they shouldn't be directed to their consultants, instead the company should take responsibility for this.
Consultants need to focus on getting new sales and not be tied down by the need to handle the operations.
Reason #4: Lack of a Strong Mindset
Believe it or not, you'll most likely destroy the relationship with your friends, colleagues or even family members if the business transaction didn't go well.
I've seen too many relationships being destroyed by opportunities like Scentsy.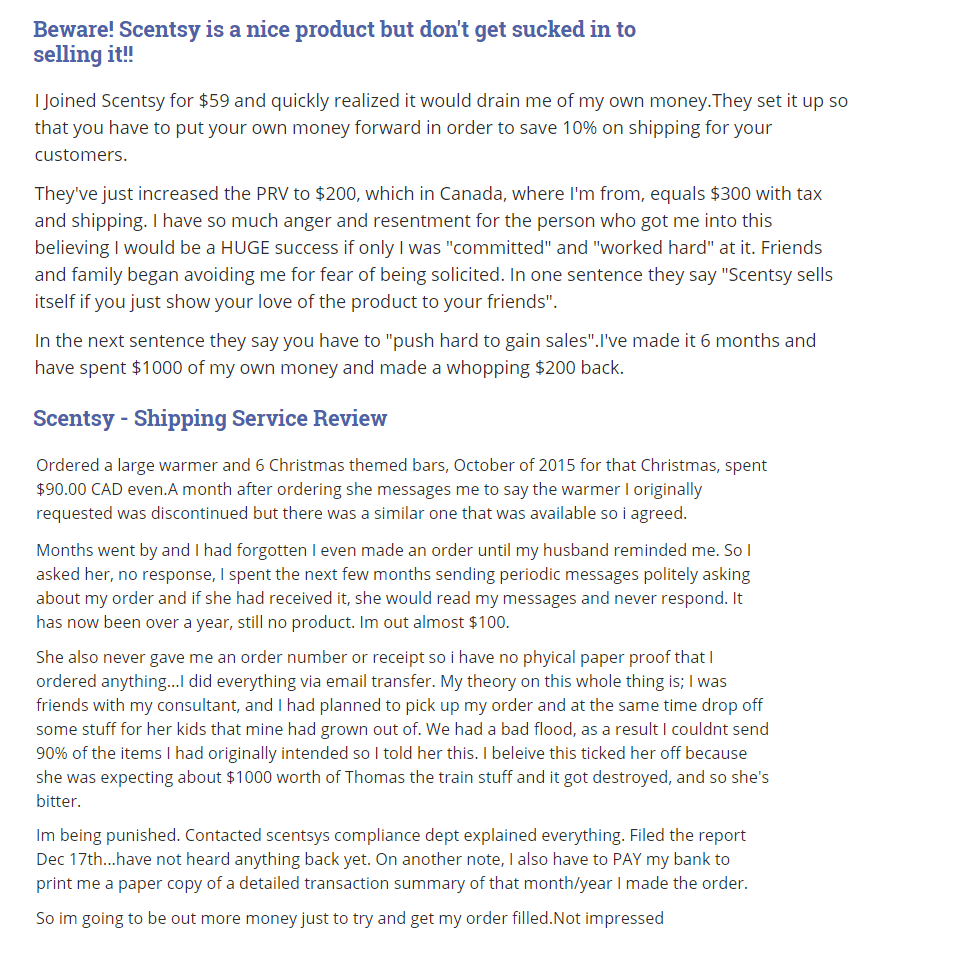 Firstly, if you are serious about being successful with Scentsy, you need to be prepared to face a ton of rejections, not only from strangers, but from people whom you are close with.
Many consultants didn't get passed this stage and they give up, because they just couldn't take the emotional stress.
Successful consultants will do whatever it takes to reach the top, but just be careful not to be those unethical consultants. You want to make sure that you satisfy your customers by keeping every single one of your promise. That's how a proper business should be run.
Reason #5: Lack of Product Appeal
Don't get me wrong!
Scentsy has a great line of products and they do have their unique selling point.
But, I just want to put this into perspective…
There are so many brands of warmers and waxes on the market, and although Scentsy's warmers and waxes are of good quality, consultants may have a hard time trying to convince people that their products are the best.
Yes, consultants can say that Scentsy warmers…
gives a stronger and longer fragrance throw
wax melts doesn't burn your fingers
But, at the same time, the customers will think that Scentsy products…
are more expensive
doesn't have any unique benefit (like curing a disease or improving a person's life)
So, it is really up to the sales skill of the consultants to win over the customers.
Here's a product review from a Scentsy customer (not a consultant):
Is Scentsy a Pyramid Scheme?
Before we assess if Scentsy is a pyramid scheme, let us watch this short video:
So, what is your take on Scentsy? Does it qualifies as a pyramid scheme?
Please share your thoughts with me by leaving a comment below this review.
Generally, I don't think Scentsy is a pyramid scheme, but it really depends on how a person is introduced to the company.
There are genuine consultants who just want to share the Scentsy products (because they love them) and make a side income from it, but there are those consultants that are super aggressive with their promotion tactics.
If a consultant is super pushy and the main goal is to recruit you into her/his business opportunity, then this could be seen as a pyramid scheme.
How I Fired My Boss and Work Full-Time Online, and How you can too!
The Scentsy Business Opportunity
Now, if you have what it takes to be successful with Scentsy, you'll need to understand the compensation plan.
This goes to show that if you want to constantly earn a lot money with Scentsy, you have to keep working, otherwise you will lose the earnings of your current rank.
If you are looking for a way to earn passive income, then this is probably not what you are hoping for.
My Sincere Advice to You
To be truly successful with Scentsy, you need to be passionate about sharing the Scentsy products.
This would mean that you love the products and you are consuming it yourself.
You have to be prepared to work extremely hard, and you have to be able to stomach a lot of rejections. Basically, you need to transform yourself into a great salesperson, and hopefully, you'll be one of the top 3% of the company.
As you already know, more than 95% of the consultants fail in the business.
So, if you are ready to become a Scentsy consultant, I wish you all the best in your journey. If you happen to be a successful Scentsy consultant, please, feel free to share your success story here by leaving a comment at the end of this review.
Now, what if Scentsy is not the right business opportunity for you? What can you do to earn extra cash online?
For me, I prefer to work extremely hard right at the start and earn a passive income due to my efforts (and not get penalized for not working for that month), that's how you earn a living from home.
Consistent Efforts + Product with Good Sales Conversion + High Commission Rate + Recurring Commission = Earn a Living from Home
I've personally gotten out of the rat race after years of working online, and it is all thanks to Wealthy Affiliate.
My life hasn't been the same as you can see from this…

Obviously, as a person who have seen both sides (making money with an MLM company, and making money online), I would advise that you take the online route.
Because, I am a person who strives to earn passive income, and I do not want to be tied down with handling customers' orders or after sales service.
If you want to learn how to build a passive income online, I would suggest that you check this out.
Thank you for reading this review!
If you find this review helpful, please, help to share it by clicking on the social media buttons.
If you wish to discuss more about Scentsy, please, feel free to leave a comment below.
Your pal,
Jack