Is Planpromatrix a Scam? Yes, in my opinion!
Data Entry? E-Loading? Are they just a smoke screen for a pyramid scheme?
Maybe you have thought of this or maybe you have not, but I am certain you are here because you wanted to know if this is a good opportunity to join.
You've come to the right place, because in this Planpromatrix review, I will share with you everything you need to know in order to make an informed decision.
I will also share with you the reasons why people think that Planpromatrix is a scam.
Generally, I think that the Data Entry and the E-Loading business is what keeps the authorities at bay, but due to the many complaints about the two businesses, I'm not sure when the authorities will step in to stop the entire operation. Maybe that will happen or maybe it will not…
Just like another Network Marketing Company that got shut down…
Just like another Network Marketing Company called AlifeLong that runs a similar business model as PlanProMatrix.
ALifeLong was shut down by the authorities because the company is closely knitted to a pyramid scheme instead of running its main business (a marketing platform).
The authorities deemed that the main business of ALifeLong was lacking in appeal, and people were driven to recruit in order to earn money from the company.
So, why are we talking about ALifeLong instead of PlanProMatrix? There is a very good reason for that.
As I've mentioned, ALifeLong and PlanProMatrix are very much similar, people make the most money recruiting other members.
Don't Risk it! Build Your Own Online Business that will last forever! Click here
Yes, you can earn money from E-Loading and Data Entry, but from inside sources, I was told that many people were left unpaid for the work they've done, and they don't earn as much money as compared to recruiting.
So, members resort to recruiting, that's only logical.
Does the E-Loading and Data Entry businesses look more appealing than recruiting? I doubt so…
In my opinion, it's only a matter of time before the authorities catch up on this company.
Well, that's just my opinion. It's really up to you to decide.
Shady Facebook Ads
The second reason why I think something is wrong with this company is because of the Shady Facebook Ads published by its members.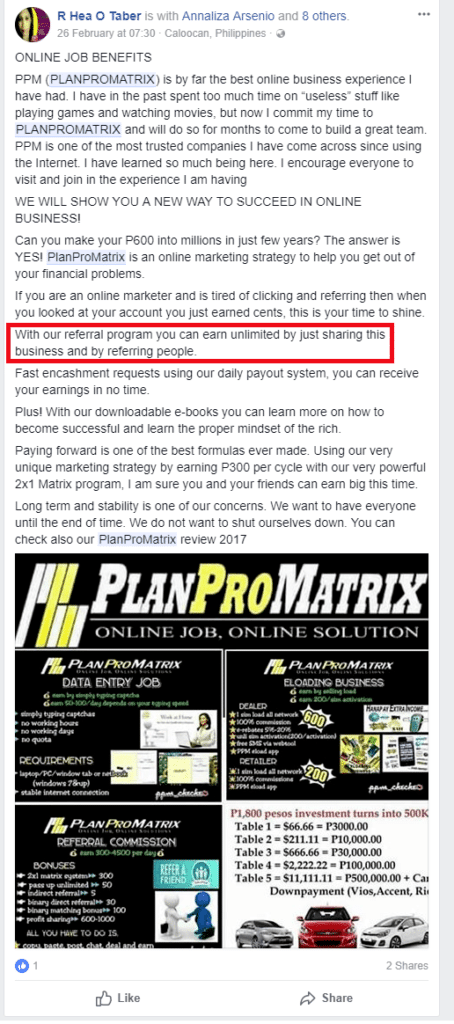 I've learned one thing when I started my online business years ago, that when people are flashing shiny objects to get you to sign up to their program, they really have nothing to show for.
Plus, every one of them in the Facebook ads above are focused on recruiting.
Money can be made from this company for sure, but a huge chunk of it comes from recruitment.
So, What exactly is a Pyramid Scheme?
Watch this video…
Looks familiar? That's how the PlanProMatrix compensation scheme is run.
PlanProMatrix's Compensation Plan
Honestly, who wouldn't be enticed to join this company and make a lot of money.
Many people have done it, why not you, right?
I honestly think that PlanProMatrix works just like a pyramid scheme, and it will not last long.
Yes, they may have been in operation for years now, but as you know, the times are changing and the law gets tightened.
That's why companies like ALifeLong gets shut down…
The following image comes directly from the SEC of Philippines…
Source: www.sec.gov.ph
In my opinion, the compensation plan of PlanProMatrix is just like the "Investment Scheme" the SEC is talking about.
Will the SEC take action? I'm not sure, honestly.
Here's why I think PlanProMatrix will run out of steam…
The E-Loading business is super competitive.
Whatever that PlanProMatrix claimed to be the best in the E-Loading industry, there's other companies that offer a better deal.
Making money from the Data Entry just doesn't make sense, and there is a 50 percent chance that you will not get paid for your work done (just because you didn't close the program correctly? – This is the most ridiculous thing I've heard from a PlanProMatrix member) – Read more below.
The Government is steering people away from pyramid schemes, and people are getting more and more educated about the subject.
So, as time goes by, people will be more resistant to joining such a program.
And, we all know what happens when there's no new members joining PlanProMatrix… It will collapse!
Maybe I am right, maybe I am wrong, but I am sure that if such a business is operated in my country, they will be shut down immediately.
This Program has Led Me and Thousands of People Make a Life Changing Income Online. Find Out How You Can Too!
How does the Data Entry Work?
Here's what happens if you earnestly want to join PlanProMatrix to do data entry…
You'll be encoding some random Captchas;
The Captchas never really loads properly even when you have a fast internet connection;
You'll wait 30 minutes or longer and it doesn't load at all;
Closing the browser is not an option because you will not qualify for the payout if you didn't close the program properly;
Plus, you'll be banned! Why? For not closing the program properly…
I've reviewed hundreds of business opportunities over the years, and this is the first time I ever hear such ludicrous operation.
If you have experience with the Data Entry work with PlanProMatrix, please, I'd love to hear about your experience. Could you share your experience in the comment section below this review?
How Does the E-Loading Business Work?
Apparently, E-Loading is a lucrative source of income, and it is a well accepted business concept in the Philippines, however, I am quite certain that the E-Loading business concept is only unique to the Philippines.
Basically, E-Loading comes from the concept of selling prepaid credits for services such as mobile usage, Internet Cards, Online Gaming Cards,etc.
When you join PlanProMatrix, you can either be the dealer or the retailer where you can sell loads to people who needs them.
The competition for this business is extreme.
There are many companies in the Philippines that is battling for a slice of the market share.
Even people, like you and me, can start an E-Loading business by joining one of the many companies that offer such service.
Everywhere you go in the Philippines, you can walk up to any individuals and ask for a E-Loading service, and most likely they can provide that service to you, otherwise they can direct you to the person whom they buy their load from.
So, is the E-Loading service in PlanProMatrix any special? In my opinion, no!
PlanProMatrix is going Worldwide?
Now, the E-Loading business is only popular in the Philippines as far as I know.
In other parts of the world, we have never heard of E-Loading.
Plus, earning money from Data Entry just doesn't make sense because so much time is invested with little return.
So, how can a foreigner get into the PlanProMatrix business?
Simple! Recruiting again.
I can't emphasize enough that the recruiting business will soon lose its steam when there's little to no new recruits joining the business or the authorities decides to step in.
I personally don't think that PlanProMatrix will ever go international.
How I Fired M​​y Boss and Still Earn a Full-Time Income. Here's How You Can Too!
My Sincere Advice to You
I am not those who will discredit a business for no reason, just promote my own.
If I think that a business opportunity is good, I'll definitely sing praises for it, even if it does not benefit me.
But, for the case of PlanProMatrix, I have no choice but to advise you to stay away from the opportunity.
In the short term, you may still earn some money from it, but in a long run, the future of the company is bleak.
Just imagine that you have invested heavily into the company (in terms of time and money), and you have built a large team. Now, what happens when PlanProMatrix is gone tomorrow?
Would you know how to get yourself out of the gutter? Would you know how to re-build your business? I highly doubt so.
That's why I always recommend people to build their own online business that can last forever.
Learn practical skills that will help you re-build your business even when it gets crushed tomorrow.
That's how you future-proof yourself, and that's what true financial freedom really means.
If you are interested to learn the skill that I am talking about, you can check it out here.
Thank you so much for reading this review!
If you find this review helpful, please help to share it! Someone out there might be looking for this information.
Also, if you wish to discuss more about PlanProMatrix, please, feel free to leave a comment below.
Your pal,
Jack