Is Opinion Outpost Legit or Scam? – My Personal Experience
Opinion Outpost may have longevity compared to similar platforms like InboxPays or PrizeRebel; however, rumors of Opinion Outpost scamming people has also been around in recent years.
Among the most common Opinion Outpost complaints is that apparently, users have trouble cashing out their earnings.
Another prominent issue that Opinion Outpost users encountered is having their accounts suspended or frozen with no justifiable reason.


What could be the reason for these issues? Is Opinion Outpost scamming and taking advantage of its users?
These questions and more will be answered in this brutally honest Opinion Outpost review.
Review Summary
Name: Opinion Outpost (opinionoutpost.com)
Owner:  Survey Sampling International, LLC
Cost To Join: Free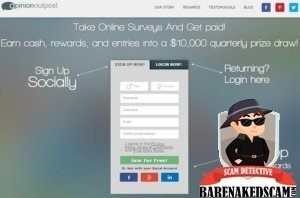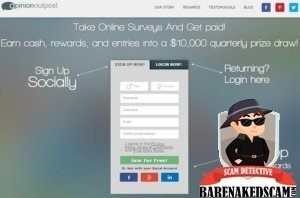 Opinion Outpost  Business Opportunity Rating:
WHAT I RECOMMEND: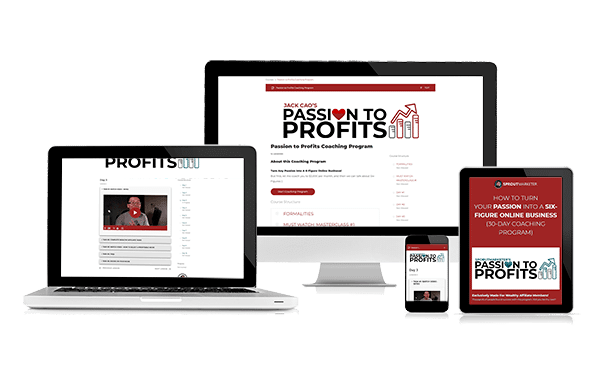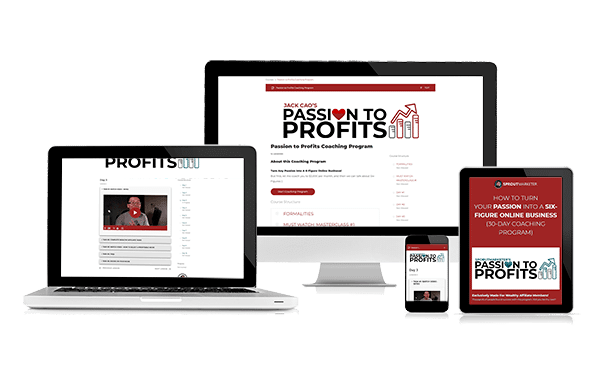 Turn Any Passion or Interest Into a Six-Figure Online Business
To give you the latest inside information about Opinion Outpost, I decided to create my account.
On this review, I will share my experience with Opinion Outpost and whether you could still make money with this site.
But before the hairy details, allow me to discuss a little about Opinion Outpost and what this site offers.
What is Opinion Outpost
Opinion Outpost (www.opinionoutpost.com) is a paid survey (GPT) site owned by Survey Sampling International, LLC. 
This is different from a similar platform called Opinion World, although both were owned by Survey Sampling International.
Opinion Outpost was created in 2004, so needless to say; it has been around for more than a decade.


How To Make Money With Opinion Outpost
Unlike other popular GPT sites such as PrizeRebel, Unique Rewards, or Swagbucks…
You can only earn cash and rewards for the time you spend in Opinion Outpost by taking online surveys.
Start Your Own Business And Make A Six-Figure Income At Home. Here's How!
Taking Opinion Outpost Surveys
Once you've registered to Opinion Outpost, surveys will be sent to your email regularly. A typical Opinion Outpost survey takes 10 – 15 minutes to complete.
The amount of points you can expect to receive per survey ranges between 5 to 50 points.
The first survey I got in my email promises to reward 5 points with an estimated completion time of 12 minutes. And while I am writing this Opinion Outpost review, 1 point = $0.10.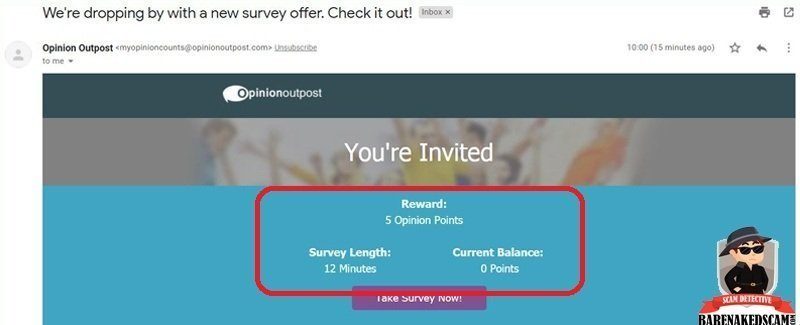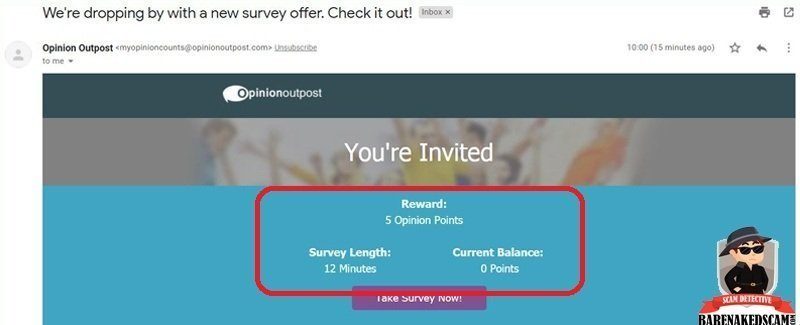 With my first survey, I am supposed to earn $0.5 in 12 minutes. Say I got four more similar surveys, that's $2.5 in an hour.
$2.5 in an hour? NOT. THRILLED. AT. ALL.
Also, these surveys could easily consume 20 to 30 minutes of your time rather than just 12 minutes.
Make A Full-Time Income At Home With This Beginner-Friendly Online Business Program
Besides waiting for surveys to be sent in your email…
You can also visit the Opinion Outpost website, log in, and check if there are any available surveys that you can participate.
Some surveys I have encountered are about my source of income and how I handle finances.
The others are more random, like what devices and gadgets I own.
Now at this point, I am sure that Opinion Outpost is hardly worth my time due to the reasons above.
But I decided to continue using the platform, and that's when I realized why many people are calling Opinion Outpost a scam.
Opinion Outpost Review – Everything You Need To Know
#1 Survey Disqualification
The standard amount of Opinion Outpost surveys you get in your email per day is two surveys. But I didn't feel that bad because there are some surveys I can take in the Opinion Outpost itself.
Little did I know that you may not qualify for every survey, even the ones sent in your email. There are pre-qualifying questions you need to answer before you can start the actual survey. 
Worse, the pre-qualifying questions could last between 15 – 40 minutes!
And depending on your answers, you might get disqualified in the middle of the process and won't be able to take the actual survey at all.
Unless you are always lucky and you provide all the right answers to qualify for the survey, you might never make a dime from this site.
#2 Not Enough Surveys
Besides the fact that you won't always qualify to complete a survey…
Another thing that frustrates most Opinion Outpost users is the limited number of surveys one can participate.
Now, this is not only a problem for Opinion Outposts, but this is a common issue among other GPT sites as well. 
The third-party companies that pay Opinion Outpost are looking for a specific group of people. So if you don't fit the profile, you won't be able to participate in the surveys.
Click Here: Start Your Own Business And Make A Six-Figure Income At Home. Here's How!
#3 Lengthy Surveys
Based on my experience, if you are to focus on providing all the truthful answers, on average, it will take approximately 20 to 30 minutes to complete the 12-minute survey. 
No wonder many people are calling Opinion Outpost a scam. Imagine spending 30 mins for a mere $0.5, do you think it is worth it? 
I leave it up to you.
#4 Refer A Friend, Make $5
Recently, Opinion Outpost added a new feature for users.
For each of the first five friends that sign-up and complete a survey using your very own personalized link, Opinion Outpost will award you 10 points each.
#5 Chance to Win $10,000
If you are in the USA and you made some activities with your Opinion Outpost account, like participating in a survey…
You will get a chance to win $10,000 in Opinion Outpost's quarterly cash draw. This means that $40,000 in total is awarded by Opinion Outpost to four lucky members every year! 
If you are in Canada, there are also Opinion Outpost sweepstakes available. There are also four quarterly draws with a price of $1,250 each ($5,000 yearly).
Are you feeling lucky? You could be $10,000 richer!
But when was the last time you won anything from draws and raffles?
How To Redeem Your Rewards
Once you've earned enough points with Opinion Outpost, you will have an option to redeem your earnings for cash or other rewards.
PayPal Payments – Once you've gathered 100 points or more, you can request a PayPal payment. However, only verified PayPal accounts would qualify for payments.
Other than cash through PayPal transfer, you will also have an option to avail any of these Opinion Outpost rewards below.
Mileage Plus – The minimum requirement to redeem this reward is 105 opinion points which will get you 300 award miles
Alawar – Exchange your points for online game gifts. The minimum request requirement is $3 or 30 opinion points.
Amazon e-Vouchers – 50 points ($5) is required to request an Amazon e-gift code.
iTunes gift cards – with 100 points ($10) sitting in your account, you can request an iTunes gift card.
American Red Cross donations – Opinion Outpost has partnered with the American Red Cross to provide you with a charitable option to donate your points to. You can donate as low as five (5) opinion points ($0.50).
While You're Here: Check Out My #1 Online Business Recommendation
So, do you think spending your time in Opinion Outpost is well worth these rewards?
Or you are like me, and perhaps you feel that your time is worth more than just a few bucks?
Share your thoughts in the Comment Section below.
What Other People Say About Opinion Outpost
I scoured the Internet looking for Opinion Outpost reviews from users, and these are the most recent ones I found.
On SURVEYPOLICE, www.opinionoutpost.com got 5-star on 43% of the total 1,401 Opinion Outpost reviews from users.
Meanwhile on Trustpilot, the site got 5-stars from 50% of the total 1,427 Opinion Outpost reviews from users.
On sitejabber, Opinion Outpost has a poor rating on 12 out of 18 user reviews.
And on the Better Business Bureau, their are numerous Opinion Outpost complaints and negative reviews. 
Users talk about their accounts getting banned or frozen without any valid reasons, while others were not getting compensated for the time they have put in.
Clearly, there is a divided opinion about Opinion Outpost.
Some are delighted with Opinion Outpost while others wouldn't recommend it at all. But what about you? 
Do you think Opinion Outpost is a scam? 
Do you have any experience with this site?
Share your opinions (pun intended) in the comment section below.
Is Opinion Outpost a Scam
Despite the various complaints against this site, I believe that Opinion Outpost is not a scam. 
It has been around for more than a decade, and out of so many survey sites out there, I find Opinion Outpost to be one of the more trustworthy and reliable ones.
I also believe that the account freezing and suspension could just be technical issues and you can contact the customer service should you encounter similar problems.
But if you have any substantial proofs that Opinion Outpost is scamming its users, please share it with us in the Comment Section below.
Should you Join Opinion Outpost
Opinion Outpost maybe a legitimate GPT site, but if you want to create a full-time income with this platform, I am afraid you might be disappointed.
For example, your goal is to make $500 a month to supplement your household income.
Then you probably have to complete at least a thousand 12- minute surveys to make that money. Each survey will take approximately 12 to 30 minutes to complete. 
So at best, it will take you 200 hours (considering you complete all tasks at 12 minutes and you don't get disqualified) to make that money. 
200 hours x $2.5 (your potential earnings per hour) = $500. Yay!
But that's 50 hours a week. Yikes!
There are homeless people making way more money than you.
But don't fret. If you're only doing surveys for fun to make some pocket money, by all means, go for it. 
Make A Full-Time Income At Home With This Beginner-Friendly Online Business Program
How To Join Opinion Outpost
It is free to join Opinion Outpost. There's no gimmick, and they do not push you to buy a product in the end.
Well, most GPT sites are free to join so this isn't really a new thing.
If you want to get a chance to earn a few bucks with Opinion Outpost, all you need to do is go to www.opinionoutpost.com.
You will see a signup form, fill in the required information and you are good to go. You can signup using a valid email address, your Facebook account, or LinkedIn account.
But again, you cannot expect to make a living with GPT sites.
If you are serious about making a full-time income online, then Opinion Outpost is not for you. You will only make some extra pocket money, and that's it. 
Opinion Outpost Best Alternative
If you are looking for a way to be financially free…
I can recommend an online business program that could earn you a six-figure income while staying at home.
Even someone who had no knowledge and no experience can earn $500 within weeks or even days with this business program.
Again, most of the people who joined this program are now making a full-time income at home. Some were able to quit their 9 -5 jobs and enjoy an early retirement.
Now I understand your skepticism and all of what I am saying sounds too good to be true. To put your mind at ease, check out this real-life testimony.
Meanwhile, if you're ready to take on the challenge and create your own success story, then click here.
Final Words
Thank you for taking the time to read this Opinion Outpost review. I sincerely hope that this has been a source of valuable information so you can decide on whether Opinion Outpost is a scam or worthy of your time.
If you think this could help other people too, kindly share this with them.
Meanwhile, if you are hoping to make money online using your hobbies and interests, then I also have something for you.
At the end of this article is a signup form for a FREE online course that will teach you how to turn your passion into profits.
Before You Leave: Check Out My #1 Online Business Recommendation
As always, I invite you to share your thoughts and experiences (if you have any) with Opinion Outpost in the Comment Section below.
Until here and I wish you all the success in the future.
Best,
Jay
FREE COACHING PROGRAM
TURN YOUR PASSION INTO A SIX FIGURE ONLINE BUSINESS
Finally! A Proven Step-by-step Method To Earn A Six Figure Income Online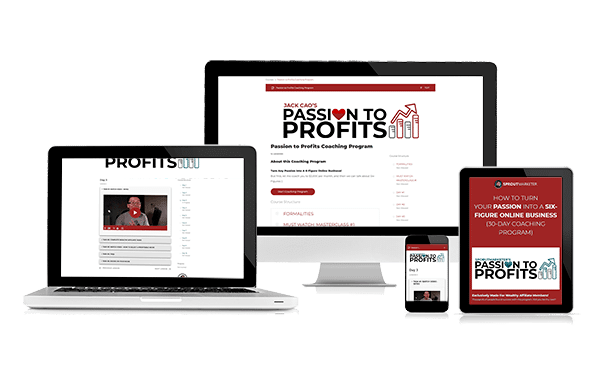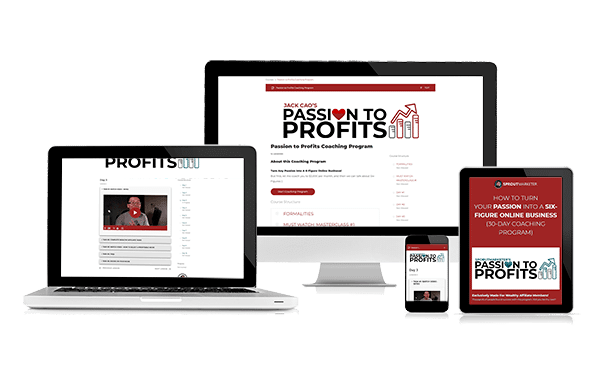 Claim Your Free 10 Day Passion to Profits Course…