Life Force International Business Opportunity – Is It a Life-Changing Business?
So, someone you know introduced you to Life Force and promises you a bunch of stuff that made you excited about this income opportunity.
But, somewhere inside you told you to do some research and that's where you found this review.
I want to commend you for landing on this page because 90% of people will take a leap of faith without knowing what they are getting into.
In this Life Force International review, we will be discussing everything you need to know about the company, its products and the income opportunity.
Let's get started…
Review Summary
Name: Life Force International
Owner: Wayne and Gerri Hillman
Price: Free???
Recommended? Yes and No. If you want to earn a full-time passive income from home, click here.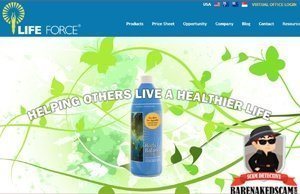 Income Opportunity Rating:
What is Life Force International?
Life Force International (LFI) is another multi-level marketing company in the Health and Wellness industry.
It has a good range of products which its distributors can sell.
The company also provides a rewarding compensation plan for anyone who can bring more people into the company.
About the Company And Owners
Life Force International is founded by Wayne Hillman and his wife Gerri Hillman in 1984. 
Yes, LFI has been operating its business for more than three decades. 
The products and the Life Force International business opportunity used to be available in the USA alone. 
However, as the company grew within the past years, Life Force International nowadays has offices in Australia, New Zealand, and Singapore. It also has members all over Asia and the Middle East.
You can learn more about LFI in here. But if you want an honest and unbiased opinion about this company….
I suggest that you finish reading this Life Force International review.
Life Force International Products
As I mentioned earlier, Life Force International has several products to address your body's different needs. The company has products for daily supplements, immune booster, weight loss, body cleansing, and even herbal beauty wraps.
Overall, Life Force International products belong to any of these categories:
Daily Wellness
Body Balance®
Re-Balance Recharge and Recover
Benew Weight Loss
Bone And Joint Health
Athletic Nutrition
Healthy Immune Support
Energy And Relaxation
Cleanse and Beautify
If you are interested in using some of the products listed in the above categories, here is the complete LFI product list.
​Learn How to Earn a Full-Time Passive Income From Home. Click Here!
How To Make Money With Life Force International?
Just like a typical MLM company, you can make money with Life Force International in two ways.
You can either earn profits selling LFI products or receive commissions (both residual and direct sponsorship) thru recruitment.
Retailing Commissions – You can earn up to 25% depending on the product that you sell. Here's the complete price list for all Life Force International products and how much you can earn for each.
Recruitment Commissions – You can earn up to 55% for all the sales of your direct sponsors. You will also have a chance to take part in the Achievers Club, where 15% of the total monthly company sales are divided by top performers.
This UPDATED 5-minute video will provide you with additional information regarding the Life Force International compensation plan.
Joining Life Force International
Unfortunately, Life Force International did not disclose the amount you have pay to become a distributor. 
Some might tell you that it is free to take part in the company's compensation plan, but I have reasons to believe that isn't true.
Base on this statement which I found on their website…
It seems that you need to purchase a certain amount of products to be able to take part in Life Force International's compensation plan.
So technically speaking, it is not free.
Awesome Things About Life Force International
I know that you might be eager to learn if Life Force International is a scam. But before we get into the hairy details…
Allow me to use this Life Force International review to highlight the good things about this MLM company.
#1 90-Day Money Back Guarantee
When you purchase any Life Force product(s), you can return them if even if you already used them. If you are not completely satisfied with the product(s) or you have an unpleasant experience, you can ask for a refund.
You shall receive a 100% refund or replacement (minus the shipping and handling costs) when the you can return the products (either used or unused) and received by LFI within 90 days of the purchase date.
You just have to provide the proof of purchase such as the original or copy of the invoice and the invoice number.
The way I see it, this is an opportunity for you to get a free sample in addition to getting free products from the company which I will discuss how below.
#2 Earning Decent Profits Is Possible
I say "decent" because the amount you can earn by selling LFI product is nowhere near the amount you will make by recruiting people.
Yes, you can earn up to 25% on each product you sell. However, I am sure that it's not the kind of 5 or 6-figure income that you are hoping for.
If you want to get a Life-Changing income stream with Life Force International, you will have no choice but recruit tons of people into the program.
#​3 Get Free Products
If you can convince three people to buy a particular product from Life Force International, e.g., Body Balance, you will get a free product on the following month.
If this interests you, read this first to familiarize the requirements.
Ugly Truth About Life Force International
These are the things that might become an issue once you decided to take part in Life Force International business opportunity.
#1 Expensive Products
I did mention that you can earn a decent amount of money if you can sell LFI products. However, you must prepare yourself and your convincing skills because selling these products would be a near impossible task.
Not only the products are expensive, but since LFI belongs to the most popular niche in the MLM industry (Health and Wellness)…
You will be exposed to high competition because many MLM companies have the same product line as yours.
This is why it is not surprising that the majority of the distributors will rely on mass recruitment to earn money with Life Force International, which brings us to the things issue I have with this company.
#2 Heavy Emphasis On Recruitment
Since earning profits by selling LFI products are slim to none (due to the reasons above), most distributors are forced to focus on recruitment.
If you take a look at LFI's compensation plan…
You will notice that the company greatly rewards the people who can grow their team. The more people you bring into the business, the better is your earning potential.
As it turns out, the only way for you to get any chance in making your dreams come true with Life Force International is thru recruitment.
Unfortunately, this is also the reason why Life Force International, among other legit MLM companies, has been flagged as a Pyramid Scheme by the FTC.
#3 A Pyramid Scheme According To FTC
Below is the image I excerpt from the actual statement of the FTC on how to spot a pyramid scheme.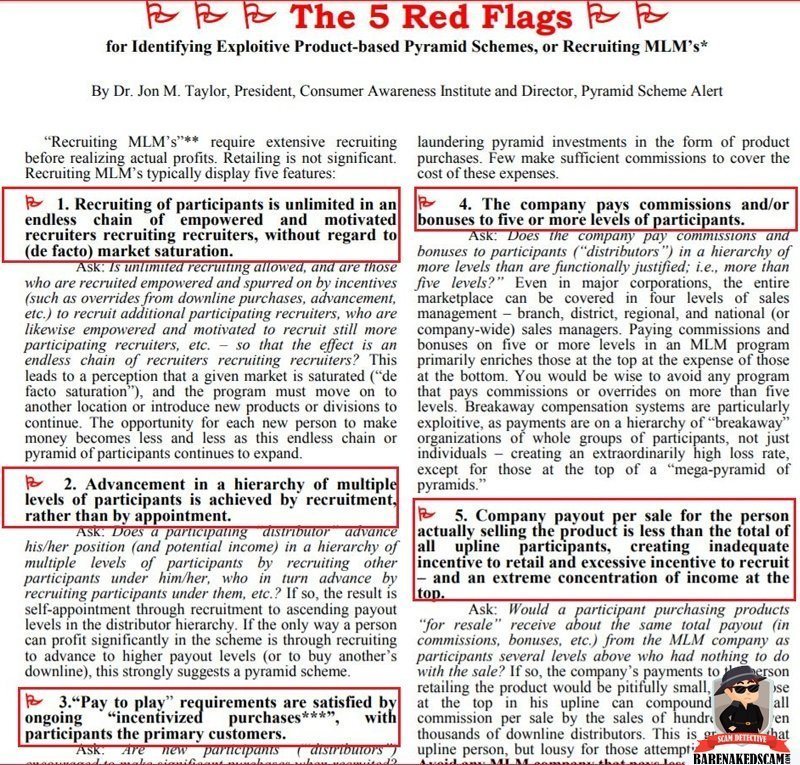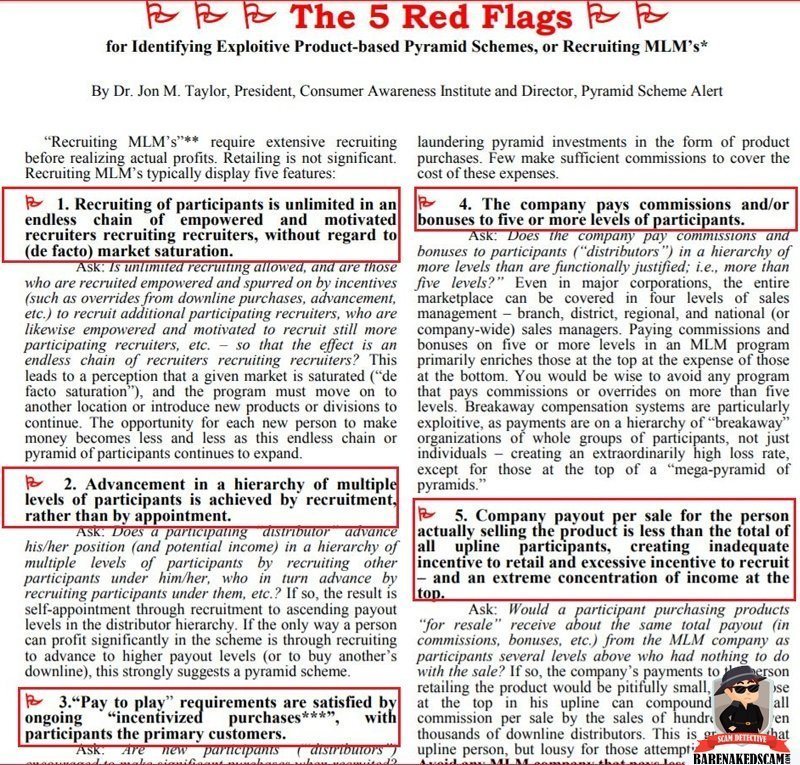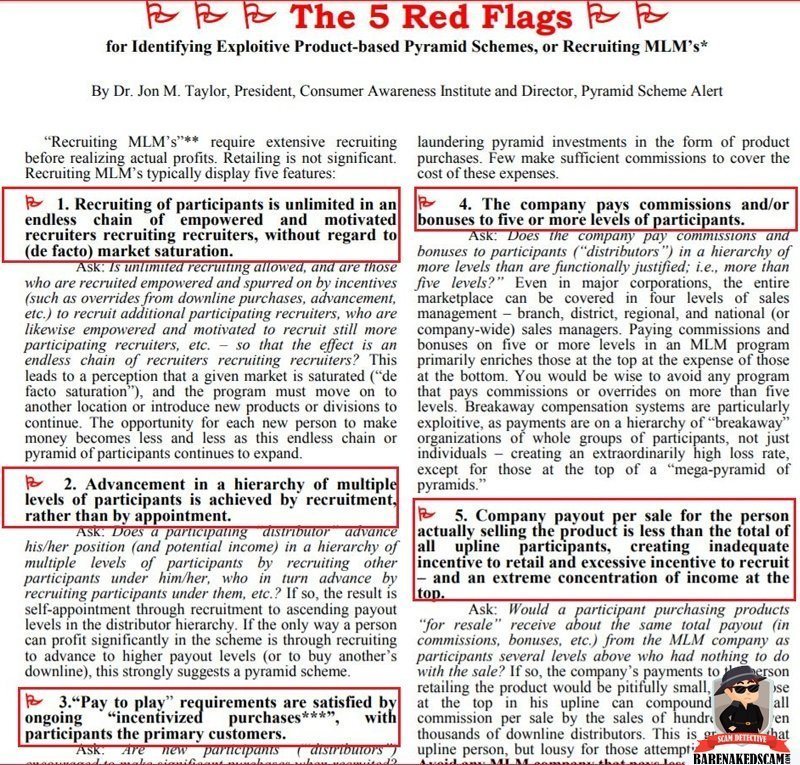 I am not saying that Life Force International is a pyramid scheme but as you can see, the company checks all the 5 red flags.
Other popular MLM companies mentioned in the same document by the FTC are:
Now that's what the FTC states but I would love to hear your opinion, especially if LFI distributors are reading this.
Is Life Force International a pyramid scheme?
Feel free to utilize the Comment Section below to express your thoughts.
#4 Costly Membership Maintenance
This is one of the things that I really don't like about Life Force International.
I understand that this is to motivate the members to sell more products. But anyone who understands how sales work would know that their will be times that you won't make any.
In the case of LFI, a monthly product auto-ship is required so you will be able to earn your team and residual commissions.
It seems that the company does not care if you still have tons of products stored in your garage or that you haven't made any sales at all.
Fast forward 5-6 months later, you might find yourself in serious financial trouble (even in debts) just because of the costly membership maintenance.
#5 MLM Business Rarely Works Out
I want to make it clear that I have nothing against LFI or any MLM company in particular, but I am not a fan of the MLM business model.
Other than the fact that I think MLM is simply a strategy by a company to take advantage of ordinary people to sell its products so they won't have to build or rent physical stores…
Your success in an MLM business model is slim to none. The truth is, more than 95% of all the people who join this industry fails. Here's why.
Yes, you may be able to mention hundreds or even thousands of people who manage to make a lavish living out of their respective MLM companies.
But when you think that MILLIONS actually have nothing to show for in the end, I don't know about you, but I would rather look for alternatives business opportunities.
Is Life Force International A Scam?
I believe the answer to this question depends on how you define a scam.
If a scam for you is paying money without getting any form of ROI, then Life Force International is not a scam.
If what you will need to become a distributor of LFI is by merely purchasing products, then you will get a form of ROI right off the bat.
However, if you want to join Life Force International because you are made to believe that you can easily make money with this program, then you might think of it as a scam.
LFI is not a Get-Rich-Quick scheme, nor earning money with this company is easy.
So depending on what a scam for you is, Life Force International could be both. I will say this though, LFI is ripe with red flags of a pyramid scheme.
Should You Join Life For International
As I have mentioned above, more than 95% of people fail in MLM, I included. I have been an MLMer for more than six years and guess what, I become part of those statistics.
Still, if you are optimistic that you can make LFI's compensation plan work for you, then I wouldn't stop you from joining this company. You may be entering a pyramid scheme though, according to the FTC.
Life Force International Business Alternatives
On the other hand, if you think that LFI is not the opportunity you are looking for, then I highly suggest that you take a look at this online program instead.
One of the many things I like about this program is that you do not need to talk to anyone to sell any products, nor do you need to recruit tons of people to make a living.
But if you see LFI as your ticket to financial independence, I will suggest that you master the art of selling and recruitment.
In addition to learning Attraction Marketing…
I believe that this MLM training program will get you on the right track to success with Life Force International.
It will also teach you how to meet your monthly product quota and promote your Life Force International business opportunity with zero rejections.
My Two Cents
Overall, Life Force International is a decent and typical MLM company on both products and business opportunity. But whether you choose to join this company or look for other alternatives is up to you.
My advice would be to start a business that you have a passion for doing.
That way, when the going gets rough, you will have the dedication and commitment to see it through the end.
Now, if you hate being in the sales environment, and you'd like to earn some extra cash from the comfort of your home, and that could one day replace your current full-time income…
Then, please check out this program. It is the program that has helped me and thousands of individuals with no prior knowledge or experience to earn a full-time passive income from home. Here's my success story with the program.
Final Words
Thank you for taking the time to read this Life Force International business opportunity review. I sincerely hope that you found the answers that you were looking for.
Feel free to share this if you think it's worthy.
And, if you have something you would like to share regarding Life Force International, please, feel free to leave a comment below.
Your pal,
Jay