Is Juice Plus a Scam? – What Your Sponsor Don't Want You to Know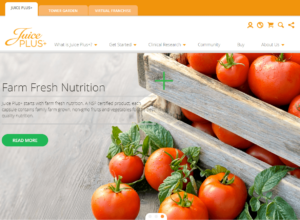 Name: Juice Plus
Website:  www.juiceplus.com
Founder: Jay Martin
Income Opportunity rating: 2 / 5 Stars
#1 Recommended Online Business Training with Proof: Click Here
---
Every health supplement company in the market will claim that their products are the most beneficial to its customers.
Juice Plus is one of the many companies that operates in the health supplement industry as well as in the Multilevel Marketing (MLM) industry.
You've found this review because you wanted to know if Juice Plus offers a good business opportunity, and of course, you want to know if it is just a scam.
You've come to the right place because I am going to share with you everything you need to know in order to make an informed decision.
This review will be split into two parts, firstly, we will figure out if the Juice Plus products actually work, and secondly, we will discuss more about the business opportunity.
Before we get into the details, I'll just give you my general opinion on Juice Plus.
From my findings, I do not think that Juice Plus is a scam (though some of its representatives have willfully misrepresented the company), but there are many concerns that surrounds the business opportunity which I will discuss in detail below.
This program has led me and thousands of people make a Life Changing income online. Find out how you can too!
What is Juice Plus?
---
What better way to describe a company then a video about its own journey:
Juice Plus was founded by Jay Martin in 1993, although its website says 1970.
In 1970, as the video above suggest, Jay Martin was into selling many products from different industry. He didn't have medical background or wasn't a health enthusiast, but he founded Juice Plus.
All we know is that he is a great salesman, otherwise the company wouldn't be what it is today.
The fact that many medical practitioners got interested in the Juice Plus products has made it a success.
Although so many medical practitioners are singing praises for the company, I thought it will be interesting for you to know a different side of the story, from a doctor who has given an objective review.
In the review, Dr. Lauretta has shared her views about the redundancy of the Juice Plus products, and has given good reasons to shunt pills and eat real food.
But, there were so many clinical research about the Juice Plus products, shouldn't it prove anything?
Well, for all we know, the clinical research could be funded by Juice Plus, and what does that mean? It means that the clinical research could be manipulated (I am not saying it is true though).
Alright, all these are the facts and opinions that are out there on the internet, and I thought you should know.
Like I've said, there is no definite conclusion on the effectiveness of the products unless you give it a try.
So, with that, let's take a look at what Juice Plus has to offer.
The Juice Plus Product Line
---
Through its slogan, "Next best thing to Fruits and Vegetables", we can understand the basis of its product development.
Juice Plus offers its nutrition through 4 forms, capsules, chewables, nutritional bars and liquid form.
Does Juice Plus actually work?
---
After scrutinizing a massive amount of reviews on Juice Plus, I realize that they all point to one simple conclusion, the products don't work for everyone.
There are equal amounts of good and bad reviews.
Some say that they feel jittery after consuming the products, some feel no difference, while some are only singing praises for the products.
Honestly speaking, if you have a clean bill of health, chances are you won't feel much difference consuming Juice Plus. In contrast, if you have some health issues to begin with, there are only 2 possibilities, better or worst.
But, nonetheless, if you don't try Juice Plus, you wouldn't know if it works for you.
On top of that, I would like to give a warning to pregnant women. As a father, I was super conscious of my wife's diet when she was pregnant. A word of advice is that you shouldn't try to consume any kind of supplement that is not clinically proven and not advised by your doctor.
There's a lot of debate about whether it is safe for pregnant ladies to consume Juice Plus, and while many claims that it is safe, I would strongly advise that you avoid consuming it.
While doing some research on the products of Juice Plus, I've found something interesting. Something that validates my concern on the products of Juice Plus. As you navigate through "Juice Plus+ Complete" product pages, you will see a "Proposition 65 WARNING".
This program has led me and thousands of people make a Life Changing income online. Find out how you can too!
Here's what Proposition 65 Warning is…
Is it Worth Joining Juice Plus?
---
Now, let's talk about the Juice Plus business opportunity.
There is a high chance that you are introduced to Juice Plus through a friend or a family member.
They may be saying that you can truly earn a living promoting the promoting Juice Plus.
Is that really true? Is it really that easy to make money from this opportunity like they claimed?
I'm sure you are interested to know…
First and foremost, the most important factor that you should consider before joining the business opportunity is whether the Juice Plus products work for you.
The reason is simple. If you don't believe that the products work, how can you expect others to believe you, right?
Now, even if the products worked, it doesn't mean that you are guaranteed a success.
Success is crafted through sheer hard work, dedication and determination.
On top of that, there are many reasons for failure and here are some major setbacks you should know…
Setback 1: Wrong Mindset
Don't expect someone else to look after your interest when you are not looking after it.
Honestly, when you first start the Juice Plus business, your sponsor (the person who introduced you to the business) can help you as much as they want, but if you only rely on them to do the heavy lifting, then you are setting yourself up for failure.
In the Juice Plus business, you need to prepare yourself to be a sales person, which means that you have to learn how to find new prospects and turning prospects into customers or distributors, like yourself.
I'm sure you've seen some presentations about Juice Plus before finding this review, and you may think that selling the product will be an easy task. So many people have done it, and you can too, right?
The fact is, when you have no sales experience to begin with, it will be a disadvantage to you as you wouldn't know how to promote the products.
Promoting the products is hard enough, what about selling a dream (the dream of being financially free with Juice Plus)? Let me tell you, it is even harder.
I'm not trying to discourage you from joining Juice Plus, but this is a fact that you should consider before joining.
Thousands of Individuals like you have been making a full time income online without selling. Find out how you can too!
Setback 2: Joining the wrong team
Without any initial sales experience, do you think you will become a successful sales person without any support, guidance or coaching? I doubt so.
Believe it or not, a major part of your success depends on the team that you join.
If you join a team that does not put your interest before themselves, chances are you will fail miserably.
The problem with MLM business opportunities is that the turn over rate is relatively high, and most of the time, it doesn't make sense for team leaders to train new joiners.
So, if you are considering to join Juice Plus, you need to do due diligence on the team that you are joining. Make sure that someone is committed to coach you.
Setback 3: Learning the Wrong Knowledge
Pen down a list of people whom you think will be interested in the Juice Plus products or the business opportunity.
Then, start contacting them to make an appointment or a 3 way call with your sponsor.
This is the same old strategy that almost every MLM company uses, but it doesn't work anymore.
In this day and age, almost everyone is aware of the business opportunities out on the market, and most people will shunt away when you try to promote either an MLM product or the opportunity. It becomes a common practice nowadays.
A statistic you should know…
Out of 100 people who come across the MLM company, 20 of them may be interested to buy the product; 10 of them will actually buy the product; and out of the 10, maybe 3 will be interested in joining the business opportunity, but only 1 may actually join.
So, this means that you need to meet 300 people to possibly sponsor 3 new distributors.
As you know, in Juice Plus, you can't rely just on the commission from the product sales, a huge part of your commission will come from recruiting. You will learn more from the video that explains the commission plan below.
Now back to the problem… What if you only have only 300 people in your social circle? What happens when you have met with all of them, where else do you get new prospects? From referral or from the streets?
My suggestion is to join a team that knows how to find prospects from the internet, and have been successful doing it.
This is the best way to have a constant flow of prospects.
The Juice Plus Compensation Plan
---
My Sincere Advice to You
---
If you are considering the Juice Plus business opportunity, it is important that you are actually benefiting from the products.
It doesn't make sense to promote something that you do not believe in. Do you expect people to believe the products work when you don't believe it yourself?
Furthermore, it is just unethical to promote stuff that doesn't work.
Even if the products work, it doesn't mean that you will be successful. You have to be a great salesperson to be successful in this business.
Like I've shared above, more than 95% of the people who joined Juice Plus fails, and there are many pitfalls to this business opportunity.
So, if the Juice Plus business opportunity is not suitable for you, what's next?
Well, I've been making a good income online for years, and I think I am qualified to give you some suggestions.
The best place to learn how to make money from the comfort of your home, without any knowledge or experience, is through this program.
This is the same program that turned me from a nobody to a somebody online, best of all, there is really no need to sell.
I've shared my early income proof here: 2015, 2016, 2017.
Thank you for reading this review!
If you find this review helpful, please, feel free to share it by clicking on the social media buttons.
If you'd like to discuss more on Juice Plus, please, feel free to leave a comment below.
Your pal,
Jack