Is iBuumerang A Scam? – No, But You Might Not Join After Reading This!
You're here because someone probably told you about this "amazing" business opportunity where all you need to do is "give free travel-related discounts to other people" and you'll earn money.
An MLM company with "no selling, no recruitment, and no rejection," they say.
Well, like any other business, you should approach iBuumerang with caution and better understanding. 
While it isn't an outright scam, per se… You might be sorely disappointed to find out that it isn't exactly the business you're hoping for.
Here's a quick summary for you.
Products Offered
The "Boomerang Invitation" is a great way to help people save money on their trips. But, it is not definite that it provides the best discounts than other sites like Expedia. Consumers still have to exercise due diligence.
Business Difficulty
You would think that everyone will use your "Boomerang Invitation", because it "make sense", and it will "sell for itself". But the truth is, you need a set of soft skills, and a growth mentality to influence people to use your Invitation. This skill is hard to acquire. Many people fail in this business because they do not have the ability to influence.
Cost to Join
The Standby kit that costs $49.95/month is just a starter kit that gives you almost nothing. You'll have to spend between $250 to $1,000 on either one of the packages + $99.95/month to actually make it work. So, to sum it up, the real cost to prosper in this business is:
$250 to $1,000 (depending on the package you choose)
Plus $99.95/month (this will supersede the cost of the Standby kit)
Profitability of the Business
You will earn 50-100% from the total amount saved by your customers on their travel plans, which could be hundreds of dollars depending on how much they spent.
iBuumerang will also pay you handsomely if you can manage to build a vast network of active TSAs.
Training and Support
The "Perpetual Residual Income Builder", their training and marketing platform, sounds promising as it addresses the issue of customer retention. But, these training do not make you an effective and influential marketer, it just make it easier for you to run your business. True success with iBuumerang requires you to be able to generate an endless amount of high quality leads, which this platform lacks.
Overall rating :  2 / 5
Recommended? No
iBuumerang is a new MLM company in the travel niche led by a veteran network marketer Holton Buggs. 
The company offers huge discounts on travel-related commodities.
It also provides its members (TSA) multiple ways to make money online.
But despite all the hypes that surrounds it, most people who will join iBuumerang will have a hard time making money! Find out why below.
Pros
Cons
What is iBuumerang?
iBuumerang (pronounced "i-boomerang") is a relatively new Multi-level Marketing (MLM) company in the travel industry. It was launched by Holton Buggs in March of 2019.
Because it's a new company, high ranking officials and distributors are saying things like joining iBuumerang now "almost guarantees" plenty of money to your pocket. 
In all fairness, I think what they're saying is partially correct. 
Because aside from the fact that the company operates in the $9 trillion-dollar industry…
The big bucks in MLM companies are usually earned (most of the time) by the founder/s and the early joiners who positioned themselves at the top of the pay structure.
An MLM company that has been around for a while may already have a few bad raps here and there… Which slows down its momentum. 
Good examples are Riway, SeneGence or Amway. While they all have a long track record, people are not as enticed into joining them anymore compared to new MLM companies like iBuumerang.
I'm guessing that these are also the reason why some top distributors of Paycation (a controversial travel MLM company owned by David Manning) are now promoting iBuumerang.
Nevertheless, I said it's only "partially correct" because there are plenty of things that directly affect your financial success in MLM, other than joining a new company.
So to make sure you won't end up wasting your time and money, below are the crucial things you need to know about iBuumerang.
Who is Holton Buggs?
Holton Buggs is an MLM icon. He made a name for himself during his time in Organo Gold, and his overall accomplishments in the industry are no less than extraordinary.
In his iBuumerang bio, it's said that he "built a network of over 3 million distributors, generated over $3 billion in sales, and mentored over 45 people to become millionaires in the past 10 years."
Although there's no way to verify these claims, still, he is the epitome of a network marketer's career. A quick search on "how much is Holton Buggs worth" left me dumbfounded! 
If I want to join a travel MLM company, I'd personally want someone like him to be leading it.
But despite his impressive feats, Buggs has also been involved in sketchy and questionable businesses in the past.
One of them was Your Travel Biz (YTB), yes, another travel MLM company. 
Buggs and his friend Edwin Haynes (now the Global Master Ambassador for iBuumerang) had successfully built a massive team in YTB.
However, YTB was later accused of being a pyramid scheme by California Attorney General Jerry Brown. Buggs left the company, and YTB eventually declared bankruptcy in 2013.
Is iBuumerang Buggs' act of redemption? Well, I'd love to hear your thoughts.
But I'd like to mention that YTB and iBuumerang promote the same products, operate in the same business model, and even the membership costs are similar! 
Heck, one of his previous teammates in YTB, even has a position in iBuumerang. Connect the dots. (winking smiley face)
Holton Buggs was also directly involved in a crypto-MLM company called IQ Chain (rebranded as IQ Legacy) in 2018, which is later accused of being a Ponzi scheme.
He immediately left the company after just a short while.
Now, I have nothing against cryptocurrencies. But I always frown on crypto-MLM companies because most of them are bad investments.
These things considered, it's not surprising that some people started calling Holton Buggs a scam artist. 
But despite all his past involvements, Buggs' achievement in the MLM industry is no joke, and I genuinely believe that he is more than capable of steering iBuumerang in the right direction.
iBuumerang is Not a Standalone Company
iBuumerang was previously known as Countdown4Freedom during its pre-launch phase. 
You may or may not have seen that it was promoted by Traverus Global (another MLM by David Manning) a few months ago.
Manning's direct involvement with iBuumerang has something to do with iGo – the company's official travel portal and booking engine.
iBuumerang isn't a standalone company. The travel-related services and products offered on iGo are provided by Xstream Travel, David Manning's travel agency. 
Xstream is also responsible for the services offered by Paycation and Traverus Global.
Now here's an exciting fact.
Did you know that Paycation (and possibly all other MLM companies owned by Manning) is an affiliate of Priceline.com?
But while it's free to become an affiliate of Priceline, Manning charges membership and subscription fees on anyone who joins his companies.  
He basically took the free affiliate program of Priceline, build his company around it, and charged anyone who uses it!
So I'm going to go out on a limb here and say that this is precisely how iBuumerang works too! Whether or not this is true, only Manning and Buggs knows.
I don't know about you, but this arrangement doesn't seem to be ethical and is very unfair for consumers.
Why would they be charged for something that they can enjoy for free? I'm sure Priceline has reasons for allowing such a thing to happen.
Again, this is just my opinion, and if you have any information about this matter, feel free to utilize the comment section below.
Related: Top Travel MLM Companies According To Wanderlusts
iBuumerang Products
As someone who loves to travel myself (Wanderlust), I think iBuumerang could be useful for people who want to enjoy huge discounts on their next trips.
iBuumerang's only product is called "boomerang" (aka buumerang), which explains the name of the company. 
A boomerang is an invitation that iBuumerang distributors, aka Travel Savings Ambassadors (TSA), can give to other people so they can access iGo.
Through iGo, IBuumerang offers "exclusive 50% up to 70% discounts" on various travel-related commodities and services such as,
Travel packages
Hotels
Rental cars
Flights
Tours
Homes
Weekly stays, etc.
The company claims that discounts are only available for people who are handed out a boomerang.
Now, get this.
As a TSA, you don't need to sell boomerangs, and you won't have to convince people to buy them. All you need to do is find someone who wants to save money on their next trip (which is probably everyone) and offer them a free boomerang.
If you run out of boomerangs, you can purchase more through your TSA back office.
But wait, if you're giving away the boomerangs you bought with your money, then what's in it for you?
How does iBuumerang Work?
Average people, even the ones that earn a minimum income, would typically go on a family vacation at least once a year.
With iBuumerang, every time someone books a trip, hotel, flight, or rents a car through iGo using the boomerang (iGo invitation) you gave them, you'll earn 50-100% of the total discount they get.
Anyone would want to stay in a 5-star hotel or travel in a 4-star style at the prices of the lower class, so they will likely use your boomerang to book for trips.
Say your workmate is planning a getaway trip to Boracay in the Philippines, and you give him a boomerang.
Your workmate then uses that boomerang to login to iGo and finds a 50% discount on a hotel where he'll be staying for his Boracay escapade. 
Let's pause for a moment here because this next part is a bit of a head-scratcher, so bear with me.
Customers (non-TSAs) are only entitled to enjoy a 50% discount offered on iGo.
Let's assume the hotel costs $600 for an entire week, but iGo offers it at a 50% discount. He should only pay $300, right?
Well, not exactly.
As I've mentioned above, non-TSAs can only enjoy half of the offered discount, so instead of a $300 savings, he only gets $150 (half of $300). You, on the other hand, can book the same hotel for $300 only.
Clear? As mud? Moving on…
In the example above, your workmate saved $150, and because of that, you'll be entitled to earn 50-100% from that amount. That's $75 to $150 for you just on one sale! 
This is called the "Travel Savings Bonus," which is just 1 of the 6 ways to make money with iBuumerang.
And remember, your workmate didn't pay you for a boomerang, but he saved money while you earn without selling (as the company advertised).
It sounds like a win-win situation, right? 
Well, not exactly (again).
Cost to Join (Pay to Play)
While someone might have told you that all you need is $49.95/month to make a lot of money with iBuumerang, it isn't exactly true.
What your sponsor might have "forgotten" to tell you is that the company offers four different global packages, but only three of them will allow you to make money with the company's compensation plan.
Have you heard of a Pay to Play system? That's one way to describe iBuumerang's membership costs.
The more money you pay to join the company, the better discounts you'll get, the more people you'll be able to invite to iGo, and the higher the commissions you'll earn (Pay to Play).
These are the iBuumerang global packages.
1. Standby
To get started with iBuumerang, you must purchase the "Standby" enrollment kit, which costs $49.95 per month. This will grant you the following:
1 iBuumerang Customer Site (where you can get discounts as a customer)
5 Boomerangs
25% Xstream Travel Referral Commissions
iDecide Interactive Presentation (personalized and interactive business presentations that link directly to your website)
TSA Online Management System (back office)
2. Coach Class ($250 + $99.95 per month)
Personal access and discounts on the iGo Booking Engine
10 Boomerangs
50% Travel Savings Bonus
10% Dual Team commissions
Luxury Experience (exclusive events)
200 Commissionable Volume (CV)
Everything on Standby package
3. Business Class ($500 + $99.95 per month)
Personal access and discounts on the iGo Booking Engine
25 Boomerangs
100% Travel Savings Bonus
12% Dual Team commissions
Luxury Experience (exclusive events)
400 Commissionable Volume (CV)
Everything on Standby package
4. First Class ($1000 + $99.95 per month)
Personal access and discounts on the iGo Booking Engine
50 Boomerangs
100% Travel Savings Bonus
15% Dual Team commissions
Luxury Experience (exclusive events)
1000 Commissionable Volume (CV)
Everything on Standby package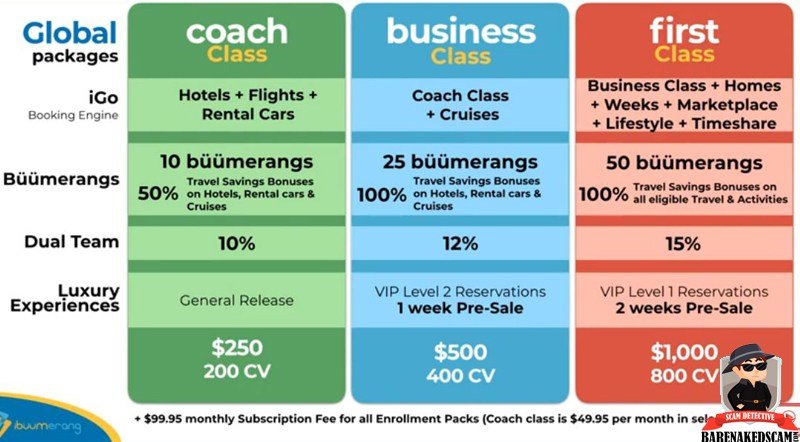 However, it is important to note that purchasing the Standby package doesn't make you a Travel Savings Ambassador (TSA). 
Standby members cannot access iGo. You won't earn Travel Savings Bonus and you cannot participate in the rest of the iBuumerang compensation plan. 
Your only way to make money will be to refer a group of people (not individuals) to Xstream Travel (Yep, Manning's travel company).
To become an official TSA, you still have to purchase one of the "optional" global packages (Coach, Business, or First Class) on top of the Standby kit.
So what exactly are you paying $49.95 a month? Just a couple of fancy named features that won't even make you money?
Enter The PRIB.
Perpetual Residual Income Builder (PRIB)
The company claims that PRIB is a training and marketing system that focuses on taking care of your customers and the retention of your team.
There is a high dropout rate in MLM. Statistics show that over 90% of distributors drop out on their first year, and over 95% after 3 years in the company.
The PRIB is said to take care of that for you.
The monthly membership is also said to cover your continued access to iGo, avail the discounts, and the use of the company's tools and systems.
Now, for me, this is ridiculous! 
What kind of company doesn't give its members access to its own platform, or take care of its members and customers for free?
Isn't it enough that TSAs are running around giving away boomerangs (which TSAs pay with their own money by the way) so the company can make sales?
What happens if you fail to pay the monthly fee?
You'll be restricted access to your TSA back office, lose access to iGo and iDecide, and lose eligibility to earn in most of the company's compensation plan. 
Worse, you will forfeit any stored sales volume in your account, including unpaid commissions.
How do you like iBuumerang now?
I thought so too that this business is about "throw goodwill and savings and you'll get rewarded."
iBuumerang Compensation Plan (Is it worth it?)
As it turns out, it's not just good will and savings that you'll have to "throw out" in this business. You might probably end up throwing away your money and time too!
There are plenty of ways to make money with iBuumerang, but the actual "making money" part is very tough.
The idea behind iBuumerangs entire compensation plan revolves around recruiting new TSA's and paying premium membership fees so you can enjoy better commissions.
1. Referred Travel Bonus
When you refer a group of people to book a cruise, an exotic vacation, or a block of hotel rooms on Xstream Travel, you'll earn 25% of the amount they spent as a referral bonus.
2. Travel Savings Bonus
This is where the Pay to Play system comes to "play" (pun intended). TSA's that pay iBuumerang more money are entitled to better commissions.
When you give free boomerangs, you'll earn 50 – 100% on the amount the customer saves whenever he/she books any travel-related services through iGo using your boomerang.
As per my example above, your coworker books a hotel for $600 with 50%. Customers only get half of the discount, so half of $300.
You can earn $75-$150 depending on your membership level. 
If you are a Coach Class TSA, you'll receive 50% off $150 ( ($75), while Business Class and First Class TSA will receive 100% of the total discount the customer gets ($150).
Higher-level members are also awarded more boomerangs, so their potential earnings are relatively higher.
Note: Standy members can't earn from the rest of the compensation plan, starting with Travel Savings Bonus. 
3. Fast Start Bonus
It's funny to think that the moment you fail to pay your monthly subscription, the only method iBuumerang lets you do to make money is to recruit people. What a strategy.
The fast start bonus pays you a one-time fixed commission every time you recruit people to become new TSAs.
You'll get paid $20 when your recruit joins with the Coach Class, $40 for Business Class, and $80 for First Class.
Who cares about paying subscription fees when you can make money by recruiting people, right? Nothing wrong with that, said the FTC.
Just keep in mind that If your recruit signs up for the Standby enrollment kit, you'll get no commissions. Better convince them to join First Class (sarcasm overload).
4. Dual Team Bonus
iBuumerang uses a Binary compensation structure to pay Dual Team Bonus.
When you join as a TSA, you will be positioned at the top, along with two sales force directly below you, the left leg and the right leg.
As you build your team, additional TSA's will be positioned on either leg. The leg with more sales volume will be referred to as the Strong Leg, the other the Weaker Leg.
I'm not a fan of the Binary compensation plan because it is tough to make money with it. 
In most MLM companies, including iBuumerang, commissions in a Binary compensation plan are paid based on Weaker leg sales.
Now, I've seen many people in other companies that have thousands and even millions of commissionable sales volume in one leg, and still made no money because they weren't able to produce the same result on the other leg.
Unless you manage to make good sales in both of your sales force, you cannot expect to earn a decent income in a Binary compensation plan. 
Because even if you have a million commissionable sales volume in one leg but only 100 on the other, you'll only be paid for the 100.
Companies like SeneGence, USANA, and World Ventures (another travel MLM company) uses a Binary compensation plan.
iBuumerang's Dual Team Bonus will pay you 10% up to 20% of the total CV of your weaker leg based on your current rank. TSAs unlocks different ranks, namely;
TSA
Director
Senior Director
Executive
Sapphire
Ruby
Emerald
Diamond
Blue Diamond
Black Diamond
Presidential Diamond
Crown Diamond
Double Crown Diamond
And Triple Crown Diamond
Ranks are achieved based on the amount of commissionable sales volume you'll earn by product purchases and through recruiting new TSAs.
On this point, you've probably realized that there is no real way to make a lot of money with iBuumerang unless you manage to recruit tons of people in the company. 
The question is, are you willing to turn yourself into a recruiting machine?
5. UniLevel Commissions
UniLevel compensation structure, while still requires recruiting many people, is more friendly for TSAs than Binary. 
In UniLevel, all your personally recruited TSAs are positioned on your 1st level, and the recruits of your recruits (1st level) will be placed in the 2nd level, and so on.
If you manage to build a massive network of active TSAs under you, you'll be handsomely paid based on the group sales volume (membership fees of the TSA's under you and their customer's bookings) up to 7 levels deep.
Your potential UniLevel income based on your rank would be:
TSA – 10% from all the sales of TSA on your 1st level
Director and Senior Director – 10% for levels 1 and 2
Executive – 10% for levels 1 up to 3
Sapphire – 10% for levels 1 up to 3 and 8% on level 4
Ruby – 10% for levels 1 up to 3, 8% on level 4 and 7% on level 5
Emerald – 10% for levels 1 up to 3, 8% on level 4, 7% on level 5 and 6% on level 6
Diamond and Higher – 10% for levels 1 up to 3, 8% on level 4, 7% on level 5, 6% on level 6 and 5% for the GV on level 7
6. Leadership Development Bonus
Once you achieve the rank of Sapphire and above, you will earn 2-5% commissions from the sales volume generated by your organization, down to 4 levels.
It basically means that you need to rank up to earn more commissions with iBuumerang. And how will you achieve higher ranks? 
By recruiting new TSAs, handing out boomerangs, and hoping that people will book travels, trips, hotels, and flights in iGo.
Looking at the company's compensation plan, I think that the bigger bucks are not for someone who can giveaway the most boomerangs, but to someone who can build a massive network of TSAs. 
So the bottom line is this:
While iBuumerang claims that you won't need to sell or recruit to make money, the truth seems to be the exact opposite. 
But that's just me.
To find out more about how the iBuumerang compensation plan works, check out this video.
Wait! An MLM company that puts heavy emphasis on recruitment, dot, dot, dot.
Is iBuumerang a Pyramid Scheme?
iBuumerang is not an outright pyramid scheme, but it's in the borderline, I'd say.
The FTC defines a pyramid scheme as a business model where your income will solely come from recruiting people. iBuumerang kind of fits this definition.
Because even if the company gives TSAs the option to make money by giving away boomerangs and referring people to Xstream Travel…
The Fast Start Bonus, Dual Team Commissions, and UniLevel commissions (aka the big bucks) are clearly derived from recruitment.
I know we might disagree on this matter, and if you have anything to share, you're welcome to do so in the comment section below.
Are TSAs Making A Decent Income?
During this review, iBuumerang doesn't have an income disclosure (yet), so there is no way to tell how many of the TSAs are making good money. 
However, MLM or network marketing has a low success rate. Across the entire industry, and on each MLM company, over 95% of the distributors are not making a decent income. 
I assume the same thing for iBuumerang.
Conclusion: Should You Join iBuumerang?
I personally think that iBuumerang best suits individuals who love to travel or knows plenty of people who do. 
Because then, the discounts on iGo will come very handy, and the monthly membership fee that you pay will be put into good use.
On the business side, iBuumerang is for people who are comfortable in the sales environment, have keen people's skills, and can manage and motivate a group of people.
Someone who's not afraid of being laughed at or ridiculed because let's face it, MLM has a negative reputation.
That being said, I believe that iBuumerang, with the leadership of Holton Buggs, could also be an instrument for you to make money in the travel industry.
If joining iBuumerang is the path you want to take, then you should equip yourself with the proper MLM knowledge and skills so your time and money won't be wasted. 
I recommend that you check out this strategy used by most successful network marketers, including the top-earning iBuuumerang TSAs.
I've had my fair share with the MLM industry before. And though I managed to make money, it wasn't the income I was hoping for.
So I keep looking around until I found a more efficient and simpler way to make money instead of trying to sell and recruit my family, friends, and coworkers – even complete strangers!
This online business program taught me everything I know on how to make money online, even as a complete beginner – without selling anything or recruiting a single person!
The same program allowed me to earn a full-time income from home. Would you be interested in reading My Humble Story?
Anyways, thank you for taking the time to read this iBuumerang review. I do hope that it gave you a better insight into this company and whether or not this business is for you. 
In the end, the choice is yours.
Until here and whatever path you choose towards your financial goals, I wish you all the success in the future.
For questions, reactions, and personal opinions, please use the comment section below.
Your friend,
Jack