Field Agent Review – Seriously, You Can Earn Money But…
How would you like to turn your smartphone into a money-making machine? That is probably what got you interested in Field Agent, and now, you want to verify if it's true.
Field Agent claims to offer you a convenient way to generate an income for free, using only a simple smartphone app.
It's no surprise that this opportunity captured the attention of many people when almost every one of us owns a smartphone these days.
The good news is, you can indeed make money with Field Agent, and many people can testify to that.
However, there are also 7 crucial facts about Field Agent that might discourage you from getting involved in it.
So in this Field Agent review, I'm going to discuss everything you need to know about this income opportunity to help you decide if its worthy of your time and effort.
Shall we get right to it?
Review Summary
Website: fieldagent.net
Founders: Rick West, Henry Ho, and Kelly Miller in 2010
Price to Join Opportunity: Free to Join
Recommended? It depends if you are living near a big city and you don't mind going out of your home for hours to earn a few bucks. Otherwise, you may want to check this out instead.
Overall Business Opportunity Rating:
Quick Summary: The Field Agent company gives you a unique way to earn a couple of bucks by installing an app in your smartphone.
However, you will have to go outside and might travel to different places to complete a job that will only pay you a few dollars. Furthermore, you might not get paid in the end if you're not careful in following the strict instructions provide by the company.
There are a few more pitfalls in joining Field Agent if you want to make money and I will discuss them all below…
What is Field Agent all about?
Field Agent is a company with a smartphone app launched in 2010 by Rick West, Henry Ho, and Kelly Miller (left to right).
The idea behind Field Agent is connecting businesses that need market research data about their products/services and average shoppers (like you and me) who are looking for ways to earn a couple of extra bucks. 
According to the Field Agent website, they currently have over 2 million members or "Agents" worldwide that are ready to provide companies with photos, videos, insights, ratings, rankings, and comments regarding their products.
Field Agent works similarly to mystery shopping companies like Call Center QA, IntelliShop, and BestMark.
It's free to join Field Agent. 
You just have to own a smartphone (both iOS and Android are accepted), create an agent account, fill up the required personal information, and you can start immediately.
However, Field Agent only operates in several other countries outside the US
During this Field Agent review, this income opportunity is only available in United Kingdom, Canada, Australia, Mexico, Ecuador, Romania, and some territories in South Africa.
How much can you earn with Field Agent?
The Field Agent jobs or tasks generally pay between $2 up to $12 per completion according to the company website.
However, some people claim that they got paid as much as $20 to $30, completing a single task. Apparently, the amount you can earn depends on the complexity of the job.
Some Field Agent tasks can be completed under an hour while others can take for as long as 8 hours. There are even others that require more!
Take this task, for example…
Which requires you to go to Walmart, take 3 photos, and answer up to 10 questions about Wet Shave Aisle.
This particular task pays you $12 upon completion, and the time for completion is 4 hours.
It's important to note that you are only allowed to complete a job within the specified time, or else you will be disqualified.
Now, to be honest, getting paid $12 for this task sounds fair, and you can probably complete this task easily within an hour.
Nevertheless, before you go out there and become an agent, here are the crucial facts about Field Agent that you should know.
My Concerns about Field Agent
Alright, before we move on to the next section of this Field Agent review, I just want to clarify that it's not my intention to damage the reputation of this company.
The information below is merely for educational purposes based on what I know and of what other people say about Field Agent.
You must be made aware of them because there is a good chance that the same issues are what you'll encounter as an agent later on.
1. Not a reliable source of income
The most common Field Agent complaint coming from its members is the lack of available jobs every day.
One agent claims that he/she didn't get a single job within a whole week.
The truth is, the company is aware of this situation. In fact, in the Field Agent's FAQ section, the company addressed this issue to avoid confusion among its members.
Field Agent made it clear that the number of jobs or tasks it can offer to the members depends on the needs of its clients.
As I mentioned earlier, Field Agent is merely a bridge between companies and mystery shoppers. The management of Field Agent doesn't come up with the task themselves, and they only rely on their clients.
So when you join as an agent, there is a good chance that there will be days that you won't get a job.
Furthermore, it seems that this opportunity highly favors people who are living near a large city or urban areas where plenty of stores, establishments, and malls are located.
If you don't live anywhere near a large city, it's likely that you won't be getting a lot of jobs and tasks to complete.
2. You might not get paid
There have been many instances where an agent wasn't paid for the Field Agent job they've completed.
It appears that there are some cases where the company wasn't able to provide clear instructions on how to complete a particular job, and an agent has to contact the support first before getting compensated.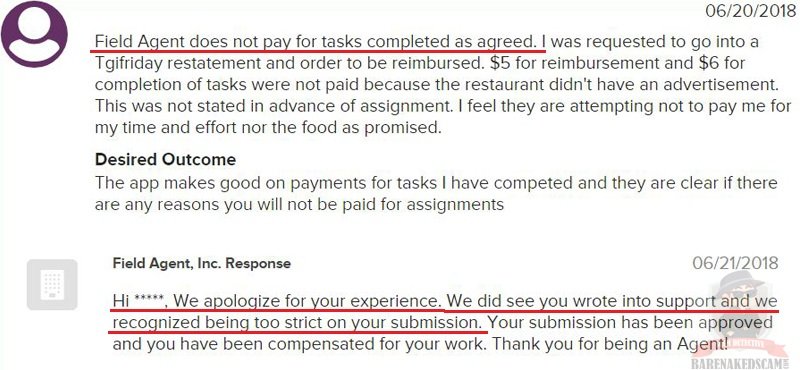 Furthermore, some agents claim that the company simply refused to pay them for completing their job; some even got called a liar and a scammer.
I don't know about you, but I would be hesitant to spend hours and hours completing a job to earn a couple of bucks only not to get paid in the end.
3. No room for mistakes
If you make a mistake while completing a job, you'll have no choice but to say goodbye to the time and efforts you've invested in.
Unfortunately, Field Agent makes it clear the job completion submissions are final, and you can't do anything if you've made some mistakes.
In cases like not following instructions or submitting wrong photos, etc., your job completion request will be denied, and you won't get paid.
While I understand that the company is trying to maintain its integrity and uphold the trust of its clients…
People who join Field Agent hoping to make a couple of bucks are still "people," and human beings are bound to make mistakes.
Now, I'm not trying to justify the fact that some agents might be not doing their jobs properly, which leads to mistakes.
Nevertheless, I'm hoping that Field Agent (in the future) can make some reconsideration to allow users to fix their mistakes so they can get paid.
Or, if not, maybe give some form of consolation prize for their efforts if said mistakes are found to be truly unintentional.
Unfortunately, during this Field Agent review, if you make a mistake in the task, there will be no reconsideration.
So you better get your A-game when completing a job if you don't want your time and resources in vain.
4. You might get into trouble completing jobs
It has been brought to the attention of some agents that some establishments and stores like Walmart don't allow people to take photos or videos inside the store.

This could be a huge issue when it comes to completing a task that requires you to take multiple photos of a product or an aisle, like the example I shared with you above.
You must have a clear strategy on how to complete certain tasks so you won't get into trouble. But I'm sure you're smart enough to figure these things by yourself.
Still, it could be scary and stressful doing some things that aren't allowed inside a store just for the sake of earning a couple of bucks.
Now, this is my own opinion, and you might not feel the same.
But if you want to share your thoughts about anything I've discussed so far, feel free to leave a comment below.
5. Payments can take days
There have been instances when an agent's payment for completing a job had taken days to be processed.
Therefore, you must accept the fact that there will be times when you might not be able to cash out your earnings immediately to pay for some urgent bills or shop for groceries.
Field Agent use to offer payments through PayPal and Dwolla a while ago. But at the moment, the company will only pay you through direct bank transfers.
I mentioned this because some people are not comfortable sharing personal bank account details to unknown parties.
6. Not a "work-from-home" opportunity
Field Agent typically requires you to go outside your home and go to certain places and establishments to complete a job.
This is a non-issue for people who have vehicles, have no disabilities, or if the weather is fine. 
But what if it's raining or snowy outside, or what if you have a condition that requires you to stay at home, or the required destination is miles away?
Then you'll likely lose your chance to earn a couple of bucks.
I also feel that completing a job that requires you to travel long distances just to earn a couple of bucks might not be a practical way to make money.
I'm not saying you shouldn't, but frankly speaking, it only makes sense if the job you get coincides with another interest.
Like if you're planning to go shopping for groceries and you get a job that requires you to complete a task in the same mall or place.
Speaking of making money from home…
You might be interested to learn how I do it.
7. Low-income potential
My last concern about Field Agent is the fact that you might spend hours and hours completing jobs for a couple of bucks.
To be fair, kudos to Field Agent for providing shoppers a unique opportunity to make money using their smartphones.
Nevertheless, I feel that your time and effort deserve better compensation. Not to mention that you might not get paid or disqualified in a job.
Time is the most valuable resource you have, and you certainly deserve better for it than just a few bucks.
But hey, this is my personal opinion. I would love to hear your thoughts too in the comments section below. 
Although, please refrain from unnecessary hostility and disrespectful words so we can have a healthy discussion.
Is Field Agent a Scam?
No, Field Agent is a legitimate income opportunity that has been the source of income for its agents. You can find a lot of people on the Internet that says good things about this company.
Field Agent has also been featured in TV networks and news articles.
That being said, whether you find it worthy of your time and effort or not after the things I've discussed above is up to you.
And while Field Agent isn't a scam, there have been instances where users have been scammed by malicious parties using the name of Field Agent.
Apparently, some users have been tricked into buying gift cards using their own money only to realize later on that the task has nothing to do with Field Agent.
The same thing happened to some members of Shadow Shopper.
So I highly advise that before completing any job, do your due diligence and make sure that the job is indeed coming from clients of Field Agent.
Field Agent also addressed this matter and warned their agents that the company only issues jobs in the Field Agent app.
The company also made it clear that it will never ask you to complete a job that requires making payments, wiring funds, or issuing cash checks.
My Sincere Advice (If you want it)
I firmly believe that Field Agent is an income opportunity that best suits people who are living in or near a city and have no trouble going to different places and establishments.
As an agent, you might earn tens and even hundreds of dollars with this opportunity based on the number and the kind of jobs you get.
But if while reading this review, you realized you'd rather spend your time on something else instead of making a couple of bucks with Field Agent…
Then I highly recommend that you check out this program.
It is the same program that turned me from a nobody to somebody online, and it allowed me to earn not just a part-time but a full-time income from home.
I've shared my early income proof here: 2015, 2016, 2017.
Anyways, thank you for taking the time to read this Field Agent review. I hope that you now have a clear idea if this income opportunity is for you.
But if you have further questions about this company, feel free to use the comments section below.
And if you find this review useful, kindly share this with the people you know.
Until here and whichever direction you go towards your financial goals, and I wish you all the best in the future.
Your friend,
Jack