Emobile Code Scam – A deep look into the program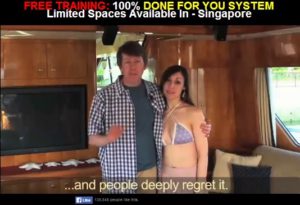 Name:  E Mobile Code
Website:  www.emobilecode.com
Price: $49 + Many upsells
Owners: Ronnie Montano
Bare Naked Scam rating: 3 Thumbs Down
#1 Recommended Online Business Training with Proof: Click Here
Bill McKnight – The Con Artist
---
I do not know about you but I am a little concerned when someone walks up to me and tell me that I can make money online almost instantly with just a few clicks. I had been scammed many times to know that such thing doesn't exist.
The frontman of Emobile Code is obviously Bill McKnight together with his "2nd Wife" Jenna but what you probably do not know is that the main owner of this program is actually Ronnie Montano, the same guy who created Tube Cash Code, Mobile Money Code, Easy Cash Code, Commission Cash Code.
You see these programs above use the same kind of marketing techniques (i.e. giving a system to you free, just pay $47 for a maintenance fee, get done for you businesses, make lots of money instantly with as easy as a few clicks), same kind of sales script, same kind of introduction videos, the only difference between these programs are the actors.
To be honest, I've tried many of Ronnie Montano's products and they do not help you in any way in terms of building your knowledge or make money online. You've probably seen many video testimonials within the introduction video where people tell you how much they are making per day, but all I can say is that video testimonials can be conveniently bought these days.
So without further ado, let me walk you through what is in Emobile Code members area.
There are proven methods to make money online. Get Started Now!!!
How do I know if Emobile Code is a scam?
---
Spotting a scam is easy because they all seem similar in one way or another. The most common characteristic is the upsells, a scam will usually walk you through their system and each step you go through will lead you to another product to buy or another upgrade and they will tell you that this step is necessary for you to make money.
Truth be told, these are just marketing techniques that will suck you dry and this is exactly what Emobile Code is. Let me share with you a glimpse of what is in the members area of Emobile Code.
Step 1: Free Call with Startup Specialist – Startup Specialist or annoying Salesman?
---
Well this is funny because I  have just reviewed Mobile Money Code last week and now I see Greg Anderson (Frontman of Mobile Money Code) when I click on the Step 1 of Emobile Code. I see the exact video while I was reviewing Mobile Money Code.
Well I can't comment much on this step because I have not given this step a try as I had negative past experiences with other programs. The so called "Startup Specialist" in the other programs are experienced salesman who baggers me to buy a 3 thousand over dollars course which I do not even know if it really works.
Although I can't say much whether Emobile Code "startup Specialist" is similar to my past experience, I have found a comment from a member of warrior forum who shares his experience with Emobile code "Startup Specialist".

Step 2: Free Gift for you – Is it really free?
---
Bill McKnight guarantees you that this is 100% free and he tells you that he is using his own pocket money to employ a team of experts ("his partners") to build you 5 unique done-for-you online businesses of your choice.
Well, I believe Bill McKnight is outright lying to you because you NEED to pay a hosting fee before his "Partners" can build the websites for you. You will be directed to the sales page of Cloud Pro Hosting a web hosting company where they will try to sell you their web hosting packages.
What you do not know is that those free websites Bill McKnight was talking about, are just standard website templates provided by Cloud Pro Hosting. There are no extra effort done to your websites and the websites are pretty but useless.
The websites are useless simply because #1, new websites do not generate any traffic (traffic = $$$), #2 the contents of those websites are duplicates and will not be ranked on Google or other search engines, again, no traffic.
Turning your Passion into Profits. Discover a proven method to build a successful online business. Get Started Now!!!
Step 3: A Welcome video – Reminder for upgrading
---
This step is basically reminding you to upgrade and purchase all of the features of Emobile Code. The first upgrade is to get 200 done-for-you business, as adviced by Bill McKnight, the more emobile business you have the more income potential you have. While what he said do make sense, I believe those done-for-you businesses are just Private Label Rights (PLR) products, nothing special.
The Second upgrade is the EMF Amplifier which supposedly bring you tonnes of traffic to your Emobile Businesses website through the amazing social media "Facebook". One thing I learn is that people who are using Facebook do not have the intention to buy a product immediately, so you best have a catchy website to lure people to buy whatever product you are trying to sell.
The Third upgrade is the Viral Video Velocity which is a platform for you to create your very own videos or host your videos with Emobile Code servers at $18.95/mth. Well, if you have ever created a video and posted it to Youtube before, you know this is free. Why would you want to host your videos with a paid server (not recognized server) when you can do it free at Youtube or Vimeo for free (Recognized server). It just do not make any sense to me.
Step 4: Cell Phone Owners only – Selling you out to Mobile Money Code
---
This step basically brings you to another product,Mobile Money Code, which created by the same owner, Ronnie Montano. Like I've said, the set up of Mobile Money Code is exactly the same as Emobile Code. Few click system that generates tonnes of money for you in the next few days.
I feel sad for people who believe in this kind of programs and spent a few thousand dollars on them. First, you will be spending close to a thousand dollars (plus some recurring fees) with Emobile Code to get all its upsells and other recommended products, then you will be spending another thousand dollars with Mobile Money Code to find out that you do not make any money with these programs.
And then, that's not all!!! Wait till you go to the next step.
Step 5: Want All Your Work Done For You? – Selling you to yet another program
---
Introducing the Full Money System where you get all the work done for you, all you need to do is tell the system where you want your cheques sent. Honestly speaking, if you ever heard of anything similar to this type of concept, run as far away as you can because it will burn a big hole in your pocket.
Making money on the internet is never that easy because you need tonnes of knowledge and skill to make a killing online, and this skill and knowledge can only be cultivated through time.
A sincere advise from me, never trust any done-for-you programs because I've never heard of and never tried one that actually works. Before you knew it, you will probably be spending thousands of dollars on it and worst of all, sometimes you can't get a refund on it.
My Sincere Advice to You
---
Avoid eMobile Code because it is just not worth your money and your time. You do not get any value out of this product. You see there are many so called "Gurus" on the internet trying to sell you their turnkey systems, like eMobile Code, but none of them actually work. I know you are still looking for ways to make money online, trying to find a way to quit the rat race, well, look no further because I personally have found a way to make money online.
Unlike those so called "Gurus" who do not share anything with you until you buy their products, I want to share with you how exactly you can make money online. Read my #1 Recommended Online Business University and find out how you can make money online the legitimate way.
As always, I invite you to share your thoughts with me on Emobile Code below, I will be more than happy to discuss this with you. If you find my review helpful, please feel free to share it with your friends and family by clicking on the social media buttons below to help them avoid this program.
Your pal,
Jack