DotComSecrets Book Review – One of the Best Internet Marketing Book?
The DotComSecrets Book, is one of the many products founded by Russell Brunson.
And, right off the bat, I'll say that this is one of the best internet marketing books that I've read.
Whether you are a business owner, a marketing specialist, an aspiring internet entrepreneur, as long as you have something to sell or promote online…
The Dotcomsecrets Book is what you need to bring your online business to the next level.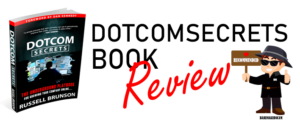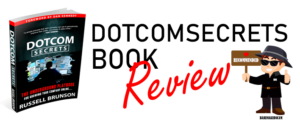 Through this Dotcomsecrets Book Review, I will share with you brief summaries of each chapter.
 And, you'll understand why I claimed it to be one of the best and why you'll need it for your online business.
As Russell Brunson said, "this book is not about how to get traffic to your product offers, yet it can help you attract more traffic than ever before.
And, this is also not about increasing sales conversion, yet it can help you double your profits".
I was intrigued and at the same time skeptical at first, but a few chapters in, I realized what Russell Brunson said makes perfect sense.
There is a total of 13 secrets shared in this book.
So, without further ado, let's dive right into each secret…
Amazon sells this book at $15, but you can get it free (+$7.95 shipping) through this link. 
Secret #1: The Secret Formula
This secret is all about…
Being clear about who your "Perfect" client is;
How and where you are going to find them; and
Where you want to lead them to.
In this digital age, if you are still using the "hit and miss" method of finding clients, your business will hardly grow.
It is so important to be clear about who you want as your client, so you can craft highly targeted marketing campaigns that speaks to them.
As we know, we get bombarded by hundreds of advertisements every day.
And, we only read and respond to the ads that speaks to us.
A friend of mine in the marketing field said to me that his company spends thousands of dollars on training for its employees to learn things that are being taught in this chapter.
But, in just a few pages (6 pages to be exact), Russell Brunson has made a comprehensive guide for you to find your "Perfect" client.
Secret #2: The Value Ladder
Believe it or not, there's a value ladder in almost every business, and it is what sets businesses apart from its competition (financially).
So, what is a value ladder?
In Macdonalds, you buy a value meal which cost around $5, and it consists of a burger, fries and a drink.
The burger is the main hero in the meal, and it is supposed to be sold individually.
Hypothetically, the cost price of a burger is $2.00, and the selling price is only $3.00.
Macdonalds earn $1.00 in profit.
But, when they package a value meal, assuming the cost price of the fries and drink is $0.30…
 They earn a total of $2.70 (Selling Price $5 less Cost Price $2.30).
Here's what Macdonalds did, they understood that consumers will not be satisfied with just a burger.
They'll want something to fill their stomach and drink after their meal.
The fries and drink is what gives extra value to the consumers, and that's why it is called the "Value Meal".
Having a value ladder for your business gives you a means to provide better value to your customers (through a series of upsells) and at the same time earn a lot more money.
In the book, Russell explained the value ladder using the example of a dental clinic.
And, then he shares ways to identify the value ladder for your business.
Grab a FREE copy of DotComSecrets Book here!
Secret #3: From a Ladder to a Funnel
This secret will explain what a sales funnel is, and how it can turn your small business into a big business.
Almost every big business in this world will have a sales funnel, you just didn't recognize it.
A sales funnel is simply a sales process that will move your customers through a series of product offerings.
Successful businesses do this subtly, and customers will not feel that they are being sold to.
Instead it makes them feel just the opposite, it makes the customer feel happy because they are receiving more value.
In this secret, Russell will walk you through the strategy, psychology and tactics you'll need to build a sales funnel for your business.
Secret #4: How to Find Your Dream Customers
As the topic header suggests, this secret is all about finding your dream client.
There's always bad customers in every business, and the reason is probably because your business is attracting the wrong type of customers.
Being clear about who your business wants to work with, will allow you to sift through and segregate good clients from bad ones.
The ultimate goal is to stop the wrong type of customers from entering your business, and to get your dream client to be a raving fan of your business.
It's easier said than done, there's a lot of ground work to be done.
So, the first step is to understand the concept of the congregation, meaning a group of people who have the same belief, values and ideas.
It is through this understanding that will allow you to go into the mind of your clients to extract the information you'll need to attract them to your business.
Sounds sneaky and unscrupulous, but it's legitimate, and I am sure as a business owner, you'll want to know how this can be done.
Secret #5: The Three Types of Traffic
Traffic basically means customers or prospects flowing through your online business (eyeballs on your business, your website, your offers).
If you are new to selling stuff online, you'll want to understand the different types of traffic that are pouring into your business.
The three types of traffic are, Traffic that you (1) control, (2) don't control, and (3) own.
Obviously, the traffic that you own is one of the best traffic because it's free and you can use them to promote your current and future offers.
I'll let Russell explain this secret in his book, but I'll just say that the purpose of this secret is to convert "traffic that you control" and "traffic that you don't control", into "Traffic that you own".
Grab a FREE copy of DotComSecrets Book here!
Secret #6: The Attractive Character
This topic is further detailed and expanded into another book of Russell Brunson called the "Expert Secrets".
This is where your business can separate itself from the crowd.
I'll quote a paragraph from the book:
"An Attractive Character is a persona that attracts clients or customers and helps you build your following to eventually make sales."
Simply speaking, it is how your customers or clients PERCEIVE you to be a person or a business that they can relate to, and an "Expert" in the industry.
Being able to relate to your customers or clients is the first step to drawing them into your business.
Secret #6 will share with you (1) the elements, (2) the identity, and (3) the story lines that will help you build your attractive character, it doesn't matter if it's a person or a business.
Secret #7: The Soap Opera Sequence
Ever watched a soap opera (a drama series) before? I'm sure you have…
What draws you into soap opera is because of the open loops of each episode that makes you want to know what happens in the next episode.
Using the exact methods of a soap opera, you can allow your clients and customers to understand your business better through a series of emails sent to them when they join your list (one email after another that has an open loop that draws them into the next email).
And, the Soap Opera Sequence allows you to build trust with your customers or clients that will eventually lead them to buy products from your business.
In Secret #7, you'll be given a detailed example of how Russell Brunson sells his "Expert Secret Book" through the Soap Opera Sequence. Obviously, you can use it as a reference for your business.
Once you have your Soap Opera Sequence, you'll be introduced to what Russell calls "Seinfeld Emails".
Secret #8: Daily Seinfeld Sequence
A Soap Opera Sequence is a sequence of emails that you send to your customers or clients through an autoresponder, and the Seinfeld emails are sent through broadcast.
The main difference is that Soap Opera emails are meant to give an introduction and build trust with your customers or clients, and Seinfeld emails are meant to draw people back to whatever that you are selling.
Russell will also share with you why he doesn't focus on writing valuable content in his emails, but instead he gives entertainment value.
And then, he ties entertainment to his products which leads people back to his products that he is selling.
That's how you make money, not be giving product value, but by giving entertainment value. Weird, right? But, it works. I've tested it myself.
Secret #9: Reverse Engineering a Successful Funnel
Never try to reinvent the wheel!
Unless you have an unlimited amount of financial backup, you shouldn't try to build a business that no one else has tried before.
I know, almost every entrepreneur will disagree with this statement, and it is only the smart entrepreneurs who would use this as an advantage.
Secret #9 is all about identifying and copying the businesses that are already successful (not saying that you copy them entirely (that's violating the copyright law), but to understand the concepts and designs and mimic them).
You'll understand the 5 variables of successful campaigns, and you'll be guided step-by-step to reverse engineer a successful campaign.
Leveraging on other people's success will probably get you close to, if not better results than your successful competitor.
Your Successful Business is Waiting… Grab a FREE copy of the book and plug it into your business!
Secret #10: Seven Phases of a Funnel
This chapter will put together all the pieces of knowledge you've learned from previous chapters into one big picture.
As you know it, its called a Sales Funnel.
Secret #3 gives you an introduction of what a sales funnel is, but Secret #10 will give you a full understanding of how it works.
You'll understand what "Pre-Framing" is, and why the pre-Framing is important to shift customers or clients from one phase of the Sales Funnel to another, to eventually the final phases, which is to become a raving fan of your business (your dream client).
This is a super important chapter because it details the entire concept of a sales funnel that every online business should have.
Secret #11: The Twenty-Three Building Blocks of a Funnel
Once you understand the entire concept of a sales funnel, now it's time to build it.
Each phase of your sales funnel will have different building blocks, and you'll be introduced to each of them.
I can't comment much about this chapter because this information is only available for people who've purchased this book.
But, you'll probably find this image when you are doing research about his chapter:
Secret #12: Frontend vs. Backend Funnels
Every value ladder that your customers or clients climb, there's a psychology behind them, and you need to use different types of sales funnels to address them.
This ties in with the knowledge you learn about the different types of traffic in Secret #5.
The concept is simple, you can't expect to sell someone a thousand dollar product when you just get to know them (the cold traffic). It is possible, but it's an uphill battle.
At the same time, it is not efficient to promote a low-ticket introductory product to your raving fans (the hot traffic).
So, for different types of traffic, you need to have a different funnel for each of them.
Once you understand this concept, your business will run in the most effective way.
Secret #13: The Best Bait
Every business will yield different results, and testing each of your sales funnels is important for your business to run efficiently.
Russell has discovered that by introducing a "free" product in his front end sales funnel will yield a better results, and you should try this for your business as well.
This is called the "Best Bait".
Of course, the "Best Bait" is only to lure your prospective customers or clients, it is your back end sales funnel that builds the trust, get them to be excited about your products and eventually become a raving fan. It all starts with baiting your customers and clients.
If no one is getting into your back end sales funnel, no matter how great your product is, no one will know it.
So, the first step is to get your prospective customers or clients through your front door by giving them something of value for FREE.
Bonus: The Seven Proven Funnels
This book is not only about theories, it is a book that allows you to take action for your business.
This entire section which eats up a quarter of the book, gives you the Seven Proven Funnels of Russell's past work.
It gives you the framework that you can work upon your business, and he gives you the authority to tweak the funnels and scripts to suit your business needs.
Conclusion
Now you know why I said this is one of the best internet marketing books I've read.
I hope you feel the same way too.
So, I've promised to deliver a summary of all chapters in this Dotcomsecrets Book review, and I did it.
Now, it's your turn to decide if you should grab a copy of this book (Honestly, I don't see any reason why you shouldn't).
You can buy the book from Amazon for $15, or you can get it free through this link.
I highly recommend that you get the DotComSecrets Book directly from the source.
If you want to take your business to the next level (whether it is your own business or someone else's), this is the book that you'll want to read.
Thank you for reading this review, and I hope I've given you what you need to make an informed decision.
All the best for your business!
If you find this review helpful, please share it by clicking on the social media buttons below (Facebook, Twitter, Google Plus).
And, if you wish to discuss more about the DotComSecrets Book, please, feel free to leave a comment below.
Your pal,
Jack