Is BTC Clicks Scam or Legit Bitcoin PTC Site?
Due to its popularity, I can relate why many people want a bit of Bitcoin. Heck, I even want some too!
This is also probably the reason why more and more companies offer different business opportunities for people to earn Bitcoins – BTC Clicks included.
But while some people appear to be extremely satisfied with BTC Clicks…
There are also those who insist that BTC Clicks is a scam.
If you came here to find out the truth about BTC Clicks, then this BTC Clicks review is perfect for you.
Review Summary
Name: BTC Clicks
Owner: Undisclosed
Cost To Join: Free
Recommended? No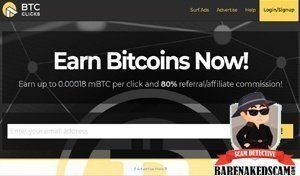 Income Opportunity Rating:
What is BTC Clicks?
In the simplest terms, BTC Clicks is a site where you will be paid by clicking and viewing ads. In other words, BTC Clicks is a PTC (Paid-To-Click) Site.
But instead of paying you money just like other PTC sites do such as ClixSense, BrainBux or PrizeRebel, BTC Clicks promises to pay you in Bitcoins.
BTC Clicks offers two services, for Earners and Advertisers. But for this BTC Clicks review, I will focus on the Earners' side.
BTC Clicks Founders
On its official website, no background information is revealed about the company. Where it is based and who are the personalities behind it are anyone's guess.
However, the domain "btcclicks.com" has been created way back in 2013.
Joining BTC Clicks
If you want to join BTC Clicks, you can do so for FREE!
Just go to "btcclicks.com" and create an account. You will only need to complete the signup form and a valid email address.
After you verify your BTC Clicks membership registration, you can immediately access your dashboard and start earning Bitcoins.
How Does BTC Clicks Work?
Once you log in to your BTC Clicks account, you will be able to click and view different ads. I receive 12 ads on my first day. Other users claim to get between 10-15.
Each paid ad has a corresponding viewing time requirement, usually between 10-30 seconds.
When you click an ad, you will have to wait for the countdown timer to finish before your earnings are credited to your account.
BTC Clicks will pay you in mBTC. One (1) Bitcoin (BTC) is equivalent to 1000 mBTC. The first paid ad I clicked paid me 0.00004mBTC once the countdown has finished.
Important: Do not close the advertisement tab before the timer is done. If you do, you will have to start all over again.
Meanwhile…
You can also make use of BTC Clicks referral program.
You can choose to either pay BTC Clicks to rent you referrals or invite people yourself to join BTC Clicks, and you will earn 40%-80% of their total income.
Learn How to Quit Your Job and Still Earn a Full-Time Passive Income From Home. Click Here!
Can You Really Earn Bitcoins With BTC Clicks
Now, this is where it gets sticky. Technically speaking, yes.
However, probably one of the reasons why some people are calling BTC Clicks a scam is because the earning potential is very low.
Let's assume that the minimum viewing length of a paid ad is 10 seconds, and it pays 0.00004mBTC.
0.00004mBTC x 10000 = 0.4mBTC
10seconds (10,000) = 100,000 (60/minute) = 1,666.66 (60/hour) = 27.77hrs
You need to accumulate a total ad viewing time of 27-28 hours before you can earn 0.4mBTC. 
Important: You need to earn at least 1mBTC before you can request a cash out with BTC Clicks.
Since 0.4mBTC (2.5) = 1mBTC, then you will have to spend 27.77hrs (2.5) = 69.42hrs clicking and viewing ads before you can hope to request payment.The current value of Bitcoin as I am writing this BTC Clicks review is sitting at more or less $11,566. Thus, 1 mBTC = $11.56.
Congratulations! With BTC Clicks, you can earn ~ $11.56 by clicking and viewing ads for more than 69hrs.
That's only about $0.17 per hour!
Good Things About BTC Clicks
While tons of people are calling BTC Clicks a scam (which I why discuss below), I would not take away the good things about this PTC site.
For instance, BTC Clicks will allow you to earn Bitcoins just by clicking ads. Moreover, it is free to join BTC Clicks so other than your time; you really have nothing to lose.
While You're Here: Check Out My #1 Online Business Recommendation
The Ugly Truth About BTC Clicks
It may be free to join BTC Clicks, but your earning potential is very low. Imagine spending more than 69hrs in the platform just to be paid $11 worth of Bitcoins
Well, this is not a new thing. The downside of any PTC (Paid-To-Click) and GPT (Get-Paid-To) site is that you cannot expect a full-time income out of it.
Besides the low-income potential, another bad thing about BTC Clicks is that your way of income will only come from clicking ads when compared to other PTC and GPT sites.
But perhaps my biggest turn off is the tons of negative BTC Clicks reviews coming from of its users.
There users who claim that their accounts are closed/blocked as they reach the minimum cashout requirement of 1mBTC.



Moreover, there are also those who are saying that they did not receive their payments after requesting.
And the last thing I didn't like about BTC Clicks is the platform is being unfair to its advertisers.
These advertisers are paying BTC Clicks money out of their pocket hoping to promote and expand the reach of their business.
But in reality, the majority of people who are clicking their paid ads are BTC Clicks members that couldn't care less.
This Program Has Helped Thousands of Beginners to Become Successful Online. Click to Find Out!
Is BTC Clicks A Scam?
I believe that the answer to this question depends on how you define scam for yourself.
If a scam for you is paying money but not getting something in return, then BTC Clicks is not a scam.
It is free to join, and you will not pay anything unless you upgrade your membership t premium.
On the flip side…
If a scam for you is being led to believe that you can make easy money and even a full-time income just by clicking and viewing ads, then I can understand why you think BTC Clicks is a scam.
But this is my own opinion.
If you think that BTC Clicks is a scam and you have substantial evidence to prove it, feel free to let our readers know in the Comment Section below.
Should You Join BTC Clicks
Even though I believe that BTC Clicks is not a scam, this site seems to be unworthy of your time and effort.
Unless Bitcoin's value hit 7 or 8 figures…
I do not recommend BTC Clicks.
Your potential earnings are ridiculously low, not to mention the many issues that users experienced with the platform. I'll suggest you take a closer look at other online business opportunities instead.
But do not take my word for it.
Why don't you decide if BTC Clicks is worth your time right after reading the pros and cons section below?
BTC Clicks Pros and Cons
Pros
Free To Join
You can earn Bitcoin without investing money
Cons
Pay is very low
Only one way to make Bitcoin
A limited number of ads
Unfair for advertisers
No information about owners/company
Mostly negative feedback by users
My Humble Advice
If you have your heart set into making money out of PTC sites such as BTC Clicks, then I recommend that you do it with PrizeRebel instead. You will have more options to make money, and the pay is much better.
You still won't make a living out of PrizeRebel, but your time will be better compensated.
Meanwhile, if what you are looking for is a legitimate online business opportunity that could make you a living, then I can highly recommend one for you.
This online business program involves affiliate marketing and has already changed the lives of ordinary people just like you.
Most of you people who joined this program are now earning a full-time income at home, some of them were able to quit their jobs and enjoy early retirement.
This could happen to you too!
But the best part about this program? You can get started today for free!
Final Words
Thank you for taking the time to read this BTC Clicks review. I sincerely hope that by this time, you have enough information on whether BTC Clicks is the business opportunity that you are looking for.
If you think this is useful, kindly share this to other people so they too would have a better understanding regarding the BTC Clicks scam rumors going on.
Meanwhile, if you want to share any information regarding BTC Clicks that wasn't included here, please feel free to use the Comment Section below. Questions and clarifications will also be entertained.
Remember…
Whatever business opportunity you choose, make sure to do proper research first before investing your valuable time and money. Until here and I wish you all the best in the future.
Your pal,
Jay