Is AmeriPlan a Scam? – The Shocking Truth Revealed
Health and wealth are two important factors of life.
And, AmeriPlan claims to provide both to you.
You might have been introduced to AmeriPlan by a friend, family member, or people who "cares" about you. That's probably why you've found this review.
I'm pretty sure you wanted to know if AmeriPlan is a good business opportunity, and if it can offer you the health care benefits as they claimed.
You are in the right place because I will be sharing with you everything you need to know to make an informed decision.
There have been a lot of complaints about AmeriPlan being a pyramid scheme, and some even swear that it is an absolute scam.
Whether those allegations are true or not, we will find out in this AmeriPlan review.
How I Fired My Boss and Still Earn a Full Time Income. Here's How You Can Too!
Review Summary
Name: AmeriPlan
Founders: Dennis and Daniel Bloom 
Recommended? No. Check this out instead.
​
Income Opportunity Rating:
Summary: AmeriPlan is a Multi-level marketing (MLM) company that offers affordable dental and medical services to people in the US.
But instead of joining AmeriPlan to get the discount for medical services, many of its affiliates join the company hoping to make money. A
And, most of them failed. We will discuss why in this review.
What is AmeriPlan?
Founded by Dennis and Daniel Bloom back in 1992, AmeriPlan started with providing a value-oriented discounted fee-for-service dental program.
It soon expanded their region to provide a wide array of affordable health care.
Simply speaking, AmeriPlan is a Discount Medical Plan Organization (DMPO).
And, it operates in a Multi Level Marketing (MLM) structure.
The main goal of Ameriplan is to help those who are in need of affordable medical services.
And on top of that, people are given the opportunity to build a business and earn a decent income by sharing AmeriPlan with others.
What Health Services Does AmeriPlan Offer?
The company offers various packages (I'll talk about the product packages below) with discounts on various medical services and products included.
The company offers three different product packages. 
#1 AmeriPlan Dental Plus ($24.95/month)
This plan offers you discounts on:
Dental
Vision
Prescription
Hearing
Chiropractic services
#2 AmeriPlan MED Plus ($24.95/month)
MED Plus plan offers discounts on:
Telemedicine (24Hr access to a doctor by phone or Email)
Hospital Advocacy
Ancillary Care
#3 AmeriPlan Deluxe Plus ($39.95/month)
Deluxe Plus is the combination of Dental Plus and MED Plus packages.
Therefore, you can enjoy discounts for the services offered in both packages at a cheaper price.
How Does AmeriPlan's Discounts Work?
To put it simply, AmeriPlan operates much like "Sams Club". 
AmeriPlan is responsible for reaching out to healthcare service providers such as doctors, dentists, pharmacists, etc.
And, people who join AmeriPlan will enjoy the benefits offered by these health care providers at a discounted price.
Because AmeriPlan have a good reputation, and it has quite a large sales force ("benefit consultants"), AmeriPlan has the negotiation power to reduce the price of the services.
As long as you are a AmeriPlan member, you are provided with a membership card…
Once you flash the membership card during your visit to the health care providers, they will offer you a special discounted price.
Is it worth joining?
One question that is puzzling me though, is really worth joining AmeriPlan just to get the discount from the service providers?
For example, if I am paying $24.95 per month for the Dental Plus, I need to make sure that I save at least $299.40 for the entire year.
How often do you see a dentist every year? If you visit a dentist frequently or you bring your entire family to the dentist…
Then, it makes sense to be a AmeriPlan Member.
But, if you are an individual who visits a dentist probably once in a year, then doesn't make sense to join at all.
The AmeriPlan Business Opportunity
Recruitment Benefit
There are 4 different ways to earn recruitment bonuses with AmeriPlan. When you recruit a…
Traditional Benefit Consultant – When you refer someone to join AmeriPlan as a Traditional Benefit Consultant (cost $99.95), you will earn a $50 Enrollment Commission;
Regular Jump Start Benefit Consultant – When you refer someone who joins AmeriPlan as a Regular Jump Start Benefit Consultant (cost $297.95), you'll earn a $200 Enrollment bonus;
Super Jump Start Benefit Consultant – When someone joins as a Super Jump Start Benefit Consultant through your recommendation (cost $489.95), you'll earn a $400 Enrollment bonus;
Ultimate Jump Start Benefit Consultant – You can earn a $600 Enrollment bonus, when someone joins AmeriPlan as an Ultimate Jump Start Benefit Consultant (cost $699.95).
It is no wonder so many people claimed that AmeriPlan is a pyramid scheme…
Because, the compensation plan is geared towards rewarding Benefit Consultants for their recruitment effort, and not through product sales.
Retail Benefit
On top of being rewarded for your recruitment efforts, you'll also be paid a 40% commission on each AmeriPlan's product package you sell.
In other words, once you've sold a Deluxe Plus plan for $39.95 per month, you'll earn $15.98 per month for as long as the person is paying for the plan.
This is a good way to build a residual income as your customer base increases.
The MLM aspect of the business…
In order to participate in the MLM compensation plan, it starts with qualifying as a Regional Sales Director. There are basically 5 ranks to achieve in the company. Here are the qualifying criteria…
Regional Sales Director (RSD) – Personally Enroll 3 Benefit Consultants or sell 6 product packages;
Senior Regional Sales Director (SRSD) – You must personally enroll at least 1 qualified RSD;
Executive Sales Director (ESD) – You must personally enroll at least 2 qualified RSD;
Senior Executive Sales Director (SESD) – You must personally enroll at least 3 qualified RSD;
National Sales Director (NSD) – You must personally enroll at least 4 qualified RSD;
As you move up in the ranks, you will be able to earn more from those people who are within your organization.
The image below shows you the percentage you can earn from your downlines.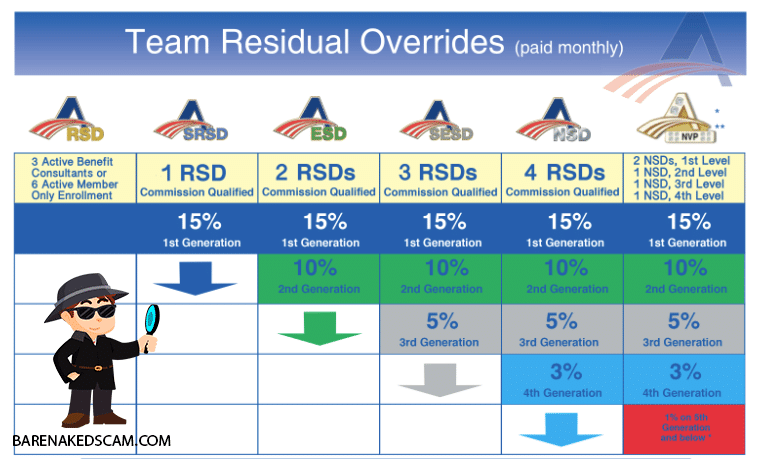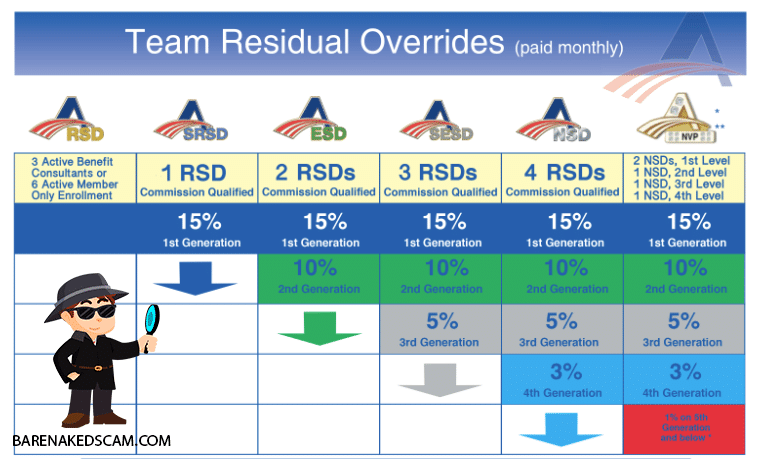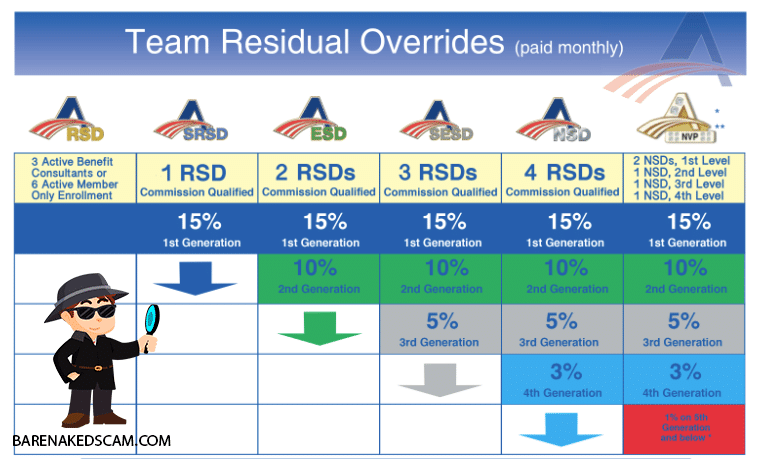 A Regional Sales Director (RSD) will not earn an income from the downlines.
It is only when you reach the Senior Regional Sales Director (SRSD), you can earn 15% from the sales made by the Benefit Consultants in the first level.
And, a National Sales Director (NSD) can earn up to the 4th level.
I hope I've explained well enough, if not, feel free to ask me in the comment section below.
What I Like About AmeriPlan
#1 Pioneer in Business
AmeriPlan is one of the first company that offer such unique services.
The Company has been in business for 25 years now. Honestly, not many MLM companies can last that long.
Given that AmeriPlan has been around for so long, it shows the legitimacy of the business operation.
#2 Not Expensive to be a Benefit Consultant
To become a benefit consultant, you'll only need to pay $30 per year.
And, in order to qualify for commissions, you will have to either:
Buy a Deluxe Plus package; or
Sell at least one Deluxe Plus package every month.
#3 Covers the Whole Household
If you have a family, then it makes total sense to join AmeriPlan.
Because with just one price, your entire family can enjoy the benefits.
So if you bring your entire family to the dentist, everyone of them will get a special discount.
This is something that is commendable.
#4 There is a 30-Day Money-back Guarantee
If you feel that their service isn't worth your time and money, you can always request a refund within 30 days.
What I Don't Like About AmeriPlan
#1 Only Available in the US
It is a waste that such good service is only available in some states of the U.S.
Here is the list of states that AmeriPlan do not cover:
Alaska;
Guam;
Montana;
North Dakota;
Puerto Rico;
Rhode Island;
South Dakota;
Vermont;
Washington;
Wyoming;
US Virgin Islands; and
Utah
Build an Online Business Based on Your Passion. Interested?
#2 Limited Healthcare/Service Partners
If you happen to join AmeriPlan, and you found out that there aren't any medical practitioner or dental clinic near you…
You'll probably have to drive further out to get to the nearest service providers which accepts the AmeriPlan Membership card.
So, I'd advise if you are considering to join AmeriPlan, do a quick search on the AmeriPlan's website to locate your nearest service providers.
#3 Focuses More on Recruitment
As you've seen above, the AmeriPlan Compensation plan rewards its Benefit Consultants on their recruitment efforts.
There is little emphasis on the product sale. That's why so many people think that AmeriPlan is a pyramid scheme.
Why More than 95% of the Benefit Consultants Fail?
#1 Insufficient Leads
As you know, for any businesses to become successful, it needs a constant flow of prospects.
Unfortunately, many Benefit Consultants are limited to strategies of the past, where they will try to recruit people who they know.
In addition to that, AmeriPlan recommends its Benefit Consultants to do cold calling.
Dialing random numbers and selling a plan over the phone isn't a good strategy in this day and age.
So, if you are serious about growing your AmeriPlan business, I highly recommend that you learn more about attraction marketing.
This strategy is used by top earners in the network marketing space, and it will definitely help you source for a constant flow of leads. So, do check it out.
#2 Lack of Leadership
Your source of knowledge about promoting AmeriPlan is restricted to the person who sponsored you into the business.
It could be a friend or a family member who've sponsored you.
But, here's my question, what if your sponsor isn't someone successful, and are only stuck in the old ways of promoting the business.
This situation is what we called "the blind leading the blind". It is very common in the network marketing or MLM businesses.
So, you really have to be careful if you intend to join the business. Pick the right leader, because your success or failure will depend very much on your leader.
However, if you are already stuck with a bad leader (one who doesn't care about your success), then I would recommend that you get coaching from this program.
#3 Poor Mindset
If you think that AmeriPlan is a no brainer product, where it will sell for itself…
Then, you are so wrong!
Not everyone will see AmeriPlan the same way you do.
Being a Benefit Consultant, you are simply a sales representative for AmeriPlan.
And, in the sales environment, you will constantly be facing tons of rejection. 
And on top of that, there are many adversities that you'll have to overcome.
If you are somebody who gets uncomfortable with sales, or you just can't stomach the rejections…
Then, this business opportunity is not meant for you. If you happen to be someone that I've described, then I will recommend that you check out this program instead.
​This Program is Responsible for Thousands of Online Success Stories. Could You be the Next Success Story?
Is AmeriPlan a Scam?
Generally, AmeriPlan is not a scam. They provide quality service to its members.
People who claimed that AmeriPlan is a scam are probably those people who got bitter because they did not achieve results "as promised".
Although it is not a scam, there are many factors you have to consider before joining, I've already mentioned them above.
I truly believe AmeriPlan is genuine in what they do, but unfortunately, the majority of the benefit consultants fail in this business opportunity, for reasons I've mentioned above as well.
My Sincere Advice to You
Even though AmeriPlan is not a scam, I wouldn't recommend it ​if you are someone who is not comfortable in the sales environment.
​On top of that, AmeriPlan is restricted to several states in the U.S.
Benefit Consultants will find it tough to promote the business, because the market size is rather limited.
In addition, I've mentioned above that this business opportunity is a tough nut to crack…
So, you have to brace yourself for many uphill battles.
If you have already decided to join AmeriPlan or you are already a benefit consultant, I would recommend that you learn attraction marketing to attract the right people into your organization.
This will help improve your chance of success.
What if the AmeriPlan business is not for you?
Then, I will recommend that you check out this program.
This is the program that helped thousands of individuals like you to become successful online. I hope that it can do the same for you.
It is also the program that got me out of the rat race. You can learn more about my story here.
Thank you so much for reading this AmeriPlan review!
I hope that I've provided you with sufficient information to make an informed decision.
If you found this review helpful, please share it! It might help someone who is looking for this information.
Have questions in mind? Please, feel free to leave a comment below.Your friend,Cee Jay