7k Metals Review – A "Guaranteed" Way to Save and Earn Money?
So, someone has introduced you to 7k Metals as the opportunity that could supplement your income or even replace your job one day, and now, you want to make sure that it isn't a scam.
7k Metals is a company that claims to help you not only make money but also provide you an easy way to "save" for the future by investing in precious metals like gold and silver.
Now, who wouldn't want to save and earn at the same time?
But as amazing and practical as that sounds, does 7k Metals actually live to its promises?
In this 7k Metals review, we'll mainly be discussing the legitimacy of this business, the sell-ability of the company products, and if it's worthy of your time and effort.
So without further ado, let's find out what 7k Metals has to offer…
Review Summary
Founders: Zach Davis, Josh Anderson, Richard Hansen, and Roger Ball
Price to Join Opportunity: $199 – $499 per year + monthly product reorders
Recommended? No, because the products aren't sell-able and you might just end up losing money. You may want to check this out instead.
Overall Business Opportunity Rating:
Quick Summary: The idea of saving for the future by investing your money on precious metals like gold and silver and collectible coins is not bad, per se.
However, gold and silver prices are also affected by volatility and depending on the market movement, there's a chance that the money you'll get when you decide to sell your gold and silver stash may be worth less than your original investment.
But I'm guessing what makes you interested with 7k Metals isn't really the "savings" part but on making money. Unfortunately, when it comes to 7k Metals being an income source, it is very tough to make money with this company.
I will discuss why below…
What is 7k Metals all about?
7k Metals is a Multi-level Marketing (MLM) company based in Idaho Falls, USA.
In the 7k Metals website, there's no information about the people behind it but multiple sources names Zach Davis, Josh Anderson, Richard Hansen, and Roger Ball as the 7k Metals co-founders, with Sam Cook as the current 7k Metals CEO.
Zach Davis, Josh Anderson, and Roger Ball were last seen together in another MLM company called JD Premium, which operations shut down in 2015.
Various 7k Metals reviews also claim that Zach Davis had also been an affiliate of Paycation, a travel-MLM company. But I wasn't able to find enough data to verify such information.
The main selling point of the company is that it gives you a convenient way to save for the future by investing your money on gold and silver.
You can do so by purchasing the 7k metals products today at wholesale prices and selling them 5, 10 or 20 later when the prices have gone up.
However, prices of precious metals, like any other commodities, are also subject to volatility based on supply and demand.
For example, gold's market value had significantly dropped in years 2013-2015.
And if you take a look at the average closing price, gold is actually cheaper in 2020 compared to 2012! (Source)
Which means if you bought gold in 2012 and you decide to sell it now, you'll lose money.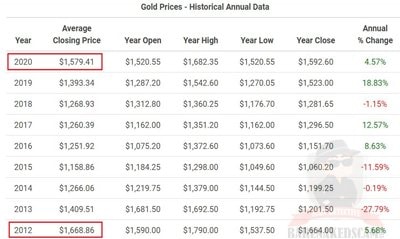 And in a statement released by the World Bank, silver's value is predicted to drop from $ 17/toz in 2020 to only $ 4/toz in 2030. (Source)
Note: A troy ounce or "toz" is a unit of measure used for weighing precious metals equal to 31.1034768 grams, according to the U.K. Royal Mint.
​
Therefore, depending on how the market moves in the coming years, there is a good chance that the money you'll earn by the time you decide to sell your gold and silver stash may be worth less than the original amount you've invested.
So in terms of saving for the future, investing your hard-earned money on gold and silver isn't a guaranteed way to do it.
The 7k Metal's business opportunity is also no better, but before that, let's talk about something first…
What are the 7k Metals Products?
The company sells coins, jewelry, watches, and accessories made of gold, silver, and other precious metals, with prices ranging from as low as a couple of bucks to thousands of dollars.
The company also sells apparels, silver rounds (privately minted coin-shaped silver pieces) and gold bars.
But 7k Metals' main products are numismatic coins.
Numismatics or collectible coins might carry a good value on them as time passes.
Especially the MS70 (mint state) and PF70 (proof) coins which are considered the highest quality of coins produced in the US, like this Miss Liberty Silver Coin.
If you're unfamiliar with coins and what is the difference between an MS70 to a PF70 coin, then watch this 2-minute video:
That being said, the values of numismatic coins will still be dictated by supply and demand. 
And while it's true that it holds better value being a collectible item, its actual price is yet still to be determined in the coming years.
Furthermore, one thing I noticed as I browsed through the products on the 7k Metals website is that many of its gold products don't actually have detailed information.
Most of the gold products aren't clearly labeled how much gold it contains, what kind of gold it is made, and where it came from.
Now, I don't know about you but this, for me, is a big deal.
People wouldn't just spend hundreds and thousands of dollars to purchase gold online based only on the brief description of the product and a promise that it is of "great" quality from a company they barely know.
Any sensible person will need more than that, like a certification of purity, where it is manufactured, etc. 
People also like to compare product prices online. So, when they see gold jewelry with plenty of crucial information missing, they'll likely take their business somewhere else.
Someplace where they will know precisely what they are paying for.
Furthermore, 7k Metals also doesn't give any incentive when you purchase in bulk, and the wholesale prices are offered to the members only.
With these things into consideration, I see no particular reason why I would choose to buy 7k Metals as an everyday customer over its competitors.
Therefore, when it comes to the sell-ability of the 7k Metals products, I doubt you can convince many people to buy your products.
But this is my opinion, and if you'd like to add anything on this matter, you can leave a comment below. But please be polite.
7k Metals Business Opportunity
When you join 7k Metals, you can make money by selling the company products on your replicated website provided by the company.
However, the bigger income in 7k Metals' compensation plan is on the number of people you can recruit to join the company. Here's why…
Retail Commissions
The company used to receive a lot of flak from MLM critics a while back because associates, apparently, couldn't make money through retails.
Non-members cannot purchase the 7k Metals products, and access to its online store is only granted to members.
However, during the time I'm writing this 7k Metals review, I've tested the site, and it is possible to purchase the products through one of 7k Metals Associate's websites.
Non-members can now shop as "Guest," as you can see in the image below and purchase any of the company products without joining as a member.
The company didn't specify the actual discount members get on the company products, so it isn't clear how much is your potential income in retailing.
But based on the info I got, it seems that as an Associate, the amount you can earn will depend on the product that your customer buys.
In the image (right or below), it seems you can earn somewhere from $20 or more.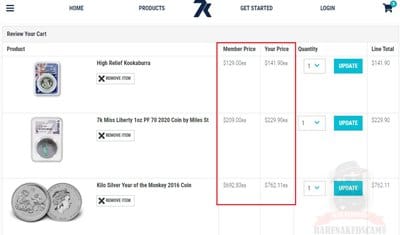 However, making money by selling 7k Metals products is tough.
On top of the things I discussed above, it appears that anyone can purchase the company product from other online sellers.
For example, the Miss Liberty PF70 2oz Silver Coin designed by rare coin expert Miles Standish supposedly sold "exclusively" on the 7k Metals website at $379 can be bought somewhere else at a much cheaper price of 299.95 Euro (~$334).
As an associate of the company, it is of great disadvantage for you when people can purchase your "Exclusive" products elsewhere, and at a more affordable price.
Also, precious metals and collectible coins only appeal to a specific group of people like dedicated collectors, investors, or individuals who are between 45 to 65 year-olds because it's the age range of traditional gold and silver buyers.
The 7k Metals products don't appeal to a lot of people, so learning how to find the right people that need/want your products is key to making big profits.
Recruitment Commissions
Your bigger income potential in the company relies on you "sharing" the business opportunity with other people and convincing them to join your team.
To qualify for the residual and recruitment commissions, you must first qualify as an Associate of the company by recruiting two people under your team after you join.
7k Metals uses a Binary pay structure to pay its members for residual and recruitment commissions.
In a binary compensation plan, you will be given two sales force directly under you, the left and the right.
When you recruit your first two people, you can place them on each leg. When you recruit a third person, you can place him/her below your first or second recruit, and so on.
Every time you recruit someone to join your team, you will earn points depending on the membership pack your recruit uses to join 7k Metals.
There used to be only two options for your recruit to join 7k Metals, the Standard (100 points), and Premium (150 points) – there are three now which I will discuss in a moment.
You can also earn points when associates under your team order 7k Metals collectible coins each month through the monthly AutoSaver Coin program.
You need to generate 500 points on both the left and right sales force to earn the minimum check of $500.
So basically, it means that even if "you only recruit two people under your team" and they don't recruit anymore, as long as they keep buying coins each month, time will come that you will earn 500 points each side and earn $500.
I'm pretty sure this is one of the favorite pitch of the 7k Metals associates out there.
However, while it may be true that you can potentially earn money even if you only recruit two people…
How long do you think it will take for each person on your left and right leg to accumulate the required 500 points?
Sources say that each monthly coin used to reward 20-25 points.
So, granted that your two recruits continues to pay for their monthly autoship program, you will earn your first $500 check from the points accumulated by your two recruits after 25 months (2 years and 1 month).
But I'm sure that's not the kind of income you're looking for, right? I bet you wanted at least $500 per week. So how to do it?
Well, an associate of the company made it clear in the video below that to earn a decent income in 7k Metals, you'll have to get more people under your team as fast as you can. Thus, recruitment.
Another pitfall of the 7k Metals' binary compensation plan is that you'll have to find the right balance of point generation between your left and right sales force.
The company made it clear that you will only get paid every time both legs produce at least 500 points.
Therefore, even if you say you have generated a total of 100,000 worth of commissionable points in your left leg but only 495 on your right leg, you won't make money!
7k Getaway Rewards
Each membership option when you join 7k Metals comes with a Travel Savings Card worth $125-500.
You can use these to get discounts when you book a hotel, week stays, rent a car, and even activities when you're going on a trip.
Travel services discounts are the kind of services offered by Paycation, the MLM company Zach Davis was linked to.
Updated 7k Metals Membership Cost
At the time of this 7k Metals review, there are three options to join the company.
1. Standard Membership – $199/year
​
This will give you access to gold and silver bullions at wholesale prices.
You'll also get access to 7k Metals' special coin and silver collections, training materials, business tools, personal back office, replicated 7k Metals website, and a $125 travel savings card.
2. Plus Membership – $359/year
​
You get everything on standard membership plus 1 certified MS70 American Silver Eagle coin and a $250 travel savings card.
​
3. Premium Membership – $499/year
You'll get everything on Standard Membership plus 1 certified MS70 variety coin, 1 silver bullion, 4 wealth strategy books, 20 business cards, and $500 worth of travel savings cards. 
7k Metals didn't specify how many points you can earn when someone joins with the membership options above, but it's safe to assume it's still between 100-150 points like what it used to be.
Therefore, the safest way to earn your first $500 from 7k Metals is to convince 10 people to join the company under your team and place 5 of them on each side of your team.
So, are you up for the task?
Is 7k Metals a Pyramid Scheme?
The Federal Trade Commission (FTC) made it clear that if your income in a company solely relies on recruitment, then you're probably involved in a pyramid scheme.
That being said, I wouldn't say that 7k Metals is an outright pyramid scheme.
This is because the company has real tangible products with actual value and it does give you a chance to earn retail profits by selling its products to the general public.
However, based on the things I discussed above regarding how tough it is to make money selling the 7k Metals products, one cannot deny that your primary source of income in this company will be through recruitment.
Would you agree?
Also, another red flag I would like to raise about 7k Metals is that the company requires you to generate at least 20 points every 32 days to qualify for commissions.
And since selling the products to consumers is tough, there is a good chance that you will likely be forced to subscribe to the autoship program yourself to cover this requirement.
You will get a collectible coin each month depending on your autoship subscription which costs between $95 up to $299 per month.
Pressuring members to purchase the company products every month is a telltale sign of a pyramid scheme.
So without a proven way to find a steady supply of leads online who buys your products or join your team, you'll likely be losing money than earn some with the monthly autoship program.
But again, I am not saying that 7k Metals is a pyramid scheme, but when it comes to legitimacy, the company's business operation tiptoes around that area.
Now, this is my own opinion, and I would love to hear your thoughts too, if you'd like to share them with our readers in the comments section below.
Conclusion – Should You Join 7k Metals?
The only good reason I see why someone should join 7k Metals is if you genuinely want to invest your money on precious metals and collectible coins.
However, the 7k Metals products are, at best, average, in my opinion.
There are other companies out there that could offer better products and services if you want to use this commodity to save for the future.
And on the business side of things, again, the products of 7k Metals aren't that impressive that selling them to other people is a tall order.
I'm worried that you will be forced to rely on recruitment as the source of your income in 7k Metals, which is illegal.
So, if it turns out that 7k Metals is not the kind of company you want to get involved in…
Then I highly recommend that you check out this program.
It's the same program that has taught thousands of individuals how to earn a full-time passive income from home even as complete beginners. Here's my success story with the program.
Thank you for taking the time to read this 7k Metals review. I hope that you found the answers that you were looking for.
If this review has been useful, please share it with other people you know so they too can benefit from this information.
And if you'd like to share your thoughts on 7k Metals, feel free to leave a comment below.
Until here and whichever path you take towards your financial goals, I wish you all the success!
Your friend,
Jack