Traveling Vineyard Review – Can You Make Money?
If you are a wine enthusiast, then you probably have heard about the Traveling Vineyard. It is an old direct selling slash multi-level marketing company that sells wine (duh ;).
But even though this company is making a lot of noise recently, most Traveling Vineyard reviews on the Internet are outdated.
So I decided to give you the latest Traveling Vineyard update since its declaration of bankruptcy in 2010.
If you are wondering Travelling Vineyard is a scam or not, then I'd be happy to say it is not, but…
There are some critical things that you should know before you joining this company.
Let's get right into the details.
Review Summary
Name: Traveling Vineyard
Owner: Vinification Ventures Inc.
Cost To Join: $99 – $179
Traveling Vineyard Business Opportunity Rating:
Traveling Vineyard Product Rating:
What is Traveling Vineyard?
Traveling Vineyard is a multi-level marketing company in the wine niche just like Direct Cellars.
On the Traveling Vineyard website, nothing much is revealed about the personalities behind the company.
However, I found a LinkedIn profile of Richard Libby, who seems to be the CEO of the company.
The same information could be found in Glassdoor where Traveling Vineyard has an excellent 4.8/5 rating.
There is also no detailed information about how Traveling Vineyard consultants (Wine Guides) earn money, but I got you covered for that.
I had access to a document from a company affiliate, and I will share all my findings in this Traveling Vineyard review.
But before that, the Traveling Vineyard website was created way back in 2003.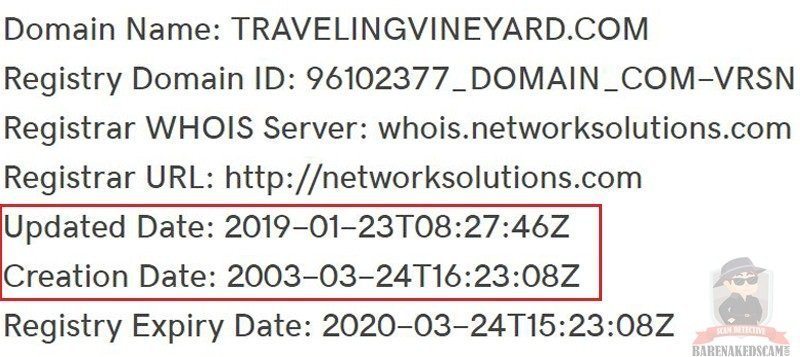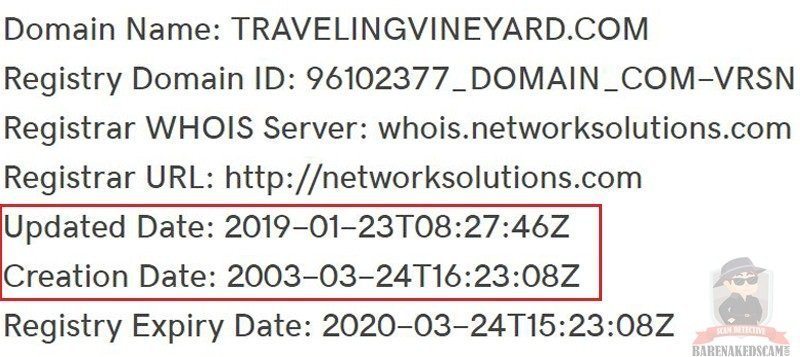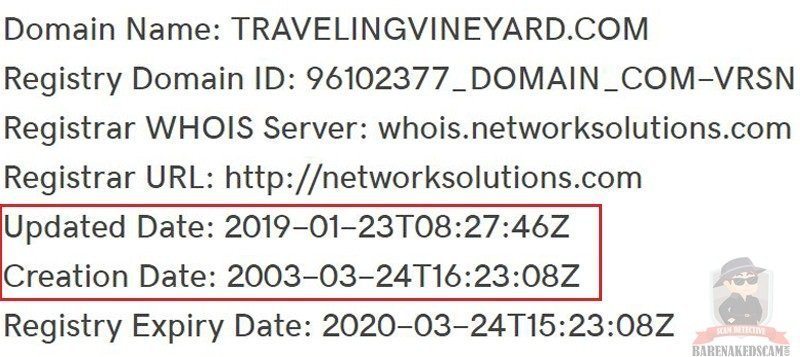 Traveling Vineyard Products
Traveling Vineyard has a large variety of wine products, including red wine, white wine, sweet wine, and accessories.
Whether you enjoy Syrah or Sauvignon Blanc, the company would have one or two that fits your taste.
How To Make Money With Traveling Vineyard?
When it comes to the business side of things, you can make money with this company by becoming a Traveling Vineyard Consultant, aka Wine Guide.
Wine Guides finds hosts for wine tasting events and arrange free, in-home wine tastings.
You will earn commissions on the products that you sell at the end of the wine party and from the future orders placed by your referrals.
Click Here: How To Make Money At Home Without Selling Any Products And Hosting Events
How Much Can A Wine Guide Earn?
As a Wine Guide, you can earn up to 15% up to 35% on your sales. The more you sell, the more you make. 
You can also earn more commissions from the company's career plan by building a team of active Traveling Vineyard Consultants.
Traveling Vineyard Career Plan
There are ten ways to get paid as a Wine Guide or Traveling Vineyard Consultant. These include you selling the company products and recruiting people to join Traveling Vineyard.
#1 Personal Marketing Fees
Earn 15% of all the products sold at retail prices with you as the referrer. This includes monthly online wine orders placed by customers through the "Rewined" subscription.
#2 Personal Bonus
Wine Guides can earn up to 20% when you hit $400 worth of sales or more. This is on top of the 15% commission from Personal Marketing Fees.
#3 Management Bonus
When you make $500 sales within two months, you will qualify to earn 1% up to 5% of your personally enrolled Wine Guides and their referrals down to three levels. 
There are 15 ranks for Wine Guides. You will get promoted by selling more products.
#4 Traveling Vineyard Fast Start Bonuses
Every time your personally sponsored Wine Guide sells $750 worth of wine or more( within the first 60 days of their enrollment), you will get a bonus up to $40.
You will also earn an additional $10 – $25 if their directly sponsored Wine Guides do the same.
#5 Early Promotion Bonuses
You will get a $100 bonus when you hit the rank of Three Star Leader during your first four commissions.
​This Program has Taught Thousands of People to create Successful Online Businesses. Click to Find Out More.
#6 Team Leader Promotion Bonuses
Earn $100 when you get promoted as a Team Leader.
#7 Director Promotion Bonus
Traveling Vineyard will pay you $500 when you reach the Director rank.
#8 Traveling Vineyard Leadership Bonus
Wine Guides with rank Team Leader and above earns up to 2% of all the sales on their first three levels of downlines.
#9 Generation Overrides
Directors and above will earn 1/2% – 2% from the sales volume of their first five generation downlines when their directly sponsored Wine Guide hit the rank of Team Leader and above..
#10 Elite Leader Bonus Pool
Ruby Director Wine Guides and above earn additional profit shares based on their current rank and the number of active downlines they have.
For your reference, click here to view the source of my information about the Traveling Vineyard Career Plan.
Note: You are required to maintain an active status to qualify for the commissions of Traveling Vineyard Career Plan.
So, is making money as a Traveling Vineyard Consultant too hard or easily doable? Share your thoughts in the Comment Section below.
Requirements To Stay "Active"
At the time I am writing this review, Traveling Vineyard does not impose sales minimums to Wine Guides to maintain "Active" status.
Instead, Traveling Vineyard requires you to pay a $15.95/month to remain active.
How To Become A Traveling Vineyard Consultant?
To become a Travelling Vineyard Consultant, you have to purchase any of the two kits below.
#1 The Essentials Success Kit – $99
This kit is said to have a value of over $225 according to Traveling Vineyard.
It comes with:
10 bottles of wine
Magic Decanter Aerator
Stainless Steel Waiter's Style Corkscrew
2 Part Survey and Interest Form (Pack 50)
6 bottle tote
2 wine pourers
Hosting brochure (Pack 25)
Fast Start Guide
#2 The Complete Success Kit – $179
The company's best selling kit, according to Traveling Vineyard.
Package includes:
10 bottles of wine
18 Tasting Glasses
18 Glass Carrying Case
Magic Decanter Aerator
Stainless Steel Waiter's Style Corkscrew
2 wine pourers
6 Sommology Tins
Sommology Education Cards
2 Part Survey and Interest Form (Pack 50)
6 bottle tote
Hosting brochure (Pack 25)
Team Building brochure (Pack 25)
Fast Start Guide
Note: Sommology is the science behind pairing wine with food trademarked by Traveling Vineyard.
Do you think these kits are value for money? Well…
Before you start hosting a Traveling Vineyard party…
Read the next section of this Traveling Vineyard review to determine if this business is indeed for you and to understand better why some people call Traveling Vineyard a scam.
3 Quick Things You Need to Know About Travelling Vineyard
#1 Traveling Vineyard Bankruptcy
Traveling Vineyard is making a lot of fuzz today. But did you know that this company has gone into bankruptcy before?
It was reported in the Boston Herald that the Traveling Vineyard had filed a Chapter 7 bankruptcy in 2010.
#2 Accredited By The Better Business Bureau
Despite the rough past, Traveling Vineyard maintains an excellent A+ rating in the BBB to date.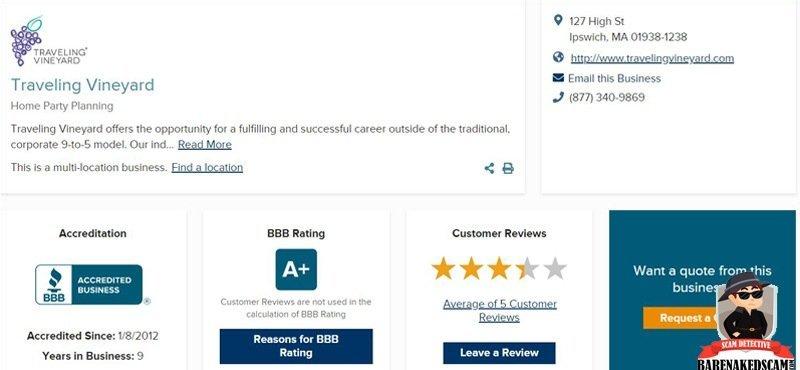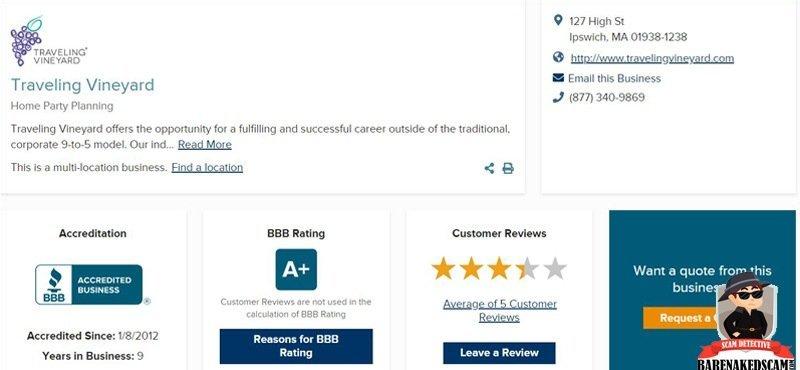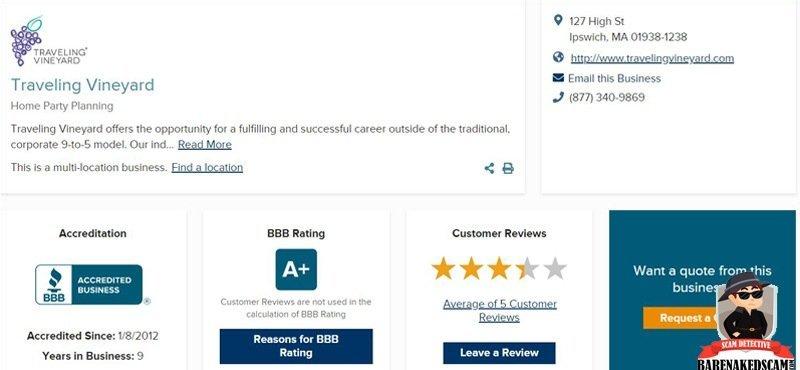 #3 Expensive Products
Traveling Vineyard wines are a little pricey compared to non-MLM wines. Although this is not a new thing. 
The same way other MLM products such as CBD and essential oils are more expensive than the non-MLM brands in the same niche.
You'll be surprised that most of the time, this has nothing to do with quality. The hefty price tags of MLM products are to support the company's compensation plan.
Could it be the same for Traveling Vineyard wines?
Other than the ecstatic Traveling Vineyard reviews coming from their affiliates (obviously) trying to sell some hypes, let's see what other people really think about this company.
What Do People Say About Traveling Vineyard?
On an anti-MLM subreddit, a former Wine Guide shared her bad experience with Traveling Vineyard. She now calls it a cult and that she ended up losing money instead of earning some.
And on the Better Business Bureau, one person says that the quality of the wines is terrible and that the sales system "relies heavily on persuasion and half-truths."
Another Wine Guide shared how the company misleads her and that she will not book any Traveling Vineyard wine tastings in the future.
Do you think Traveling Vineyard is a scam, or perhaps these issues had something to do with how other Wine Guides do the business? 

Meanwhile, have you tried any of the Traveling Vineyard wines?

Have you been to any Traveling Vineyard wine party?
Feel free to share your thoughts and experiences in the Comment Section below.
Reasons Why Many Wine Guides Don't Make Money
#1 Lack Of Leads
This is a challenge not only for Wine Guides but also for all businesses. Without a steady source of leads and prospects, you will have no one to sell your products or recruit to the company.
#2 Lack Of Skills
Most people who join Traveling Vineyard are not adept salespersons. Selling, much like recruitment, isn't all about persuasion, but it is a skill that needs to be mastered.
Without the right set of skills, you cannot expect to make a living with Traveling Vineyard.
#3 Joining The Wrong Team
I am not saying that you have to rely on your sponsors all the time. However, as a beginner, you will need the guidance of your sponsor to get your business in the right direction. 
Some people were unable to overcome the cold truth of MLM because right after paying the membership fee, their sponsors drop them like oxidized wine.
Pay close attention to the person that is talking you into joining Traveling Vineyard.
Does that person have a healthy relationship with his/her downlines?
#4 Wrong Mindset
Some people join an MLM company like Traveling Vineyard because they are made to believe that they can make easy money.
If that is what your sponsor is trying to tell you now, then ran away.
​That person is either misinformed or trying to deceive you to earn commissions. The truth is, making money with MLM is possible, but it will never be easy.
How To Maximize Your Sales As A Traveling Vineyard Consultant
Making money as a Wine Guide is not easy. However, there are things you could do to get the best chance of success and maximize your earning potential.
For starters, you need is to learn how to get an unlimited supply of leads. And not just any leads. You have to find the right people that are willing to buy your products and build a business with you.
Next, you have to learn how to promote your products effectively. In our time, you have to take advantage of social media to reach prospects that are impossible to meet personally.
So that even when you don't host a Traveling Vineyard wine party or out in a vacation, you can still make sales and can recruit people to join your team.
Third, training. You need to learn the skills of how to become an effective network marketer.
Finally, you need to have a mentor. Someone who has seen success in the industry who will personally guide you and show you the right path.
Among the best network marketing training programs out there today…
​I believe this program could help you make money as a Wine Guide the same way it had helped me before.
Traveling Vineyard Best Business Alternative
The downside of joining the Traveling Vineyard is that you are only limited to sell wines. Moreover, it requires you to sell tons of products to make money.
So if you want to make money other than selling wine alone and recruiting people, then I have a more suitable business for you.
This involves affiliate marketing, and you can make money without selling anything and recruitment. You don't even need to leave the comfort of your home, like say, to attend a boring wine party.
The business program I am talking about has already changed the lives of many ordinary people just like you.
Many people who joined this program as complete beginners are now earning a six-figure income at home. Others are able to quit their 9 – 5 jobs!
Final Words
Thank you for taking the time to read this Traveling Vineyard review. I hope that this has provided you the answers to your questions, especially if joining this company is a suitable business for you.
If you think this is useful, kindly share this with the people you know so they too could benefit from this information.
Meanwhile, if you are looking for a way to make money online with your hobbies and interests, then I have something that you will like.
At the end of this article is a signup form for a FREE online course that will teach you how to turn your passion into profits.
Before You Leave: Check Out My #1 Online Business Recommendation
Until here, and I wish you all the success in your future endeavors.
Your friend,
Jack