5 Tools for an Online Business – How they helped with my success
There are so many tools on the internet, but which ones are the ones that can help you succeed with your online business? Before I move on in the article, I would just like to clarify that the tools that I am about to introduce are the tools that helped me in my journey to online success, I know there are many other tools that may be better, but these are the ones that work for me. As you know, tools are just tools, they are meant to make your life easier, but they do not contribute to your success. Your success is contributed by your hard work and effort to your online business.
So without further ado, here it is…
Jaaxy in my honest opinion is the best keyword tool in the market. I am sure there are many other keyword tools on the market, but Jaaxy is the one that brought me to my success. A keyword tool is basically a tool that tells you the number of search engine searches and number of competitors there are for a targeted keyword. Just try to think of any keyword and type it into the Jaaxy Keyword search tool below to try it out:
The "AVG" simply means the average number of monthly search engine searches there are on that particular keyword. Of course, the higher the number the better. A higher AVG means that there are many people searching for information on that particular keyword and vice versa for a low AVG. You do not want to write a content that nobody is searching for right?
"Traffic" means the estimated number of visits to your website suppose your article receives first page rankings on search engines like Google, Yahoo and Bing.
For "QSR", to me this is the most important information that will determine if I will create content based on that particular keyword. QSR will show you how many competitors or websites are ranking for that particular keyword. The lower the competition, the higher the chance for you to get high rankings on search engines. For me, I will only write an article if the QSR is lower than 100, you do not want to waste your efforts on writing articles that may or may not rank. If your articles do not rank, there will be no traffic coming into your website (I know there are many other ways to get traffic but I am specifying the traffic from search engines), and when there are no traffic, there will be no income.
Jaaxy has given me accurate information that made most of my articles rank on 1st page of google. Here is a snapshot for your reference, you can even type those keywords into Google if you don't believe me.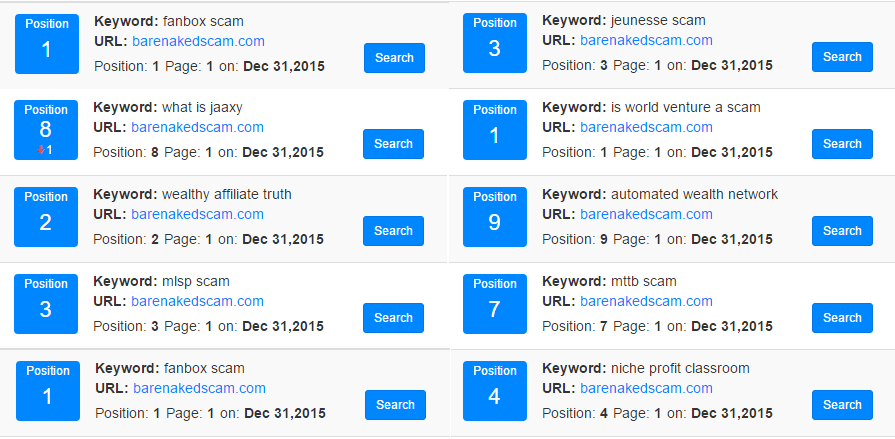 You must have thought that you can already create pages and post from wordpress, why is there a need for you to spend money on a page builder tool right? Now let me show you the difference between a wordpress page and a page built by Optimizepress.
A Simple WordPress Page will look like this (will follow your WordPress theme)
A Page built by Optimizepress
Do you see the difference? In a simple wordpress page, you will see all the menus, header, widgets, etc (the "Distractions"), and in the page built by Optimizepress, you can see that there are no distractions. WordPress by itself cannot create a no distraction page, and there is why you need a tool like Optimizepress.
From my own research, I found that a no distraction page converts better than a simple wordpress page. Before I found Optimizepress, my conversion rate was between 6% – 8%, and when I plug the exact contents into an Optimizepress page, amazingly, my conversion rate increase to between 14% to 18%. That is the power of a no distraction page.
The best thing about Optmizepress is that you can customize everything, from the fonts to every detail you wish to customize. Now you know why I love Optimizepress so much. To find out more about Optimizepress, you can read my review here.
As an online business owner, the best way for you to have a personalized touch with your customers/prospects is to communicate through email. Whether it is to promote new products, provide valuable information or to share updates with your customers, each email that you send must be look professional, readable and most importantly relevant to them. Imagine having to send emails to each one of your customers one by one, it would probably take forever to complete the task, and that is reason Aweber was born. To know Aweber in detail, you can check out my review here.
Aweber is a tool which can help you create emails and mass send to your customers. Studies have found that people are more prone to act on something if they receive an email from a trusted person. So, how do you collect emails from your customers and build trust with them in the first place? Well, Aweber got this covered as well. Take a look at the video below to understand how Aweber works:

I absolutely love this tool because firstly it is completely free, and secondly it helps me with my grammar on my articles. As English is not my mother language, sometimes I second guess myself if my grammar is correct, and it takes a lot of time. Now, with Ginger Software, I leave the job to it and focus my time on writing content. Even if you are fluent in English, sometimes it is good to double check your articles to see if there are any grammar mistakes that you might have missed.
Try Ginger Software for Free Now!
There are so many web hosting services out there but Wealthy Affiliate stands out from the rest because it is more than just a web hosting company. Most importantly, when you select a web hosting service, you have to ensure that there are no downtime (server shut down) when may affect your website's performance. I have been using the Wealthy Affiliate web hosting service for more than 2 years and it has never given me any problem, to me this is a plus.
What attracts me even more is that Wealthy Affiliate was the program that guided me to success. It is the first program that showed me the way to make money online. Personally, I feel that Wealthy Affiliate is more of an University that has all the facilities in it. It hand holds you through the process of setting up a website to putting affiliate links to your website to making actual money online, and these all are taught through the "Online Business Certification Course".
Wealthy Affiliate houses its internal web hosting, keyword tool, link tracking tool, etc. It is a one stop shop for new or aspiring Affiliate Marketers. To know more about Wealthy Affiliate, you can read my review here.
Join Wealthy Affiliate for Free Here!
There you have it…
My 5 tools that attributed to my success revealed. These tools may not be the best in the market (in my opinion they are the best), but it has helped me get to where I am today. I hope these tools are able to help you in your online business. Feel free to drop me a message below to share your thoughts with me by leaving a comment below, I will be more than happy to connect with you. Please also help to share this article by clicking on the social media buttons (Facebook, Twitter, Google Plus) below.
Your pal,
Jack