PM-International Review – You Might Not Want To Join After Reading This!
You probably learned about PM-International on social media or from someone you know, and it was advertised as an excellent income opportunity that could replace your job one day.
Is that it?
Well, before anything else, let me commend you for doing your research about PM-International and making sure that it isn't a scam.
Getting a better understanding of the company's products and business opportunity will save not only your hard-earned money but also the time and effort that you're planning to invest.
Because the truth is, despite what some people claims, there is no guarantee that the PM-International products will work, nor is this business suitable for you.
So in this PM-International review, we'll mainly be discussing the quality and sell-ability of PM-International products, the legitimacy, and profitability of the business, and if it's in your best interests to join this company.
I know how valuable your time is, so let's get right into it…
For Anyone Who Wants to Start a Profitable Online Business
Review Summary
Website: pm-international.com
Founder: Rolf Sorg in 1993
Price to Join Opportunity: $40 Starter Kit + First Product Order + Monthly Products
Recommended? It depends if the products work for you. If not, then there's no reason to join and you may want to check this out instead.
Overall Business Opportunity Rating:
2 out of 5
Quick Summary: The very first thing you need to do before joining PM-International is to verify if the products work for you. As the company said, you must "be the a product of your own product," therefore, you have no business becoming a distributor for this company if the products didn't work for you.
You cannot expect to sell something you don't truly believe in and I'm sure lying to your customers is the last thing you want to do to make money.
But even if let's say the PM-International products work, you'll have to make sure that this is the kind of business you want to get involved in. Most people who decided to join an MLM company like PM-International quit only after a few months because selling and recruitment is not something they are passionate about.
And even if you are comfortable in the sales environment, over 95% of people fail to make a decent income across the entire network marketing industry. Do you have what it takes to become successful with PM-International?
What is PM-International?
PM-International is a Multi-Level Marketing (MLM) company launched in 1993 by Rolf Sorg originally as PM Cosmetics. 
In an MLM company, you can make money by selling the company products, and by building a sales team to do the same.
PM-International has products for both the nutritional supplement and personal care niches, which are two of the biggest markets today.
However, making money as a PM-International distributor is tough. There are also crucial things about the PM-International products that might discourage you from using or selling them to other people.
Are PM-International Products Safe, FDA Approved, and do they Work?
PM-International's flagship product line is called FitLine.
It is composed of various dietary supplements for health and weight loss, two of which are FitLine Activize and FitLine Restorate.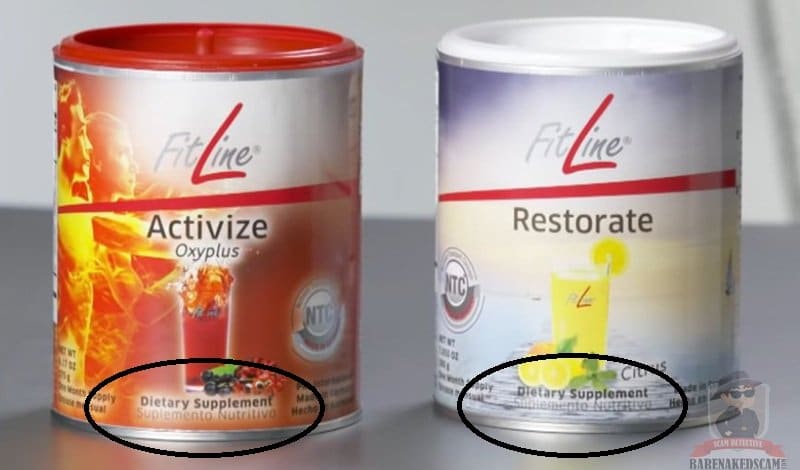 Many people are saying good things about FitLine products and how their lives are transformed when they started using them.
Some claim to have lost weight, reclaimed youthful glow, and even prevent and cure diseases!
​
But while these testimonials could be true, it's important to understand that FitLine and the rest of PM-International health products are only "dietary supplements."
And despite what other people say…
Dietary Supplements are not intended to treat, diagnose, cure, or alleviate the effects of any diseases.
Dietary supplements like the PM-International products are also not FDA approved, so when it comes to safety, you should seek out the advice of a medical professional first before taking any of them.
And about the PM-International personal care products (BeautyLine, FitLine med, and FitLine Skin Series), some of these products might contain ingredients that you are allergic to, so you should check the labels carefully before using any of them.
When you join as a distributor of this company, it will be your obligation to properly educate your customers about these matters and not start a misconception.
PM-International Products Prices
During this Pm-International review, these are the entire company products in their retail prices.
FitLine Products
Activize Oxyplus with STEVIA ($66) – Powder drink to provide your body with active substances to produce energy and vital nutrients.
Basics ($38.88) – Supplement for your digestive system made of fruits, vegetables, cereals, fibers, live lactic bacteria, enzymes, and herbal extracts from Indian Ayurvedic teachings.
Beauty ($103) – A powder drink that contains a unique blend of collagen peptides, valuable plant and herbal extracts, and vitamins and minerals that support your skin from the inside.
Cell Capsules ($108) – Supplements containing conjugated linoleic triglyceride, L-carnitine, and vitamin C.
D-Drink ($67) – A healthy drink that promotes metabolism and the maintenance of normal liver function.
Feel Good Yogurt Drink ($61) – Promotes a healthy digestive system and increases the growth of beneficial intestinal bacteria.
Hair+ ($84.50) – Liquid formula to get thicker, fuller and glossier hair.
Restorate ($56) – The ideal "night-cap" that contains calcium, magnesium, iron, potassium, zinc, selenium, copper, manganese, chromium, and vitamin D, with "absorption-promoting Ayurvedic herbal aroma.
ProShape Amino ($110) – PM-Internationals patented formula that contains L-Isoleucine, L-Leucine, L-Lysine, L-Methionine, L-Phenylalanine, L-Threonine, L-Tryptophan and L-Valine for the growth and retention of muscle mass.
PowerCocktail ($31.21) – A 2-in-1 solution that supplies the energy and concentration you need while it contributes to a normal function of your immune system.
FitLine med Products
FitLine med Active Gel ($55) – A non-oily gel that stimulates circulation of blood, cools the skin, and takes care of strained joints.
Cell Lotion ($56) – For a visibly smoother and more even skin tone.
Hair+ ($79) – A fast-absorbing, non-greasy liquid with traditional herbal ingredients to activate the scalp and hair follicles.
Q10 Oxy Repair Hands ($22) – A protective and nourishing hand cream, especially for stressed and sensitive skin.
Q10 Oxy Repair Intensive ($109) – Promotes the quick and effective regeneration of irritated skin.
FitLine Skin Products
FitLine Skin Ultimate Young ($195) – Instantly reduces skin lines for a youthful appearance.
FitLine Skin Brightening 4ever ($118) – A 24h anti-aging facial care that supports skin firmness and elasticity, refines pores, and improves the skin's moisture content.
FitLine Skin Cleansing Lotion ($52) – Cleanses the pores of make-up, dead skin cells, and fat without drying your skin.
FitLine Skin Eye Care ($92) – Invigorates the area around the eyes and reduces dark rings. 
Other PM-International Products
Anti-Aging 12h-Activ-Serum ($140) – Revitalizes the skin and provides long-lasting moisture.
Fitness Drink ($80) – Boost energy and promotes weight loss.
Heart-Duo ($145) – Contains Omega 3 from high-quality fish oil and vitamin E that supports cells under oxidative strain.
Herbalism Tea ($25) – Herbal tea.
Isoflavon ($116) – Promotes healthy bones and teeth and boosts the immune system.
Lutein ($70) – A liquid formula that supports eye metabolism with the nutrients lutein, zeaxanthin, and vitamin E.
Joint-Health ($135) – Contains glucosamine and chondroitin to promote healthy joints and cartilage.
Munogen ($116) – Contains bioactive ingredients, phytochemicals, amino acids, and vitamins that contribute to the healthy formation of red blood cells and the reduction of tiredness and fatigue.
Omega 3 Vegan ($78) – Alternative source of DHA and EPA Omega-3 fatty acids for vegetarians, vegans, or those who avoid fish in their diet.
Omega 3 + E ($78) – Liquid formula for healthy cardio-vascular and brain functions.
Protein Ultra ($60) – Helps maintain muscle mass, healthy bones and reduces fatigue.
Q10 Plus ($88) – Liquid formula that supports energy production in the cells and supports the cells under oxidative strain.
Young Care Balancing Cream ($40) – Balancing cream made of natural bioflavonoids to moisturize your skin optimally. 
Young Care Cleansing Foam ($34) – A gentle cleansing foam made of natural plant extracts and special washing-active amino acids.
Young Care Peeling Mask ($34) – 2-in-1 exfoliating mask removes dead skin cells, stimulates microcirculation, and refines the pores.
Zellschutz Antioxy ($92) – Contains provitamins A + C + E, as well as the trace element selenium, plays an essential role in maintaining well-being and supporting the body's immune system.
Now, I do not doubt that these products are "amazing" and "high quality" as they are advertised by the company. I'm sure many people had good experiences with the PM-International products.
But as I discussed earlier, these products may or may not work for everyone. 
And as a distributor of this company, you'll have to accept the fact that not all customers will be pleased with your products.
Furthermore, did you know that…
Start a Profitable Online Business Right Here!
FitLine Products could just be Overpriced "Sugar Powders?"
There has been a long ongoing beef that resulted in a lawsuit between PM-International and TV2, a Danish tv station.
TV2 claimed that after taking a closer look at some of the FitLine products, it appears that PM-Internationally is making millions by selling "powdered sugar."
A professor of nutrition science at the University of Oslo Bjørn Skålhegg said, 
"The powders contain over 50% sugar. These are not organic fruits or vegetables, but boxes that contain powder and it does not grow on trees. I believe that this is just about making money and a sales plan to become rich in the ignorance of others."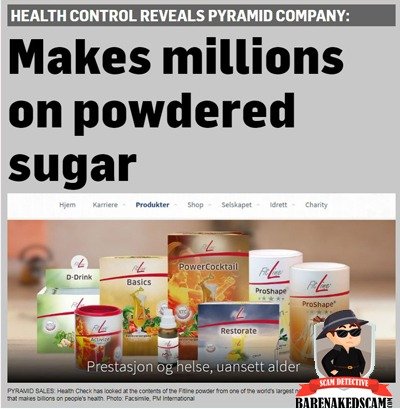 Naturally, PM-International disagrees that their products consists mainly of sugar and, in return, released a PDF showing a comparison of the sugar contents of their products to that of an apple.
The company (PM-International) then filed a lawsuit against TV2 on the grounds of "defamation" in 2017 but was rejected by the Supreme Court. (Source)
The company didn't give up and filed an appeal in the succeeding years, only to lose in all three of them, the latest one was in December of 2019.
Now, I don't know about you but if the FitLine products do contain a "healthy" amount of sugar contrary to what TV2 claims…
Then shouldn't the Supreme Court side with PM-International? Why the exact opposite?
Nevertheless, as a distributor of the company, you better know the answer to this question, or else you'll surely lose a customer who asks about this matter.
Anyways, have you tried any of the PM-International products above? Share your experience with our readers in the comments section below.
PM-International Compensation Plan – Lucrative, but…
You'll need to be able to build a large sales team to take full advantage of the company's compensation plan.
And while PM-International gives the impression that you can make money in multiple ways, your income source as a distributor will only come from two ways – selling and recruitment.
There are 12 distributor ranks within the PM-International, and your current rank determines your income potential within the company.
PM-International Distributor Rankings
Team Partner – Join as a distributor by ordering the $40 Demo Starter Kit.
Manager Rank – Generate at least 1500GV or Group Volume per month. Each PM-International product is assigned a corresponding point (PV), and GV is calculated based on the total amount of PV you and your team generates. 
Sales Manager Rank – Generate 2500GV/month + 1 personally recruited Manager ranked or higher distributors in your team.
Marketing Manager Rank – 5000 GV per month + 2 personally recruited Manager ranked or higher distributors in your team.
International Marketing Manager Rank – 10,000GV/month + 3 personally recruited Manager ranked or higher distributors in your team.
Vice President Rank – 25,000GV/month + personally recruited Sales Manager ranked or higher distributors in your team.
Executive Vice President Rank – 50,000GV/month + 3 personally recruited Marketing Manager ranked or higher distributors in your team.
President's Team Rank – 100,000GV/month + 5 personally recruited Marketing Manager ranked or higher distributors in your team.
Silver President's Team Rank – 200,000GV/month + 3 personally recruited Vice President ranked or higher distributor in your team.
Gold President's Team Rank – 400,000/month + 3 personally recruited Executive Vice President ranked or higher distributors in your team.
Platinum President's Team Rank – 600,000GV/month + 4 Executive Vice President ranked or higher distributors in your team.
Champion's League Rank – 1,000,000GV/ month + 5 President's Team ranked or higher distributors in your team.
Now, based on these rankings, it's evident that to earn a decent income with PM-International, you'll need to have a large sales team and to achieve that, recruitment.
Retail Income
When you join as a distributor, you will get 20-40% discounts on the company products. Selling those products at retail prices will allow you to earn 20-40% in profits.
Top Retailer Bonus Commissions
If you manage to generate at least 2500GV within a calendar month, you'll earn an additional 3% commissions from all the retail sales made by your team. You can earn as high as 5% if you can generate 5000 in GV.
Wholesale Autoship Commissions
PM-International offers a monthly autoship program from which non-distributors can enjoy discounts by placing a regular monthly product order.
You will earn 10% of all the product sales placed by people you referred to subscribe to the monthly autoship program.
Recruitment Commissions
When your recruit joins as a PM-International distributor with the Premium Pack that costs $528, you'll earn $60-120 based on your current rank.
Fast Achievement Bonus
This is a one-time bonus you'll receive each time you achieve a new distributor ranked within the timeframe specified by the company.
You can earn from $100 up to $5,000 based on how fast you move up in the ranks.
And to move fast in the ranks, you'll have to recruit as many people as fast as you can.
Top Management Bonus
PM-International will pay you these commissions based on a UniLevel pay structure. 
In a UniLevel, any person you recruit to join as a distributor will be placed in Level 1 of your team.
The distributors recruited by your Level 1 will be placed on your Level 2, the distributors recruited by your Level 2 will be placed on your Level 3 and so on.
Depending on your current rank, you'll earn between 2-21% from all the product sales of your entire team down to the 6th level.
However, to qualify for this bonus, you'll need to be at least a Sales Manager rank by generating at least 2500GV/month + 1 personally recruited Manager ranked or higher distributor in your team.
Other Bonuses
For the top distributors of the company, other incentives will be given, such as car bonuses, retirement programs, travel incentives, and others.
But as much as I don't want to be "that" person, I believe these other bonuses can only be enjoyed by the top PM-International distributors, the ones who have hundreds if not thousands of people under their team.
Because no matter how other people sugarcoat it, recruitment is the key to success in PM-International.
For Anyone Who Wants to Start a Profitable Online Business
Now just to be clear, there is nothing wrong with recruitment…
Except for the fact that when a company gives better incentives on the individual's ability to recruit people rather than selling the products…
It isn't surprising to see most of the company distributors put heavy emphasis on recruitment.
If this malpractice isn't properly managed and immediately corrected, it won't take long before the company becomes a pyramid scheme.
Furthermore, I believe that if selling and recruiting people is not your cup of tea, then this business opportunity is not for you.
PM-International is Not a Scam, However…
While I may have expressed some concerns about the company products and its business model, I believe that PM-International is not a scam nor a pyramid scheme.
For starters, PM-International sells real products that many people had benefited from. The company has product users all over the world, and it is recognized as one of the most respected companies in Europe.
On the business side, PM-International is not a pyramid scheme because it is possible to make money with this company without recruiting people. 
While the retail income may not be as high as recruitment commissions, you can earn profits by selling the PM-International products to the general public, which is not possible in a pyramid scheme.
Nevertheless, making a life-changing and even a decent income in PM-International isn't possible by selling the products on your own.
You will have to recruit people and build a large sales team, and that is what this business is all about.
And after operating for almost 30 years, I was disappointed to find out that PM-International didn't provide an income disclosure.
At the moment, there is no way to tell how many of its members are making money.
Although if you think about it, if most of the company distributors are, in fact, making money…
Do you believe PM-International won't be touting about that already? Food for thought.
Becoming a PM-International Distributor
During this PM-International review, you can become a distributor by completing a signup form and paying a $40 Starter Kit that contains a bag, sports bottle, glasses, mixing spoon, and Activize Oxyplus.
On top of the Starter Kit, you also need to pay for a one-time additional product of your choice.
Once payment is made, you'll get access to:
Replicated PM-International website to sell FitLine and BeautyLine products
Back office to track and monitor your business
Marketing and prospecting tool (unspecified)
Ability to participate in the PM-International's compensation plan
But while it may look like you only need more or less $100 to become a PM-International distributor…
You should know that the company requires you to place a monthly order of no less than 100PV to be considered "active" and qualify for commissions.
​
I wasn't able to find out the exact PV assigned to each PM-International product, so I'm afraid that is something you'll have to ask the person who introduced you to this company.
Verdict – Should You Join PM-International?
In one of the company videos, PM-International made it clear that you have to be "the product of your own product."
So before you join this company, you'll have to make sure that the products work for you. Or else, there's no point in becoming a distributor for a company which products you don't truly believe in.
And even if the products did work for you, you'll have to ask yourself…
Is selling dietary supplements, personal care products, and recruiting people what you want to do every day to make money?
Because if your answer is no, then this business might not be for you.
But if your answer is yes, then I suggest that you take a look at this training program. 
It's the same program that taught top network marketers the strategies on how to overcome the common obstacles in the MLM industry, such as running out of prospects and not making enough sales.
Meanwhile, if you've realized that PM-International is not the kind of business you want to get involved in, but you're still looking for other ways to earn money…
Perhaps something more suitable for your passion and interests…
​Then, I highly recommend that you check out this business program.
This is the same program that turned me from a nobody to a somebody online, best of all, there is really no need to sell or recruit people.
Anyways, thank you for taking the time to read this PM-International review. I do hope that this has provided you the answers that you were looking for.
If this review helped, please share it with others too. And, if you have anything to say about PM-International, feel free to leave a comment below.
Until here and whichever path you decide towards your financial goals, I wish you all the best in the future.
Your friend,
Jack