Parallel Profits Review – The Truth You Didn't Know
So, Parallell Profits found you, and you are wondering if you should spend your hard earned money trusting these 2 guys to help you start an online business.
You've come to the right place because, in this Parallel Profits review, we will be discussing everything you need to know about this high-ticket training program, including…
What Parallel Profits is all about
What makes it "unique" from similar products
Why you should/shouldn't use it and
Should you invest money on Parallel Profits
And for some of you who might be wondering if Parallel Profits is a scam, you too will be enlightened within the next few minutes.
Shall we start?
Review Summary
​Founders: Aidan Booth and Steve Clayton
Price: Free (Franchise Membership), ​$2,497 (All Access)
​Recommended? Yes, but ​it is really expensive. This alternative is much cheaper and you'll learn much more I believe.
Income Opportunity Rating:
What is Parallel Profits?
Parallel Profits is an all-in-one high-ticket training program and tool suite based on a proven and tested business model developed by Aidan Booth and Steve Clayton.
It is geared to help any individual make money online by selling online services such as SEO, SMO, Web Design and Lead Generation to local businesses.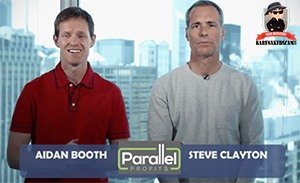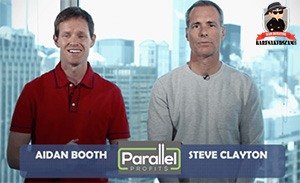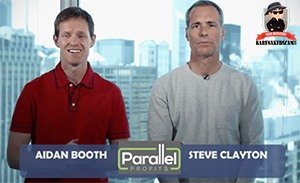 The business model blueprint that you can learn from the Parallel Profits is said to be "the fastest way for anyone to earn a full-time income from home."
They are optimistic that anyone can earn as much as $100K annually just by completing as few as 7 sales!
The Founders
Aidan and Steve are both accomplished and successful entrepreneurs with years of experience in the digital marketing industry.
Both have managed to earn tens of million dollars as internet marketers.
It is also worth mentioning that Steve was previously the CFO of a Fortune 500 company.
​A Bootstrap Way to Earn Money Onli​ne. Find Out How!​
What Makes Parallel Profits "Unique"
The thing that caught my attention about this program is the so-called "3 Twists" that Aidan and Steve keeps talking about.
They claim that because of these twists, anyone can build a successful and highly scalable online business today.
The 3 Twist in Parallel Profits
Twist 1 – Face-to-Face interactions with prospects and clients are not necessary (unless you want to).
When you buy the Parallel Profits, you will have access to all the tools and lead-generation systems specifically designed for this. Everything will be fully automated.
Twist 2 – When you purchase the Parallel Profits, you can choose to become part of Aidan and Steve's franchise.
By becoming a member of their franchise, you won't need to worry about startup issues such as branding of your online business, setting up a domain name, website, marketing, etc. 
Since you'll be working with them as a franchise, all the "infrastructure" and "tools" will be provided to you.
Twist 3 – No Internet expertise, technical and marketing skills required.
Once you make a sale, you won't have to worry about the services to be rendered, e.g. SEO or Web design. Aidan and Steve already prepared a team of professionals to do the work for you.
Here's how it works.
You ask what your client want to get done for his business, you pass it to the team of professionals, they get the task done, you get it back to your client upon completion and then you keep your part of the profit.
7 Components of Parallel Profits
There are 7 major components inside the Parallel Profits training program. Let's discuss them one by one.
The Master Blueprint
The first core training explicitly designed to fast-track you into an expert in this business model.
The training features a series of comprehensive "modules" with detailed step-by-step videos, strategy manuals, live weekly webinars, and MindMaps. Including
A full A-Z guide on how to start from scratch and begin making money online.
Discover how to quickly set up everything so you can start making money immediately.
Full "Covert Sales Training."
Maximize the number of leads that turn into sales.
Organize your finances and other elements with templates and simple solutions.
The Lead Accelerator
Without any leads, you have no business. This training focuses on getting unlimited leads and converting them into customers. On this training, you can expect
A clear path to secure your first 7 customers.
Bulletproof strategy and tested systems to capture and convert endless numbers of leads.
5 proven email funnels to turn leads into sales.
Rolodex of tools and services to generate fresh leads and customers.
The Engagement Engine
As I have mentioned above, you can do a totally hands-free business with Parallel Profits. The Engagement Engine is a suite of automation tools that will handle all the time-consuming and complicated parts of your online business. You will get
A robust "audit" tool that analyzes a potential customer's online business needs.
A series of educational and informative videos for your customers.
A "communication" tool which contains a series of high-converting email sequences.
A working system to monitor and follow up the DFY  (done-for-you) email sequences sent to your potential clients.
The Instant Asset Machine
A highly credible online presence is one of the keys to making sales. This tool is an all-in-one custom build assets and conversion suite for your business. It includes
Conversion-focused and fully functional "custom" landing page.
A pre-designed website which you can use to generate traffic for your business.
Engaging marketing materials such as brochures and business cards.
Anything you could possibly need to establish a credible online presence.
The Delivery Hub
This is a DFY service and delivery platform so that when you make a sale, you will have no hassle of delivering the services that your client and customers have paid for.
The Delivery Hub will take care of every service that you'll be offering to your prospect clients such SEO, Website Building and Design, Hosting and more.
You will also be provided with automated billing, processing, handling, and payment system!
No need to set up Stripe, Paypal or other merchant processors.
PS. Additional services will be added in the Delivery Hub in the coming months.
The Private Community
When you buy the Parallel Profits and start the course, you will immediately get access to an exclusive community where you can interact with other PP members. You will be able to
Get notifications and other essential updates through an official Facebook group.
Connect with fellow Parallel Profits members.
Have access to advanced tactics and strategies to skyrocket your business.
Specialist Support
In addition to the Private Community, you will also be provided with a second layer of private support. This is a 24/7 assistance and support network.
Depending on where you are, you might also be able to avail extra levels of coaching.
If you are in need of assistance regarding your business, you can expect a "Rapid-Response" help desk to lend you a hand.
These are the 7 components that come inside the Parallel Profits. These components are specifically designed to address the 3 primary obstacles (Fear, Time and Money) for any aspiring online entrepreneur.
How Much does Parallel Profits Cost?
On the official website of Parallel Profits, the founders/owners Aidan and Steve explained that to join them and act as a franchise should cost $7,500.
Meanwhile, getting access to all their proven system and tools suite should be just shy of $28,000.
But at the moment…
They are giving a HUGE discount to early birds.
They offer a ZERO cost franchise membership fee to anyone who decides to join them "within the next days" (they did not specify when will this offer ends so if you are interested, I suggest that you grab this).
For the full access to all the training, software tools and the other components of Parallel Profits, the total cost that you need to invest is $2,497.
This can be paid one-time or within a 3-month installment ($997/month).
60 Day Money Back Guarantee
Now I know that $2,497 is still a considerable amount, but the good news for you is, Aidan and Steve offers a "no questions asked" 60 day Money Back Guarantee!
So when you decide to buy the Parallel Profits but found out later that it is not for you or you can't proceed with the program (for whatever reason), you will get your money back.
Not only that, you will also get a couple of amazing extras and freebies upon your purchase.
Freebies
Secret-Mastermind Sessions (Value $2997)
Special one-off workshops that will focus on power-packed tactics, formulas, and strategies that will dramatically boost the sales and profits of your business.
Aidan and Steve claim that some of the things they will reveal on these sessions are "extremely valuable" that they might even require participants to sign an NDA. (Wow)
Parallel Profits LIVE (Value $4997)
A 2-Day event which will reveal a further series of "inner-circle" secrets that'll show you how to take your business to the next level.
7-Figure Scaling Secrets (Value $2997)
An exclusive video series on SCALING which is highly focused on how to take your business from the $100K/year to $1M/year and beyond.
Is Parallel Profits a Scam?
Looking at Aidan and Steve's track record on this industry, I can confidently say that Parallel Profits is not a scam.
The training modules and programs that are included in Parallel Profits are very helpful. Not to mention the unique approach that they developed to help anyone succeed in the online marketing industry is inspired.
But before you decide to get started with Parallel Profits, below are the things that I LIKE and dis-LIKE about this high-ticket program.
PROS
No Questions Asked 60 day Money Back Guarantee
100% safe to pay through Clickbank
No upsells (Parallel Profits is a one complete package)
Free to join (for selected countries)
EXTREMELY high-profit margins
Proven and tested business model blueprint
Start immediately without capital
A viable business program even for non-techies
Good technical and members support
CONS
Access to all the tools and system is not free ($2,497)
Franchise available in USA, Canada, UK, Australia, and New Zealand only
High-ticket program
​​Learn How to Realistically Start An Online Business  that Generates a Full-Time Passive Income without the Huge Start Up Cost. Click here!​
My Sincere Advice to You
Let me be clear that I am in no way affiliated with Parallel Profits.
But as an online entrepreneur myself, I am confident and optimistic about what this training program can offer, especially to newbies who are scratching their heads on how to make money online.
And for digital marketing veterans reading this, although Parallel Profits is relatively new in the scene, I believe that this program has a lot to offer for you.
Who knows, this can be the missing piece that you have been looking for.
But…
As I always say in all of my reviews, a tool is only as good as how you use it. Even Aidan and Steve made it clear that Parallel Profits is not a get-rich-quick program.
You need to put some serious effort and though they have provided everything that you might need to succeed, to get there is still on you.
On the other hand, if you think that you can't afford Parallel Profits but you wish to get started with a cheaper yet proven way to earn money online, then I'll like to share with you my success story.
I didn't spend a lot of money for my online business, but brick by brick I build my "part-time" business that it eventually generated an income that far exceeds the salary I got from my full-time job.
So, if you wish to get started the way I did, I highly recommend that you check out this program.
It is the same program that taught me and thousands of beginners to find success online.
Anyway, thank you for reading this Parallel Profits review.
​If you found this review helpful, please help to share it…
Also, if you have any thoughts or opinions you would like to share, feel free to leave a comment below.
Your pal,
Ja​ck