Is Life Leadership a Scam? – The Truth about this Opportunity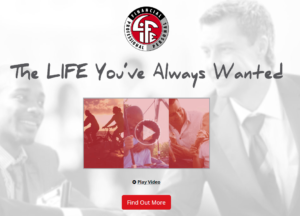 Name: Life Leadership
Website: www.lifeleadership.com
Founders: Orrin Woodward, Chris Brady, Tim Marks, Clause Hamilton, George Guzzardo, Bill Lewis and Dan Hawkins
Income Opportunity rating: 2 / 5 Stars
#1 Recommended Online Business Training with Proof: Click Here
---
Do you want to live the life you always wanted?
Never worry about not having enough for your family, and to better their lives as well as yours.
This is what LIFE Leadership is all about. It is designed to teach you and to help you achieve your full potential.
But, is that all true?
Can LIFE Leadership lead you to success? Is the business opportunity any good?
Many have claimed that LIFE Leadership is a scam, while some have claimed that it is the best thing that ever happened to them.
Who is speaking the truth, and who is not?
I'm glad that you've found this review because I am going to share with you everything you need to know in order to make an informed decision.
This program has led me and thousands of people make a Life Changing income online. Find out how you can too!
What is Life Leadership?
---
I am sure you've done some research on the background of this company, but I'll share them with you anyway, just in case you haven't done so.
The company was created by a team of former Amway employees who wanted to brand out and create their own network marketing business.
Life Leadership is a company with a few product-lines that target different niches. The following are the three niches Life Leadership targets: self-development, personal finances, and leadership abilities.
The personal finance section is called "Financial Fitness" and the product line consists of video training and eBooks. The company has also published quite a few books on Amazon.
The products consist of online material, videos, books, CDs, and articles.
The idea is to provide people with a membership-based training center for various niches.
Honestly, their products are not too bad and they do contain some useful tips and advice.
On the other hand, there are plenty of similar and cheaper alternatives out there.
I think everyone should invest in their personal growth, but there are smart ways to do it. Life Leadership's courses are quite expensive and most require a monthly subscription.
Additionally, all the material is not accessible once you pay for the membership. Instead, it's drip-fed to you on a monthly basis, a system that can be quite frustrating for fast-readers.
In most cases, a 6 month subscription is required, and each month, another lesson is sent to your inbox.
You can choose to be a customer or a promoter, and the business opportunity is one of the main reasons people sign-up to this program.
Why Do More than 95% of LIFE Leadership Members Fail in the Business?
---
Most people that ask if Life Leadership is a scam failed to see success with the business.
Understandably, most people in general are not excellent marketers, but when 95% of people who join your opportunity fail to see ANY result, that raises some questions.
There are many factors that can contribute to your failure with Life Leadership.
I believe the main reason so many people fail with this business is due to lack of leads.
You're told to take this product and start making sales, and they briefly explained how to generate those sales.
Unfortunately, this company offers the same marketing advice as other networking material companies; tell your friends about it.
In most cases, our friends aren't the prime leads for these business opportunities.
Some people who have excellent lead-gen abilities make a decent amount of cash with this business.
But most people are not super-marketers, and it's a struggle to find enough sales to make up for the membership and product fees.
In fact, most people don't make any sales at all.
Let's take a look at the compensation plan.
Learn how to source for new prospects, promote any kind of products, and build a business that is founded on your passion!
Life Leadership Compensation Plan:
---
Chances are you heard of Life Leadership from friends or family-members. The marketing material teaches you to reach out to those closest to you and organize an event where you launch into the sales pitch.
Most of the pitch is dedicated to explaining how the business is not a pyramid scheme. The business model is similar to most network marketing systems.
The main income comes from selling the products as an affiliate. Life Leadership offers 15% commissions on all products sold as an affiliate.
You can also earn by convincing other people to join and building your team. The goal of a team is to generate as many sales as possible and increase your GV (Group Volume).
The higher the GV the more bonuses can be earned. To maintain your position you'll need to earn a certain amount of GV every month.
For instance, to maintain the first membership level, Apprentice, members needs to earn a minimum of 1,500 GV a month.
GV is earned by making sales or recruiting new people to your team. You can also earn a rebate depending on your performance.
For example, if you earn a Personal Volume of 150 a month you can qualify for a 3% rebate.
In other words you can get a discount on the membership or products that you choose to buy from the store.
There are many different bonuses that you can earn, one of which is called the "Depth Bonus".
The Depth Bonus is a residual bonus that comes in from your team.
This bonus is based on how many people are in your down-line and in your team.
The bonus varies depending on your membership level.
Senior Coordinators earn 3% of the total sales generated below them.
I don't believe Life Leadership is a scam, but unless you have amazing marketing skills, I would not recommend their business opportunity.
There are much better alternatives.
My Sincere Advice to You
---
If you have personally benefited from the products of LIFE Leadership, and you genuinely want to share the products with your friends or family members, then this opportunity may just be right for you.
But, if you are in it just to make a quick buck, then I suggest you think again.
You need to sell the products and the membership in order to earn a substantial income, and if you do not believe in the products, how can you convince others, right?
LIFE Leadership is not for me, what then?
I've scoured the Internet and have undergone tons of business opportunities, and I've found a rare few which I genuinely believe have your interest in mind.
I would suggest that you check out this program which has helped thousands of individuals, including me, who have no knowledge or experience to make a decent income online. I'll be looking forward to chat more with you in the program.
Thank you so much for your time to read this review!
I invite you to share your opinion on LIFE Leadership by leaving a comment below. If you find this review helpful, please, feel free to share it with your friends and family by clicking on the social media buttons.
Your pal,
Jack