Is Insured Profits a Scam? – The Truth Revealed!!!
N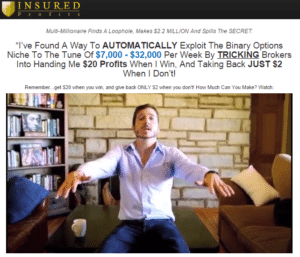 ame:  Insured Profits
Website:  www.insuredprofits.com
Price: $250 min deposit
Owner: David Harringwell (Dave)
Income Opportunity rating: 1 / 5 Stars
The Most trustworthy Investment Social Network: Etoro
The Most trustworthy Online Business Training Course: Click here
---
Well the introduction video sounded really convincing.
It almost feels like I am going to be the next millionaire overnight.
Dave, the product creator of Insured Profits, explains the theory of coin tossing and how it relates to Binary options. He explained that each time you make a successful trade, you will gain $20, and you will only lose $2 if your trade isn't successful.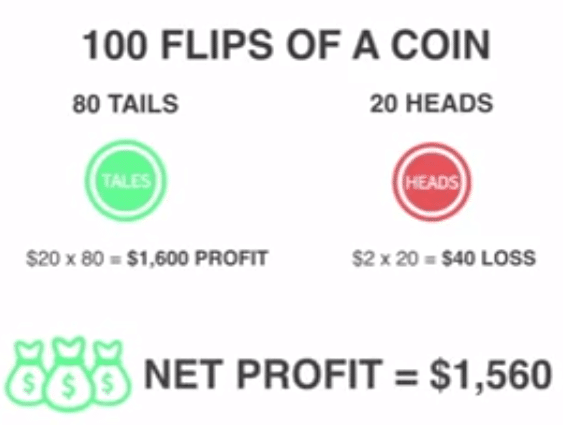 Sounds good right? Even if you turn the table around and "80 Heads" occurred (80 x $2 = $160), "20 Tails" occurred (20 x $20 = $400), you still make a $240 profit.
But, you must note that there are more to this simple statistics. What if out of 100 flips of a coin and "Heads" occur all the time? Trust me, there is a possibility for that.
Trading is risky in nature and if you leave your money to the hands of an "unworthy" automated system, you are bound to lose a ton of money.
Even the most advanced automated Trading system, MetaTrader, loses money for its clients.
I have a friend who have gained $4,000+ on the first month of using MetaTader (and he brags about it) and loses $6,000+ the next month. There are no "insured profits" anywhere within the trading industry. I GUARANTEE IT!
OR
Get this FREE Online Business Course Now!!!
You see, I was in the trading industry for years, spent thousands of dollars attending trading courses.
I have traded forex, shares, options for years, still I make no returns in total. Trading is never easy and it is always subjective.
When you see a bullish setup, others might see it as bearish. If you are in the trading industry, you would know that there are many factors to consider before making one trade.
Insured Profits intentionally made it look so simple and the fact is, the more simple minded you are in trading, the higher chance for you to lose money.
Even the most experienced trader loses money, what more on an "automated system"? If such a "Guaranteed profit system" does exist, no one will ever need to work for money.
Before I drill deep into the claims of "Insured Profits", I would like to share my knowledge as a fellow trader with you.
To be an aspiring trader, you should learn the basics of trading and communicate with other more successful traders. You should never trade on your own, even if you are an expert.
The best place to get an in depth knowledge of Trading and to communicate with other successful traders is through this program.
Now… Let's dig deep…
---
Exposed #1: Is David Harringwell a real person?
When something seems too good to be true, it probably is.
If you have gone through the Insured Profit's introduction video in length, you would have seen a few bank accounts with a few million dollars in the name of "David Harringwell".
People with such high status, and given that he is in the trading scene for years, you would have thought that he would have a strong presence in the market right?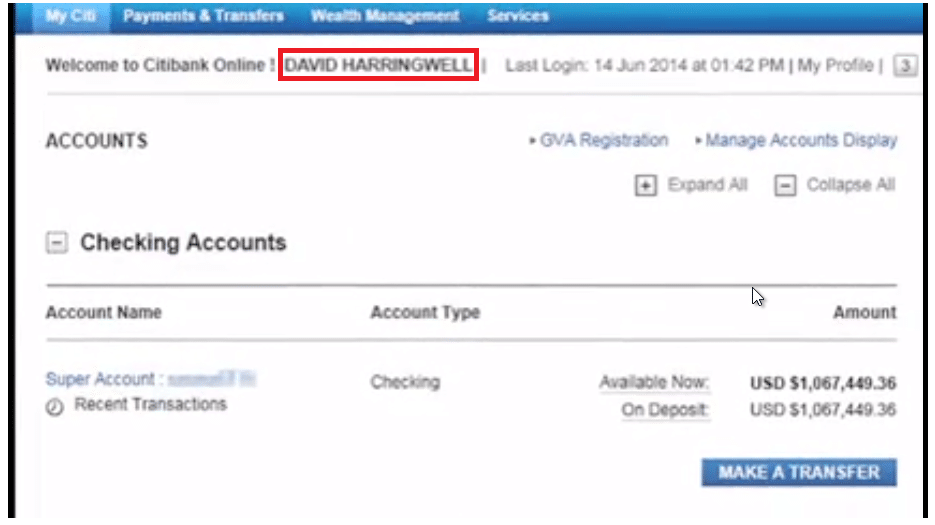 But, if you googled his name, you will not get any connections to either a facebook account, linkedin account or any other accounts.
You will find nothing.
Me, being such a low profiled person would have some connections online if you would have googled my name.
I am just stating the fact that a high profile trader would have a pool of followers, just like Timothy Sykes, a trader who turned $14,000 into $4.2 Million, has thousands of followers, but "David Harringwell" can never be found.
I can't guarantee that "David Harringwell" is not a real person, but my research lead me to believe that way.
Exposed #2: The 1.7 Million house paid full in cold hard cash
Again, I can't guarantee that the transfer deed of the house is real, but my research have lead me to believe it is fake. Just look at the picture disclosed in the Insured Profit's video below:
Now look at the form from an Australia government website:
Look exactly the same right? Anybody could have downloaded this form and completed it.
There is no authentication as to whether this transaction has ever been made. Just be mindful of trusting whatever you see online.
Click here if you are looking for a way to make legitimate money online. The way I did it.
Click here if you want to gain knowledge and experience in trading
Exposed #3: The so called $1.7 Million house
I have drawn out a postal code from the title form that was disclosed in the Insured Profits video (though they have blurred it). "OLD 4112" or "QLD 4117".
If you would have googled the postal code, you would have found the following:
From the maps above, do you see an ocean? I don't see it, but video claimed to have one:
Exposed #4: What exactly is Insured Profits?
Insured Profits is brought to you by the creators and founders of Binary Matrix Pro.
Technically, this group of people are not traders but are marketers.
They packaged these "Automated Trading Platforms" into a well laid out, and highly sell-able product, and they rip the profit each time someone deposits money into their trading accounts.
It doesn't matter to them if you make or lose money.
You see, the reason why Insured Profits forces you to signup and deposit money into their "Recommended Binary option broker" is because these brokers pay commission to anyone who introduce new members to its platform.
This is basically called "Cost per Action (CPA)" marketing.
On a side note, how these Binary Option Brokers make money is when you wronged the market (i.e. you traded against the market).
If you made a successful trade, the Brokers are obliged to pay you. It is like going to a casino where the brokers are the dealers.
Think about it, if everyone or most people made money of the Brokers, the Brokers would have made a lost right? So why would they even want to be in this field if it is a losing business.
I'll be frank with you that most traders lose money, and that's why there are so many brokers out there that wants to get a slice of your loss.
My Sincere Advice to You
---
I would highly suggest that you avoid going into Binary Option Trading because of the high risk of losing your entire capital.
Do not put any trust into Insured Profits because there are no such automatic system that can generate tonnes of money for you.
They are just marketing gimmick that manipulates you to open and fund a brokerage account. Everyday, new "Automated Trading Platform" joins the market, like Free Money System.
So where do you go from here?
Well, I won't leave you hanging if you are serious about your future. I personally have been making consistent income from the internet, and if you are opened to ways to make money online, other than trading, I would suggest that you check out my #1 Recommended Online Business Training and Opportunity.
However, if your passion is trading, then I would suggest that you take up some books (like Trading for a Living, Japanese Candlestick Charting Techniques, Come into my Trading Room). I suggest that you start trading with Etoro.
Thank you so much for your time, and if you have any thoughts or opinions that you would like to share with regards to trading or Insured Profits, please, feel free to leave a comment below.
If you find my article useful, please help to share it with your friends and family by clicking on the social media buttons (Facebook, Google Plus, Twitter) below.
Your Pal,
Jack