Instant Income App – Is it a Scam?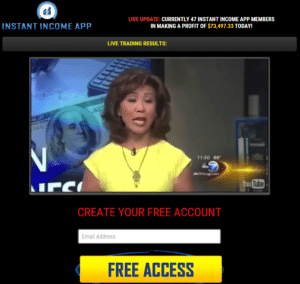 Name:  Instant Income App
Website:  software.instant-income-app.com
Price: $250 min deposit
Owner: Matthew Michaels
Bare Naked Scam rating: 5 Thumbs Down
The Most trustworthy Investment Social Network: Etoro
The Most trustworthy Online Business Training Course: Click here
---
Thought that you've found an amazing opportunity to profit from Instant Income App?
Have you ever wonder why you are able to access this "Top Secret" piece of software?
Can you really make $656.25 per day by working just 10 minutes a day?
Well, when they say, if something is too good to be true, it probably is.
I am sorry to dash your hope, but such system does not exist. If it does ever exist, you will not be able to gain access to it as it will lose its exclusivity.
The Instant Income App raises many red flags as I went through their introduction video. Before I go through my findings with you, let me first explain what Instant Income App really is.
This "App" portraits itself as an automated trading system that trades in binary options. It claims that if you sign up with their recommended broker, you will have access to their "Top Secret" software. All you need to do is follow their 3 step system, and you will make money instantly. The 3 steps are:
Set up an account with their recommended broker
Fund your account with a minimum of $250
Download the Instant Income App & prepare to make money instantly
If it is that simple, nobody would ever need to work.
For Aspiring Traders: Learn to Trade like a Pro
OR
For People who want to make money online without risk. Click here!
The Truth about Instant Income App
---
The truth is, the "Instant Income App" is a low quality trading system.
It's trading signals are never accurate as it tracks outdated data source. More often, approximately 90% or more of your trades will be losing trades. Instead of gaining $656.25 per day, your hard earned money will quickly dwindle.
Instant Income App exist to make money from people like you and me. Who wouldn't want to live a life without financial burdens, and this is where the Instant Income App captures your attention.
The fact is that when you sign up with their recommended trading broker, and deposit the minimum amount, the owners of Instant Income App will make a hansome commission.
Most Trading brokers offer their referrer a good $400 per person whom they have referred. So imagine how many people were sucked into this scheme, and how much money the owners of Instant Income App make.
I am not saying that it is wrong to make a commission from referral, but to use unscrupulous marketing techniques to draw people into something that is phony is just unacceptable.
Are the Testimonials Real?
---
You must be curious why I said it is a scam, when people are giving raving reviews for it right?
Well, nowadays you can pay someone for as little as $5 to get any testimonials you want.
Just take a look at these two testimonials below, I am sure you will be familiar with their faces if you have gone through the Instant Income App introductory video:
Fake Testimonial 1
This lady claimed to earn over $25,000 in the first 30 days with little to no work.
Look what I've found above. The same lady who gave such a claim in the video is actually being paid $5 to do so.
Just head over to Fiverr.com and you will see her profile.
For your information, Fiverr.com is a place where you can employ freelancers to work for you for as little as $5.
Fake Testimonial 2
This person claimed to make a little over $600 on the first day using the Instant Income App, and by the end of the month, he was making over $20,000 on complete autopilot.
Well, his testimonial is fake too, given that he provides the same video testimonial service on Fiverr.com.
For your information, these 2 people who gave their testimonials to Instant Income App have also done video testimonials for other Auto-Trading programs.
Use of Generic News Reports
---
If you didn't find this review, you would have thought that the Instant Income App is a legitimate program, because of the testimonials and it's appearance on news channels right?
Well, this is one of their marketing techniques that make you believe that they are legit.
If you listen closely to the news reporters, you would have notice that they are talking about making money online in general. They did not mention anything with regards to the Instant Income App.
Is the Owner of Instant Income App Real?
---
From my experience with these kind of programs, the true owner of the program will never be revealed.
Instant Income App claims that this person below, Matthew Michaels, is a multi-millionaire who created the game changing Instant Income App:
Well, I can almost certainly say that this person above is not Matthew Michaels. The picture above is a stock photo, you can purchase a stock photo from this place.
I didn't want to waste my time looking through thousands of photos just to match the above, but just note that Matthew Michaels is not real.
The Risk of Trading
---
If you scroll down webpage that contains the introductory video, you will see this fine print:
"U.S. Government Required Disclaimer – Trading foreign exchange on margin carries a high level of risk, and may not be suitable for all investors. The high degree of leverage can work against you as well as for you. Before deciding to invest in foreign exchange you should carefully consider your investment objectives, level of experience, and risk appetite. The possibility exists that you could sustain a loss of some or all of your initial investment and therefore you should not invest money that you cannot afford to lose. You should be aware of all the risks associated with foreign exchange trading, and seek advice from an independent financial advisor if you have any doubts."

"Clearly understand this: Information contained in this product are not an invitation to trade any specific investments. Trading requires risking money in pursuit of future gain. That is your decision. Do not risk any money you cannot afford to lose. This document does not take into account your own individual financial and personal circumstances. It is intended for educational purposes only and NOT as individual investment advice. Do not act on this without advice from your investment professional, who will verify what is suitable for your particular needs & circumstances. Failure to seek detailed professional personally tailored advice prior to acting could lead to you acting contrary to your own best interests & could lead to losses of capital."
Would you have caught on to this?
You see, the Instant Income App was never upfront with the risk involved with the program.
The fine print is there so that if anything goes wrong, you wouldn't be able to blame them, and you have yourself to be blamed for not understanding what you are getting into.
I would highly suggest that you avoid the Instant Income App at all cost.
For Aspiring Traders: Learn how you can Trade safely!
OR
For People who want to make money online without risk. Click here!
So what's Next…
---
Now you know that Instant Income App is not a great opportunity, what can you do next?
Well, there are many kinds of online opportunities. It really depends on what you want to do.
If you are passionate about Trading, and you comfortable with the risk that you will be taking, then I would suggest that you check out Etoro, because it is the best place for you to learn how to trade even if you do not have any knowledge or experience.
The best part is that you can communicate with other experienced traders and follow their trade. To find out more about Etoro and how it works, check it out here.
However, if you are a risk adverse person, but would like to learn how to make money online, I would suggest that you check out this program.
Hundreds and thousands of Home-based businesses have accredited their success to this program, and I am sure you will be able to get started even without knowledge or experience through that program.