Infinite Prosperity Scam Exposed – Everything You Need To Know!
If you are worried that there is an Infinite Prosperity scam going on, then this article is just for you.
As you may already know, many training programs and Forex online trading courses are in the market today. Some Forex courses are free, while others will cost you hundreds and even thousands of dollars.
But while most Forex courses have particular merits on them, there are also those that are designed to rip you off.
On this Infinite Prosperity review, I will discuss if this $500 Forex trading course is worth the money you are paying or just another scam.
As a bonus, I will also share a few exciting things that I discovered about Infinite Prosperity that you probably didn't know before.
Review Summary
Name: Infinite Prosperity
Owner: Lewis Mocker and Amy Sangster
Price: $497 (with free into class and upsells)
Infinite Prosperity Product Rating:
FOR MAKE MONEY ONLINE OPPORTUNITY SEEKERS
Before we proceed, allow me to make it clear that I am neither promoting nor affiliated with Infinite Prosperity. What I offer you in the entirety of this article are facts along with my personal opinions in the end.
I understand that my opinions might be different from yours, so if at any point of this review, you want to express your thoughts…
Please feel free to do so in the Comment Section below.
What Is Infinite Prosperity
Infinite Prosperity, also referred to as IP by its members, is an Australian Forex online trading course. The platform claim to have more than 7,000 active members from over 55 countries around the globe.
Infinite Prosperity is not a Forex trading platform, per se. 
You cannot trade currency in Infinite Prosperity. It is merely an educational platform where you can learn the basics and probably some advanced knowledge about how Forex trading goes.
On its official website, one of the founders mentioned that Infinite Prosperity was officially launched in July of 2012.
However, my WhoIs search results suggest otherwise.
Base on the image above, you can see that the domain "infinite-prosperity.com" was created in October of 2011. It was last updated in May this year (2019).
But this is just the tip of the iceberg. During my research, I discovered more interesting things about Infinite Prosperity and the people behind it, which I will discuss below.
Company and Founders
Infinite Prosperity is a Forex online trading course created by Internet entrepreneurs Lewis Mocker and Amy Sangster.
Does Amy Sangster sound familiar?
You may have seen her before in a YouTube video as the 22-year-old girl who buys her own Lamborghini Gallardo with the money which she claims she earned from Forex trading.
This video currently has more than 10M views. And yes, it is used to market Infinite Prosperity.
Meanwhile, Lewis Mocker is supposedly her mentor who showed her the ropes. This is base on the About Us page of the Infinite Prosperity website.
Amy and Lewis were also working together with Robert Himler on an eBook called "Far From It."
The eBook was sold thru an affiliate marketing platform, Clickbank.
Other than the things above…
There is nothing much to tell about Amy and Lewis. The duo was not even that famous in the Forex industry where they supposedly earn a living for their lavish lifestyle.
Infinite Prosperity Price
Now I want you to pay close attention because many Infinite Prosperity reviews out there have this information wrong.
As I am writing this, Infinite Prosperity offers a free introductory Forex online trading course for interested individuals.
The Lesson 1 module is composed of 18 topics, and you can get it for free.
However, to access the full course, you will have to upgrade your membership and subscribe to the Trading Accelerator Program.
#1 Trading Accelerator Program – $497
This course will teach you how to invest, trade, and build wealth using Infinite Prosperity's signature method, The Wealth Machine.
The Trading Accelerator Program is priced at $697, but the company is offering a $200 discount while I was writing this Infinite Prosperity review.
Here's what you can expect to get:
Lifetime Membership Access
11 comprehensive Forex lessons from beginner to expert
3 Powerful Strategies for Passive Investing and Forex Trading
Education Library
Exclusive Infinite Prosperity community access
1 Year of email coaching
Priority Access and  Invites to exclusive events such as the IP Annual Ball
If you feel like IP is what will take you to success in Forex trading, you will also have an option to upgrade your subscriptions.
The Infinite Prosperity offers two more upsells to the Trading Accelerator Program which are:
#2 Platinum Program – $1,999
The Infinite Prosperity Platinum Program comes with 15 "advanced" lessons on Forex trading.
Some of the topics covered include:
Advanced swing trading
Technical analysis (advanced)
Advanced MACD (Moving Average Convergence Divergence)
Time-based targets
Runs vs. trends
Hyper trade strategies
Power moves strategies
Breakdowns of recent trades
#3 Pro Trader – $100/month or $997/year
The Infinite Prosperity Pro Trader is a live trading session that you can subscribe once you became a Platinum member.
What you can expect to learn:
Analyzing the watchlist
Which currencies to pay attention to
When a trading window opens and closes
Videos and screenshots of recently closed positions
And more.
Related: Here's My #1 Forex Trading Platform Recommendation
Good Things About Infinite Prosperity
Before I reveal the source of the ongoing Infinite Prosperity scam rumors, allow me to highlight the notable things about Infinite Prosperity.
#1 Active Community
One thing I immediately notice on the IP website is the endless positive reviews of its supposed members. I checked out Infinite Prosperity's Facebook Page and found it active.
This means that when you become part of IP, you will have the opportunity to connect to the other members and discuss any issues that you run into.
#2 Free Forex Beginner Training
This is one thing I would like to point out which I believe is left out in some Infinite Prosperity reviews I've read.
To be fair, even when you do not join the platform, you will get a chance to learn about Forex trading if you are a complete beginner.
Infinite Prosperity has an introductory course composed of 18 topics about Forex trading. I am impressed by much effort the company has put into the lessons.
Each of the 18 topics is discussed in a short but detailed manner that anyone can easily digest.
You have to provide your email or Facebook account to access the lessons; which I already did for you in here.
My Concerns About Infinite Prosperity
On this part of my Infinite Prosperity review, I will share with you the issues that I find about this company.
#1 Broken Links
I mentioned above that you would be able to get a free introductory lesson about Forex trading even if you do not join Infinite Prosperity.
However, the website also has these buttons which promise to give you free video tutorials if you provide your email.
Unfortunately, they do not work!



I cannot say for sure if the website is merely having some technical issues during that time, or this is just a strategy to build their email list.
#2 Website Lacking Important Information
Another thing I do not like about Infinite Prosperity is that I found its website missing some crucial information.
For example, you will not find a section where you will be able to see how much the course is. To do that, I have to complete some sort of signup form and provide my email address.
There are also tons of testimonies and positive reviews from their students, which I wasn't able to verify the authenticity.
I decided to Google more than ten names of the students saying good things about IP, but I didn't get a match whether on Facebook, Twitter, or any other social media platform.
Which is weird considering these people should be online all the time because Forex trading and it is unlikely that none of them are into social media. Or maybe they just want their privacy. We'll never know.
#3 Expensive
I am not cheap by any means, and I do not mind spending money for an online training course, especially if the program promises me a 6-figure monthly income or more.
I can't see Infinite Prosperity to be worth half a thousand dollars.
Yes, Forex trading is not simple, and you must learn a lot of things to make it work for you. However, there are tons of other high-quality online trading courses that you can get for a fraction of that price.
Even the upsells are very expensive and forgive my language but the price for IP is a little greedy.
While You're Here: Would You Like To Check Out My #1 Online Business Recommendation?
#4 Shady Owner Backgrounds
I am afraid that Amy Sangster and Lewis Mocker are nothing more than self-proclaimed successful Forex traders.
What particular worries me is that these two are unheard of in the Forex industry until Infinite Prosperity.
And now they are pushing a $500 Forex online trading course down our throats? What are their credentials?
Even the cheesy marketing campaign where Amy supposedly bought a luxury car from all the "money she made by trading Forex" has no substantial evidence at all.
Infinite Prosperity has been around for more than six years, and they do not (or cannot) have any form of proof on its website that their courses actually works and help students.
I am not talking about the hypes and testimonies.
You can find a lot of those in the Infinite Prosperity website.
But anyone who is planning to invest into this course $497 would want to see actual Forex trading records or any document that would validate the price.
Unfortunately, Amy and Lewis fails to present any verified income statements relating to Forex trading and Infinite Prosperity.
Is Infinite Prosperity A Scam
After all that is said, I still believe that Infinite Prosperity is a legitimate Forex online trading course.
As I am writing this review, I haven't found any substantial evidence that there is indeed an Infinite Prosperity scam going on.
However, there are some red flags about this company that you must be wary about.
Should You Enroll To Infinite Prosperity
If you are still on the fence on whether Infinite Prosperity is the Forex online trading course that you are looking for…
Then you might be glad to know that the company offers a 30-day money back guarantee.
That way, you can test the waters and see for yourself if it is what you are looking for.
You will also get the opportunity to ascertain if Forex trading is up to your alley.
While You're Here: Check Out My #1 Online Business Recommendation
My Humble Advice
Whether you start trading in Forex or seek other online business programs is in your hands. 
My advice is that whatever business you choose to begin into achieving your financial goals, make sure that it is something you are truly passionate about.
If your heart is set into trading in Forex, then you might want to take a look at this beginner-friedly Forex trading platform. This has been instrumental for many people especially the newbies to earn profits trading in Forex.
Furthermore, may I also suggest that you do more research about the industry to learn more about Forex Trading.
Because there are risks in online trading that you need to be wary about so you can avoid losing money.
Infinite Prosperity Alternative
If at this point, you realized that Infinite Prosperity and Forex trading is not your cup of tea, then you might want to check out this alternative online business program.
This program has already changed the lives of many people for the better.
You can do it at home just like trading with Forex, and the best part is, you can get started for free!
Final Words
Thank you for taking the time to read this Infinite Prosperity review. I am hoping that you found the answers that you were looking for.
If you think this is useful, kindly share this to the people you know.
Meanwhile, if you have anything to share with our readers about this company, or if you have any information regarding an Infinite Prosperity scam going on, feel free to utilize the Comment Section below.
Until here, and I wish you the best in your future endeavors.
Your pal,
Jay
FREE COACHING PROGRAM
TURN YOUR PASSION INTO A SIX FIGURE ONLINE BUSINESS
Finally! A Proven Step-by-step Method To Earn A Six Figure Income Online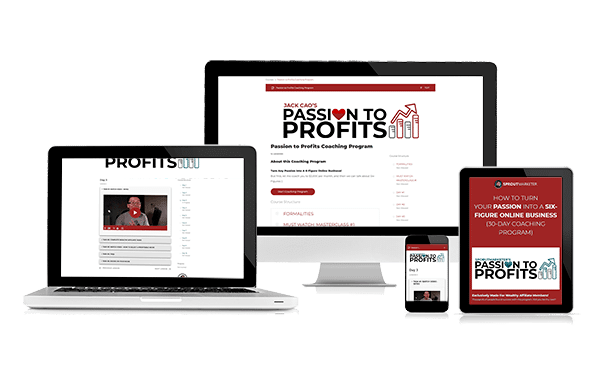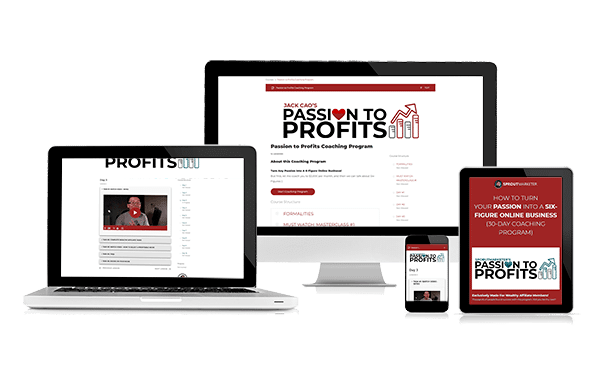 Claim Your Free 10 Day Passion to Profits Course…