Forcount Review – Should You Join Forcount?
Welcome to my Forcount review of 2019!
Coming to this page must mean that you are highly interested in Forcount. However, you want to make sure that before you invest, you want to know if:
Is Forcount a scam or
A legit online business opportunity?
Coming here is an excellent decision. I am not affiliated with Forcount so you can expect an honest Forcount review that is worth your valuable time.
Forcount Review Summary
Owner: Francis Silva
Price: 0.1 in ETH or LTC (minimum investment)
Bare Naked Scam Rating:
Recommended? No (very risky)
You might want to take a look at this alternative online business program.
What is Forcount
Forcount is an MLM company that offers cryptocurrency trading.
On its official website, Forcount claims that its operation began as early as 2015 and it mainly trades ETH (Ethereum), LTC (Litecoin) and MIC (Mindexcoin).
In addition to these three…
Forcount has more than 20 altcoins that you can use for trading, but all payments are via Ethereum.
Forcount claims to be an expert in cryptocurrency trading and provides its members with platforms and training programs.
Forcount Company and Founder
Although this kind of essential information should be made publicly available by any company, none can be found within Forcount's official website.
However, my personal research has given me a name that is linked continuously with Forcount – Francis Silva.
Digging further, it appears that Francis also owns another company called Cointherum which turns out to be a Ponzi Scheme.
For the benefit of the doubt, Forcount could be Silva's second attempt of putting together a legitimate MLM company.
Forcount Products
Forcount, just like Silva's Cointherum, does not have any products or services for retail sale.
For a company that claims to be using an MLM business model, Forcount should have a tangible product line to avoid being branded as a pyramid scheme.
I did give Forcount the benefit of the doubt. But after learning that it does not have any products…
I can honestly say it looks like another attempt to take more money from innocent and less-informed individuals.
Click Here: Are You Interested to Make A Full-Time Income at Home Without Recruitment?
How Does Forcount Work?​
You must be wondering, if Forcount does not provide its members with any tangible products, then how are you going to make money with Forcount?
As a Forcount affiliate, the only way for you to make money is by promoting and selling the affiliate membership to other people, thus, recruitment.
On the bright side…
Although it is true that if you invest in Forcount, you won't have any products that you can sell to make profits, you however will be given access to different platforms that the company provides.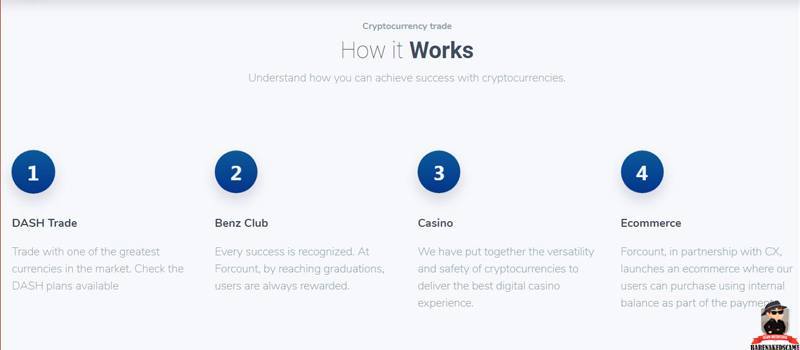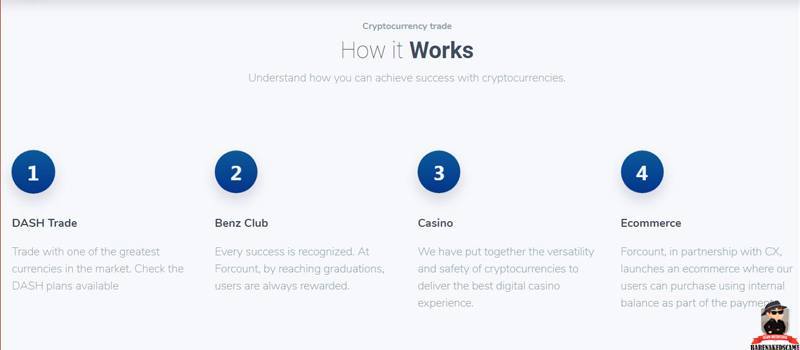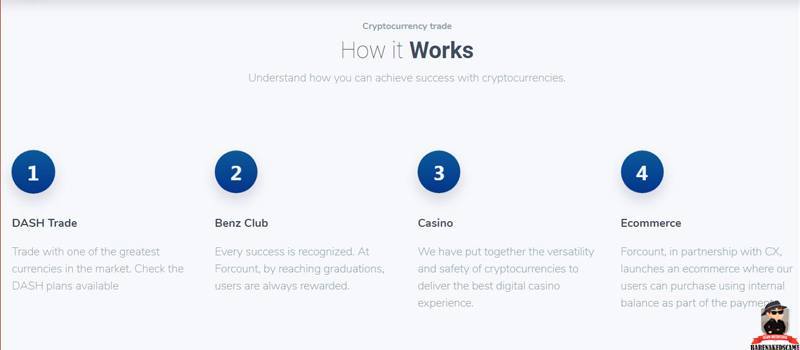 These are as follows:
DASH Trade – Platform that allows you to trade DASH
Benz Club – Graduation system where top earners will have a chance to own a Benz car
Casino – Gambling platform
CX Ecommerce Platform– Shop online using cash or your Forcount earnings
While You're Here: Find Out My #1 Online Business Recommendation
Forcount Compensation Plan
Unlike the most MLM company in the industry, your only way to make money with Forcount is thru recruitment.
As I have mentioned earlier, Forcount uses an MLM business model. Forcount uses the Binary and Unilevel MLM business models to pay its affiliates.
If you are not familiar with the different MLM compensation plan models…
This article will provide you everything that you needs to know. 
Recruitment Commissions
Forcount pays its direct referral and recruitment commissions through a Unilevel compensation plan structure.
When an affiliate under your organization pays $25/month, you can earn $1. If a member spends $50/month, you can get $2.
Furthermore…
There are 15 ranks in Forcount's Unilevel structure. Depending on your position, you have the potential to earn additional bonus commissions.
Residual Commissions
The amount that you can potentially earn thru Forcount's residual commission depends on the amount you invested.
Here's the complete breakdown of your earning potential in Forcount with regards to your investment.
For ETH investments:
0.25 ETH – 5% residual commission rate
0.5 – 1 ETH – 8% residual commission rate
2 ETH – 9% residual commission rate
5 ETH – 10% residual commission rate
10 ETH – 11% residual commission rate
10 to 30 ETH – 12% residual commission rate
50 ETH – 13% residual commission rate
100 ETH – 15% residual commission rate
Meanwhile, for investments made in LTC:
0.25 LTC – 5% residual commission rate
0.5 – 1 LTC – 8% residual commission rate
2 LTC – 9% residual commission rate
5 LTC – 10% residual commission rate
10 LTC – 11% residual commission rate
20 – 40 LTC – 12% residual commission rate
50 LTC – 13% residual commission rate
100 LTC – 15% residual commission rate
300 LTC – 16% residual commission rate
500 LTC – 17% residual commission rate
As I am writing this Forcount review, the current exchange rate for the following altcoins to USD are:
1 ETH = 163.43
1 LTC = $87.89
Unilevel Rank Achievement Bonus
Forcount gives you a bonus every time you achieve a new rank within its Unilevel system.
Sapphire Rank Bonus – Earn a potential $200 bonus
Ruby Rank Bonus – Receive $500 bonus
Emerald Rank Bonus – You will get a MacBook Pro
Diamond Rank Bonus – Get a fully-paid trip to Greece
Golden Diamond Rank Bonus – Receive an all expenses paid trip to Dubai
Platinum Diamond Rank Bonus – You will get a Rolex watch
Blue Diamond Rank Bonus – Receive a Ferrari (or $200,000)
Black Diamond Rank Bonus – Receive a Villa or ($500,000)
Now, these bonuses are incredibly lucrative. To learn more about the details on these rank bonuses, you can watch the video below.
Forcount Compensation Plan Video Presentation
How much will it cost to join Forcount?
To become a Forcount affiliate, you must invest a minimum amount with a value of 0.1 in ETH or LTC.
To avail the MLM compensation plan, the company requires that you at least invest 0.25 LTC or ETH. A monthly fee of $25 or $50 will also be applied.
While You're Here: Find Out My #1 Online Business Recommendation
What I like about Forcount
NADA! I would hate to bash a company, but I can honestly say that nothing is interesting about Forcount (for me).
What I Don't Like about Forcount
Contrary to the plus side of the Forcount coin, I have multiple issues regarding this company.
#1 Too Many Undisclosed Information
First, it is unsettling that an MLM company that asks a relatively large amount of investment from its members does not disclose the necessary information about itself.
Nowhere in Forcount's website will you be able to find its founder, headquarters and even a laid out compensation plan.
#2 Dishonest Claims
In connection to #1, while Forcount provides close to zero information about the company, it doesn't help that some of the public information on their website are untrue.
For instance, Forcount claims that they have been around since 2015. However, doing a background check, I discovered that the domain name forcount.com was initially registered on July 7, 2017.
#3 No Products
Forcount has no retailable products or services. As an affiliate, you will only earn money by selling the Forcount affiliate membership itself.
Please do not get me wrong.
To earn an income using recruitment is nothing new in any MLM company.
However…
The fact that Forcount is an MLM company having no retail products is an official red flag that a business is a scam.
What do you think? You can make this Forcount review more useful to our readers by sharing your thoughts in the Comment Section below.
Click Here: Recruitment Made Easy for Your Legit MLM Business
#4 MLM + Crypto = BAD!
I am not saying that an MLM company is a terrible business opportunity. However,  it is an industry that has been involved with too many scams to mention.
The same thing goes for the cryptocurrency; I am not saying that there is absolutely zero chance for you to generate a steady flow of income.
Another thing is that, the MLM is a risky business model.
The overall MLM industry has more than a 95% failure rate on all of its distributors and affiliates. Meanwhile, business models that involve cryptocurrency is a very risky investment.
Perhaps you would like to learn more about MLM and Crypto Currency on this article about the Ultimate Truth about MLM no one dares to tell you.
Is Forcount Scam?
Forcount claims to be an MLM company that is involved in cryptocurrency trading for generating ROI. However, the company fails to provide any substantial evidence to prove that claim.
Although I cannot say for sure that Forcount is indeed a scam, what worries me is that the company is using the investments of the new affiliates to pay the current affiliates' commissions.
If so, then this makes Forcount a pyramid scheme!
My Sincere Advice to You
As it currently stands and until more reliable information started to surface regarding this company, I would strongly advise staying away from Forcount.
Again, I am not saying that there is indeed a Forcount scam going on.
However, I find that the risks that you have to expose yourself while investing in this company are too high that it is not nearly worth your valuable time and hard-earned money.
If you are really keen into looking for a means to generate a stream of income, there are much better alternatives to Forcount.
Click Here: Top 3 Most Popular Online Business Opportunities for Beginners
For starters…
I would humbly recommend Affiliate Marketing.
There are little to no risks involved in running an affiliate marketing business. And when it comes to starting investment, you won't have to risk a dime of your hard-earn money.
If you are ready to get started with Affiliate Marketing, here's how you as a beginner can get started for free!
Final Words
Thank you for taking the time to read this Forcount review. I am hoping that you found the answers that you were looking for.
I am also hoping that you would share this information so that other people too could make an educated decision on the next course of action to take regarding Forcount.
If you have more inquiries about Forcount, feel free to let me hear your thoughts.
Meanwhile, if you have more valuable pieces of information about this company, kindly share it to our readers in the Comment Section below.
Until next time and I wish you the best of success in the future.
Your pal,
Jay