Fast Cash Biz Review – Get your facts right!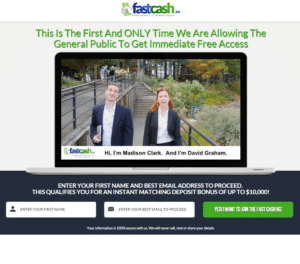 Name:  Fast Cash Biz
Website:  fastcash.biz
Price: $250 min deposit
Owner: Madison Clark & David Graham
Bare Naked Scam rating: 5 Thumbs Down
The Most trustworthy Investment Social Network: Etoro
The Most trustworthy Online Business Training Course: Click here
---
Today I'll take a look at an opportunity called Fast Cash Biz and see if it's worth our time and money.
There a lot of conflicting opinions about this product, some people say it's a scam while others say it's a legitimate auto-trader. This article is my 2 cents.
At a glance, it looks like another auto-trader scam, but we will take a look at the details and see if it is indeed a scam.
What is Fast Cash Biz?
---
"It is a state-of-the-art cash generating system that legally taps into a 50 Billion dollar global market and leverages it to make millions for its users."
First off, the name of this opportunity immediately set off all my alarm bells. You see that name and you immediately think that you'll be able to earn fast cash with their product (I believe that was the point) but as usual it fails to deliver.
It's common knowledge that money doesn't fall from the sky but that's exactly what the people behind this opportunity want you to think.
They want you to think that you'll actually become a millionaire if you enter your contact details. It's similar to those pop-ups that claim you won the lottery; we all know it's not true.
So, Fast Cash Biz is another binary trading system that is wrapped in a thick blanket of hype and false promises. Like other auto-traders, the idea is to sign-up with their recommended broker, deposit the minimum fee, and then let the software work for you.
This is nothing new; there are thousands of opportunities just like this one on the market (I have reviewed quite a few like Google Trader, Fisher Method, Insured Profits and etc) and it seems like more pop-up every minute!
You're lead to believe that all you have to do is enter your email address and then you can access their million dollar income system. Obviously there are a few things that we need to discuss.
For Aspiring Traders: Minimise your risk of losing in trades. Click here to learn!
OR
For People who want to make money online without risk. Click here!
What I Didn't Like…
---
Where to begin? There are a lot of things that are wrong with this opportunity!
For starters, the website template is exactly the same as other scams and the sales videos are identical as well.
These scams pop-up on a daily basis and once their busted they have to move to a different domain name but they use the same website templates, they simply change the name and some content.
In the frequently asked questions, it says that the success rate is 99%! Does that sound possible? Nope!
Everyone, even people who have never traded in their lives know that it's impossible to have such a high success rate with trades. Why? Because the market is unpredictable! Even binary signals can't predict that well; most of them fall around the 50% success rate.
There are also some more lies within the frequently asked questions.
For instance, they claim that their system is free forever, but right beneath that question you're told that you have to deposit $250 with their recommend broker (Option Rally) to activate the system. That's not exactly free!
Note: the recommended broker varies depending on a number of factors. Fast Cash Biz is not actually a broker but rather a tool that's used to send people to brokers. It's like a squeeze page that collects leads for another company. Currently the recommended broker is Option Rally but it might change in the future.
The testimonials are also way too far-fetched. You see people claiming to earn 3 million dollars in less than 90 days! It's so obvious that they're fake testimonials.
Learn how to Trade like a Pro. Click here!!!
Fast Cash Biz is an Affiliate Tool
---
Basically, Fast Cash Biz is a tool that was designed to recruit affiliates for trading brokers. I mentioned in previous articles that brokers can afford to hand out high-ticket commissions, so one can earn a lot of money promoting brokers. There are also a lot of bonuses to motivate affiliates to recruit new people.
The people behind Fast Cash Biz earn a lot of money every time someone registers with their recommended broker; the amount that they make trading is probably very little compared to their affiliate sales.

Most auto-traders use the same tactics, claim to be free and lure people in only to send them to a recommended broker and encourage them to enroll.
Then again, Fast Cash Biz does not completely lack value. It does contain a trading area where you can use their signals as a reference while you open and close trades. This data comes from their recommended broker, and sometimes they recommend brokers that don't have a positive reputation.
For instance, Option Rally is a lesser known broker that most of these "opportunities" recommend, but it does not have a good reputation. There are numerous reports from customers that struggle to withdraw funds. You should also be careful because some of these opportunities gain access to your account and blow all your money on strange trades.
I would not recommend signing up with Option Rally especially through third-party services, like Fast Cash Biz.
What I "Liked"
---
I did notice the disclaimers on the main webpage. It clearly states in the disclaimers that there is no guarantee of income and there is a high level of risk involved.
Most people won't see the link to the disclaimers, but at least they're there for curious people. It might also seem strange that the disclaimers state that there's no income guarantee while the sales video states you'll make a minimum of $10,000 a day!
Note: when you find these opportunities, look for a disclaimer, most companies are required to display a disclaimer by law. The disclaimer will often reveal further details about the company that were swept under the carpet.
For Aspiring Traders: Minimise your risk of losing in trades. Click here to learn!
OR
For People who want to make money online without risk. Click here!
My Sincere Advice to You
---
I do not recommend Fast Cash Biz because it's a tricky system designed to earn affiliate commissions for the person behind the scenes. I also don't recommend that you use any strange third-party platforms to register, there's no need.
If you really want to learn how to trade successfully. I highly suggest that you start with Etoro. You can also communicate with experienced trader to understand what goes on in the mind of the trader.
Alternatively, if high-risk trading is not to your liking; check out my favorite how you can make money online with little risk.
As always, I invite you to leave your thoughts and comments if you have any. If you find my article informative, please help to share with your friends and family by clicking on the social media buttons (Facebook, Twitter, Google Plus) below.
Thanks for reading the review!
Your pal,
Jack