Name: Easy 1 Up
Website:  easy1up.com
Founder: Peter Wolfing
Income Opportunity rating: 1 / 5 Stars
#1 Recommended Online Business Training with Proof: Click Here
---
So you've stumbled upon Easy 1 Up and you wanted to know if this program is what you've been looking for to earn extra income online.
You've come to the right place because, in this review, I am going to share everything you need to know to make an informed decision.
It is easy to be mesmerized by the opportunity presented. Who wouldn't want to earn an extra $1,000 a month, right?
The fact is, nothing comes easy, and even if an opportunity is legitimate and has your interest in mind, you could still fail?
But, the question is, is Easy 1 Up legitimate? Does it takes care of your interest?
These are the questions that I will be answering below…
What is Easy 1 Up?
---
Easy 1 Up is a Multilevel Marketing company which sells informational products that teaches you how to make money online.
For as low as $25, you will be able to purchase the entry level video series called "Elevation". Elevation provides you with the basic knowledge about Network Marketing and Affiliate Marketing.
If you want to get in-depth into each topic, you'll need to upgrade to a  higher level package. Below are all the product packages of Easy 1 Up:


Well, it does look like the product packages are worth the money, right?
I'll be honest, as a beginner who do not know much about the "Make Money Online" industry, I will be enticed to purchase all of the product packages.
But, the fact is, none of the product packages are worth your money and time, and I'll prove it to you below.
Have you heard of Private Labelled Rights?
If you haven't, search "Private Labelled Rights" on Google, and you will find this:
It simply means that the products of Easy 1 Up were not originated by them.
And, here are some proof (Refer to Vertex Pro "Connect"):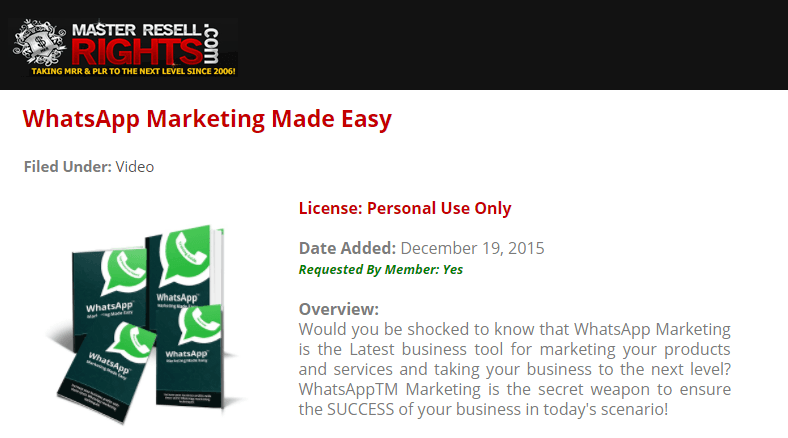 I'm not saying that marketing PLR products on the Easy 1 Up brand is illegal, but I am saying that it is unethical because of the following reasons:
PLR products are considered to be low quality products because the information in it is most likely outdated
Easy 1 Up is seen as an expert in the Make Money Online industry, but they do not have products of their own
Easy 1 Up is charging its members an exorbitant amount for products that could be bought at a very low cost
This program has led me and thousands of people make a Life Changing income online. Find out how you can too!
The Man behind Easy 1 Up…
---
I worry for those who are heavily invested in this program, because given the track record of the person behind this program, one in five of his businesses will fail.
Peter Wolfing is the founder of the following programs that run similar to Easy 1 Up:
Turbo Cycler
Business Toolbox
Infinity 100
National Wealth Center
Pay Me Forward
At the time of this writing, the National Wealth Center is the sole survival, but for how long?
According to Google trends, National Wealth Center is a dying business, and that is probably the reason Peter Wolfing started Easy 1 Up.
If it is that shady, why are people joining Easy 1 Up…
---
It is not because of its products, but because of its compensation plan. Below is a video created by one of Easy 1 Up's members (I do not endorse this video):
To put it simply, you have to purchase the highest level "Vertex Pro "Connect"" for a $1,000 in order to earn commission from any sales of all levels.
If you purchased only the Elevation level ($25), you will not qualify for any commission for higher level sale. That commission that you're supposed to get will be passed up for someone else who owns the higher level product package.
Confusing? Just pay a $1,000 and you get the maximum commission.
Honestly, if you pay for all these PLR videos worth of 40+ hours, what are the chances that you will watch them through and through?
So, the crux is, within the Easy 1 Up membership, there are separate video training which teaches you how to promote the Easy 1 Up product packages.
Easy 1 Up didn't really care if you've gone through the training in the product packages. They are focused on teaching you how to recruit new members to the program.
When you look at it in a different angle, it simply means that the "Actual" products of Easy 1 Up are there "for show". The products didn't really matter.
Which leads me to believe that this could be a "Pyramid Scheme". Don't know what it is? Watch this video:
What do you think? Is Easy 1 Up a pyramid scheme? I'll leave it up to you to decide.
This program has led me and thousands of people make a Life Changing income online. Find out how you can too!
Easy 1 Up Rotator
---
Here's an interesting video on how to make payment and to set up your account.
It's great that money goes directly to your preferred account, but what if the person receiving the payment didn't take any action to confirm your payment?
Why would any business run this way? Could this be a Cash Gifting Scheme? Could any Easy 1 Up members enlighten me and prospective members?
Also, what you need to know about this Easy 1 Up Team Rotator is that you have to purchase a minimum level of Vertex Elite ($500) in order to qualify for the Easy 1 Up Rotator.
This Rotator will simply do all the selling, telling and explaining for you. You just have to buy the membership and pay to join, that's it.
But again, is it worth your money and time? I'll let you be the judge.
My Sincere Advice to You
---
In my opinion, the product packages of Easy 1 Up are there to ensure that they comply with the law against pyramid scheme.
There is no value to those product packages because they are not originated from Easy 1 Up, and I am pretty sure you are not getting your money's worth.
It is perfectly fine for Easy 1 Up to use PLR products, but whether or not it is ethical, is a different story.
In my opinion, Easy 1 Up is one of the worst business opportunity you can get into.
Normally, I wouldn't strongly object to an opportunity, but because I see a lot of beginners being sucked into this program, and it worries me.
How can a Multilevel Marketing company run its business without a product of its own?
There is no uniqueness about this program, and its owner gave minimum effort to develop Easy 1 Up.
Given the history and track record of Peter Wolfing, there is a high chance for this program to be shut down.
I've reviewed more than a hundred Make Money Online programs, exactly 180 of them at the time of this writing, and I've sifted through the good ones from the bad ones.
Not saying that you should join me, but if you are interested to know which is the most conducive place for any beginners to learn and grow an online business, you can check this out.
In case you are wondering why I am bashing this program and promoting another is because I believe the other programs that I promote will benefit a lot more than this.
Believe it or not, is really your decision. I've done my best to share my opinion and experience.
Thank you for reading this review!
If you find this review helpful, please, feel free to share it on your social network.
If you have something that you would like to share about Easy 1 Up, feel free to leave a comment below.
Your pal,
Jack