Is Chloe and Isabel A Scam MLM Company?
So, you've met someone who told you that Chloe and Isabel has amazing products and you can profit from it.
But, you have second thoughts about joining the company or buying the products.
Or, maybe you are already a distributor second guessing your decision.
Whatever your reasons are, I hope that you can find the information you need in this Chloe and Isabel review.
Now, there are a lot of people who claimed that Chloe and Isabel is a scam, but there are others who swear by the company and the products.
Who are telling the truth? Who can you trust?
Let's figure it out together…
Review Summary
Name: Chloe and Isabel(Chloe + Isabel)
Founder: Chantel Waterbury
Cost To Join: $175
Recommended? Yes and No. This business is not suitable for everyone.
Income Opportunity Rating:
What is The Chloe And Isabel?
Chloe and Isabel, also known as Chloe + Isabel, is a merchandising slash Multi-Level Marketing (MLM) company in the fashion and jewelry niche.
The company is selling jewelry and accessories for women just like Vantel Pearls, Thirty-One Gifts, Maskcara and Beauty Counter.Chloe and Isabel was founded in 2011 by Chantel Waterbury.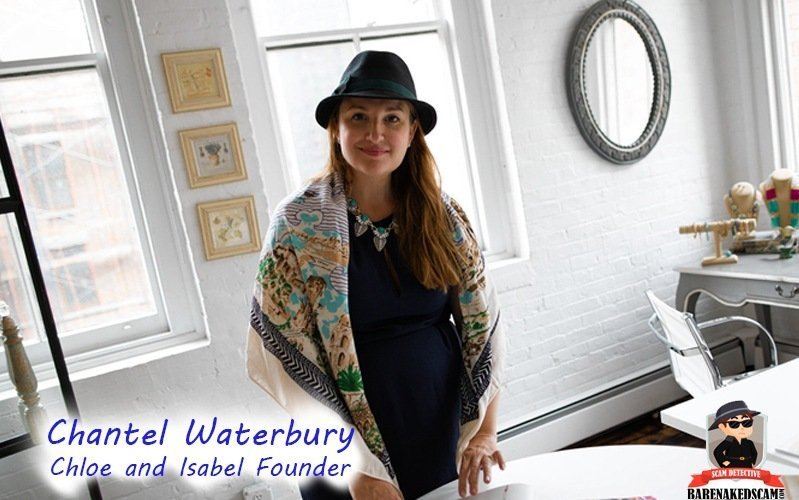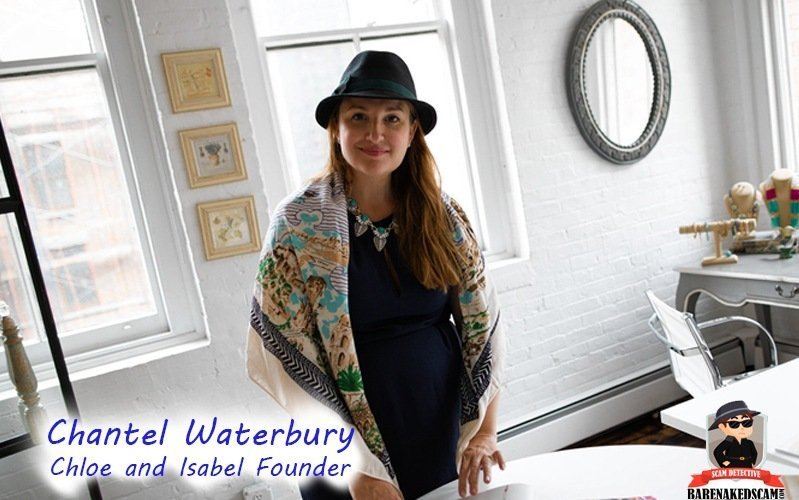 Source from Wall Street  Journal
Chantel was featured in different famous magazine and news outlets including the HuffPost and People Magazine.
With her leadership, Chloe and Isabel quickly rise to fame and become one of the top MLM companies that sell a wide range of jewelry; including necklaces, bracelets, earrings, and brooches.
Below is a 3-minute video about Chloe and Isabel by the Chantel and her staff.
Now that you have a clear idea of what is the Chloe and Isabel jewelry is, let's find out how you can make money with this MLM company.
Can You Make Money With Chloe And Isabel?
Technically, yes.
Like any other typical MLM companies, you can make money by selling Chloe and Isabel jewelry pieces, and by recruiting people to join your team.
Retailing – You will earn 25%-40% commission on all product sales.
Recruitment – Not much information was reveal about recruitment commissions.
However, I found some sources that when you build a team of Chloe and Isabel merchandisers, you can earn up to 12% of your total group sales.
There are also travel incentives and other bonuses, but I'm afraid you have to consult the company and its members about it.
Becoming A Chloe And Isabel Merchandiser
If you want to join Chloe and Isabel, you will need to pay a one-time membership fee of $175.
With that amount, you can get the following:
A Starter Kit with $700 worth of jewelry
Free customizable online boutique
Marketing and training materials
How to Turn Your Passion Into an Online Business that Generates a Full-Time Passive Income From Home. Click Here to Find Out!
Beautiful Things About Chloe And Isabel Jewelry
Before I reveal the truth about the Chloe and Isabel scam rumors, allow me to highlight the good things about this company.
#1 Informative Website
While Chloe and Isabel didn't reveal much about its compensation plan…
The management made an honest effort in providing the public with almost all of the other information anyone could ask for on its website.
#2 Lifetime Product Guarantee
All pieces of Chloe and Isabel jewelry are covered with a lifetime guarantee. 
#3 Fresh, Versatile And Chic Designs
Chloe and Isabel's products are not only unique in designs, but they are also remarkable in quality.
Chloe and Isabel jewelry pieces are also hypoallergenic, nickel-free, and lead-safe.
The employees also express their delight about the company and how it improved their sense of fashion.
The Ugly Things About Chloe And Isabel Jewelry
On this part of this Chloe and Isabel review, I will discuss the bad things I discovered about this MLM company.
I have reasons to believe that these are the root cause of the Chloe and Isabel scam rumors going on.
#1 No BBB Accreditation
The Better Business Bureau does not accredit the Chloe and Isabel.
The company may have gotten an A+ rating, but those are merely from two reviews which are likely from its own merchandisers.
#2 Low Repeat Orders
Because Chloe and Isabel's products are non-consumables, it will be hard to expect a repeat order from the same customer in the next month.
Unless the new designs win your customer's hearts, you will need to find a new set of people to promote your products almost every month to continue making money.
#3 Mysterious Compensation Plan
If you visit the website, nowhere can you find its compensation plan for the merchandisers.
There are some hints about discounts, perks, and incentives, but nothing is completely revealed. I tried searching the Internet, including YouTube for information but no luck. 
If you plan to join the company, you will have to rely on your sponsor to fill you in with the details of how much you can potentially earn and how to qualify for bonuses.
#4 Internal Management Issues Going On
There has been some drama going on with Chloe and Isabel recently regarding the change of leadership and management.
Allegedly, Chantel Waterbury stepped down from the position of CEO. 
Doug Hepfer, along with Maria Cota now leads Chloe and Isabel jewelry. 
Apparently, this resulted in a lot of internal tension, which is doing more bad than good for the company.
#5 Heavy Emphasis On Recruitment
While you can make money selling trinkets and bracelets, it is evident that the big checks for being a Chloe and Isabel merchandiser will come once you recruit tons of people into the company.
This is a serious matter because once member's of MLM company are relying on recruitment for income instead of selling products…
That is how the FTC defines a pyramid scheme.
#6 MLM Has An Abysmal Success Rate
No matter how Chloe and Isabel describe itself, the fact that they are paying recruitment commissions means it has an MLM compensation plan; thus, it is an MLM company.
Multi-level marketing, although commonly being associated with scams and pyramid schemes, is a legitimate business model.
However, most people who join an MLM will end up not making any money at all. This is probably one of the reasons for the Chloe and Isabel scam rumors going on.
The latest consensus is: more than 95% fail in the MLM business, Chloe and Isabel included, and I will tell you why.
Why More Than 95% Of People Fail In MLM
Below are the top three reasons why most people who join an MLM business like Chloe and Isabel fails and does not make money in the end.
#1 Not Enough Leads
The most common dilemma of any person who joins an MLM company is how to get endless leads of customers or prospects.
When you join Chloe and Isabel, your first concern is who shall you sell your products or promote your business to.
Yes, you can go to your family and friends at the start, but what happens when they do not like your products or they do not join your business?
Besides, in an MLM business model, the only way to success is by recruiting people and building a large organization of like-minded people.
Your family and friends are unlikely to be the right people for your team.
#2 Joining With A Wrong Mindset
If you are planning to become a Chloe and Isabel merchandiser hoping that this is the business opportunity that will allow you to quit your 9-5 job, then you are wrong.
No matter how your sponsor sugar coats this business, it is hard to maintain a stable income by selling Chloe and Isabel jewelry as it is not a consumable product, unlike food supplements or essential oils.
Your only way to make a stable income with this company is if you put heavy emphasis on recruitment, but then, you will be dangerously leaning into a pyramiding scheme.
#3 Hard To Sell The Products
Selling is a skill, an art even. You cannot just simply become a Chloe and Isabel merchandiser today and hope to make sales immediately.
If selling is your forte, then you can make this business work.
However, if selling products is new to you, then making money with Chloe and Isabel could be a hard challenge for you. This is an issue not just in Chloe and Isabel but in most MLM companies.
Affiliates, distributors, merchandisers, or whatever fancy name the company refer to its members, one of the most common reasons why people fail in the industry is it is hard to sell the products.
This article will show the rest of the reasons why more than 95% of people fail in an MLM business like Chloe and Isabel.
Is Chloe And Isabel A Scam?
Nope. Firstly, Chloe and Isabel has tangible products. Secondly, their products are loved by many of their customers, and finally, you do not have to be a distributor to buy a product from the company.
So, no! Chloe and Isabel is not a scam.
People who claimed Chloe and Isabel a scam are probably people who didn't succeed with their business, or they were led into the business with the wrong expectations.
After all, this business is not suitable for everyone.
Should You Join Chloe And Isabel?
I believe only you can answer this question.
If you believe that you can convince other people to buy Chloe and Isabel jewelry from you, or better yet, join your team, then you can give this business a try.
But make sure that you love wearing Chloe and Isabel jewelry yourself. For obvious reasons, you cannot expect to make a lot of sales with this company if you are not a fan of the product.
More importantly…
I recommend that you learn Attraction Marketing. This is a powerful network marketing strategy that will teach you how to promote your products more effectively and boost your sales.
The Attraction Marketing will also help you find an endless supply of prospects that are eager to join your business or are ready to buy your products.
How do you like that?
If you are excited to learn the Attraction Marketing for your Chloe and Isabel business, you can get started here.
Chloe And Isabel Business Alternative
On the other hand, if you think that joining an MLM business is not your cup of tea, but you would like to learn how to earn a full-time passive income from home, then I highly recommend that you check out this program.
It is the program that has taught thousands of people with no prior knowledge or experience to become successful online. Here's a success story of the program if you are interested.
My Humble Advice
Whether you become a Chloe and Isabel merchandiser or start your own online business is up to you.
Just keep in mind that whichever business opportunity you started, make sure that it is something you are truly passionate about.
Because when the going gets rough, it's the love that you have for the business that will drive and push you to see it through.
Final Words
Thank you for taking the time to read this Chloe and Isabel review. I hope that you found the answers that you are looking for.
If this Chloe and Isabel review is useful, kindly share this to the people you know so they too could benefit from it.
Meanwhile…
If you have anything to contribute to this article, any information you want to share with our readers or further questions about Chloe and Isabel, you can utilize the Comment Section below.
Your pal,
Jay